Serious environmental pollution is taking place in the countryside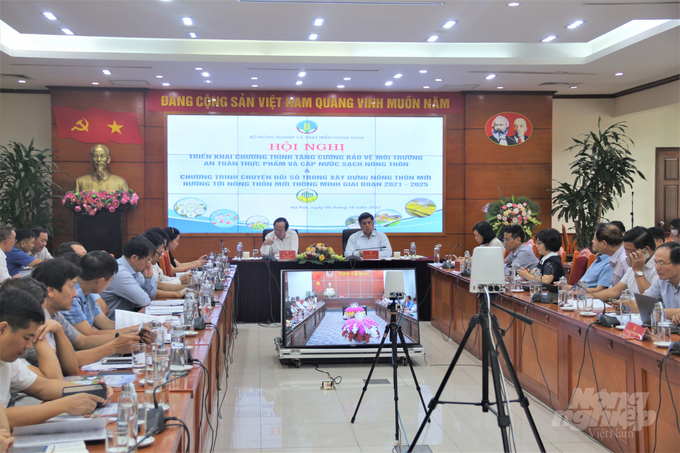 On October 6 the Ministry of Agriculture and Rural Development held a conference to implement the "Environment, Food Safety and Rural clean water supply Protection Strengthening Program" and "2021 – 2025 Digital Transformation Program in new rural construction towards smart new countryside".
Speaking at the conference, Deputy Minister of Agriculture and Rural Development Tran Thanh Nam said, "The process of industrialization and modernization of agriculture and rural areas in Vietnam has become an inevitable development trend. But this process has also created a downside, which is environmental pollution."
Agricultural activities, together with service and daily life activities, are the cause of serious environmental pollution in rural areas. Regarding agroproduction, due to the abuse of pesticides, water sources in rivers, lakes, canals and ditches are contaminated, greatly affecting the water environment and people's health in general. Aquaculture en masse, lack of planning, and technical procedure indiscipline have also negatively impacted the water environment.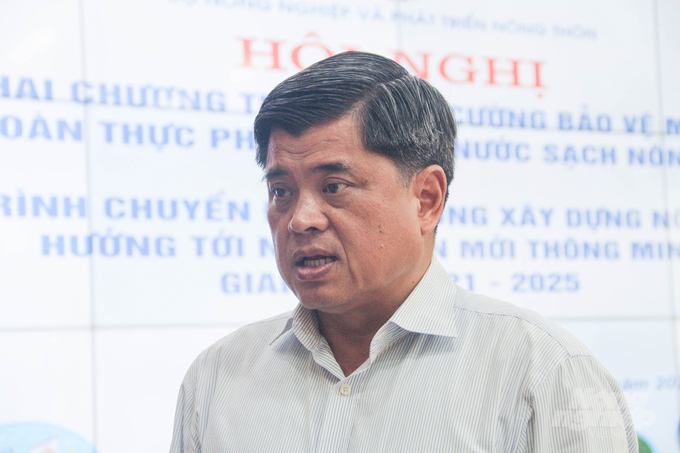 Another thing to add is that enterprises at present do not show deep interest in investing in the field of clean water. Small business production makes food safety remain a big concern. The environment of craft villages and rural sanitation is still a difficult problem for many localities. This happens in the context that climate change has an increasingly large impact on water supply and the environment.
The representative of Nam Dinh said that the province currently used approximately 300 tons of pesticides and approximately 160,000 tons of chemical fertilizers per year. Agroproduction in the area is still small and fragmented in line with the scale of farmer households and livestock households. Along with the abuse of chemical fertilizers and pesticides, this is one of the main causes of agricultural environmental pollution in the countryside. Production activities of some traditional craft villages also contribute to the emergence of pollution in residential areas.
Providing a view on the shortcomings and weaknesses of the local traditional market system, Thai Binh province's representative said that some markets today had not met the requirements of hygiene, food safety, and commercial civilization. Small traders in those markets are not fully aware of food hygiene and safety issues. The inspection of food safety at traditional markets still faces many difficulties. Samples monitored at the markets currently remain at a quite modest number. Inspection units mainly apply the rapid test method which only portrays the screening element.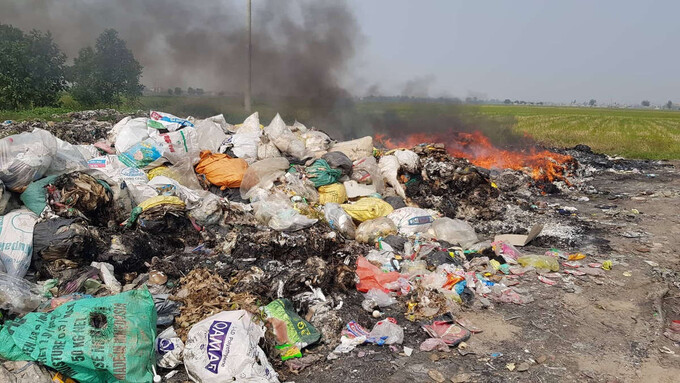 In Thanh Hoa, the biggest aching problem lies in solid waste. The province's representative said that currently the volume of daily-life solid waste is increasingly generated, and the trend tended to intensify with each passing year. Solid waste treatment has not achieved the required results. The situation remains as waste has not been collected in an appropriate manner and improperly dumped into roadsides, canals, ditches and river banks.
The rate of waste collection and treatment in districts is still low, especially in mountainous areas. Solid waste treatment methods are mainly burial. The rate of waste burning and recycling is still low due to the fact that present incinerators have a small capacity. Some existing landfills are overloaded. Collected waste left untreated results in the appearance of more environmental pollution sites in rural areas.
Currently in Thua Thien - Hue province there are 36 self-flowing water supply works in remote communes that have been invested for a long time, approximately 15-20 years. The processing technology is thus deemed outdated and no longer suitable for the current social situation. Due to a lack of regular maintenance and repair as well as a lack of attention and technical expertise from the operation and management staff, the works become unsustainable and inefficient.
Deputy Minister Tran Thanh Nam said that the Ministry of Agriculture and Rural Development would continue to prioritize investment in water supply systems for disadvantaged localities, remote and border areas, and islands in the coming period. The main focus is to build freshwater storage models to cope with climate change.
Regarding food safety, Deputy Minister Tran Thanh Nam suggested localities continue to prioritize researching, piloting, building, evaluating, and replicating models of "food-safe markets" in the countryside.
Author: Pham Hieu
Translated by Samuel Pham
TAG: