BIM Group prioritizes high-tech farming
BIM Group is reputed in the field of agriculture and food as one of the largest industrial salt, aquaculture and seafood production units in Vietnam. The multi-industry group's farming area spans thousands of hectares in localities across Vietnam such as Quang Ninh, Kien Giang and Ninh Thuan Provinces.
Three decades of setting foot in potential but untapped lands, BIM Group has made breakthrough changes, such as the successful localization of Pacific oysters in 2008, the introduction of whiteleg shrimp to the market and the adoption of standard farming processes using natural microorganisms in a 2,500 ha salt field in Ninh Thuan Province.
BIM Group's initiatives have opened new directions for development of the local economy and providing jobs for thousands of farmers.
Successful localization of Pacific oysters
One of the most delicious oyster varieties with many nutritional values, Pacific oyster is considered the prideful specialty of Van Don, an island district in Quang Ninh Province.
The oysters are raised in a natural environment, in a clean sea water that is not affected by tourism and industry and far from residential areas. The variety originated from Japan and domesticated in Taiwan.
Pacific oyster was first introduced to Vietnam by businessman Doan Quoc Viet - founder of BIM Group in 2006. He believed that the natural conditions of the Northeast Sea were similar to the places where the best oysters were produced, and that the localization of Pacific oysters would succeed in Vietnam.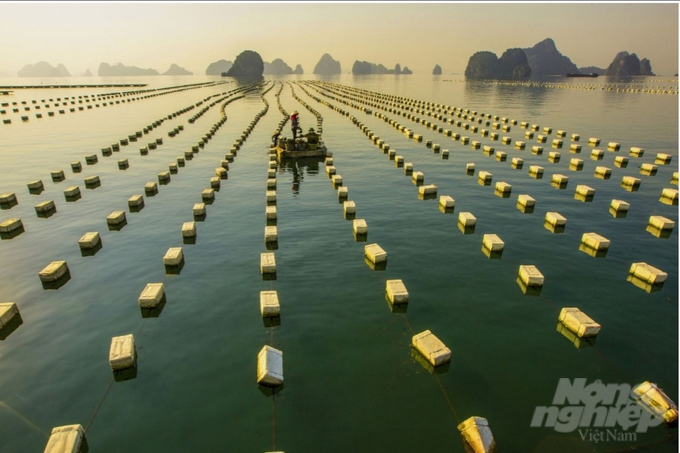 From the initial idea of its founder, Ha Long Investment and Development Limited Company (BIM Group) introduced the culture of Pacific oysters in the Van Don sea. BIM's main commercial oyster farming area covers an area of 500 hectares in Ban Sen Commune, Van Don District, Quang Ninh.
After 4 years of research, the oyster has been successfully raised in Quang Ninh's water. The oysters are healthy, fatty and tasted sweet with fast growing, large intestines and high nutritional content. In the first years of culturing, the business harvested nearly 500 tons of oysters and 700 tons on average in the next seven years.
Since 2012, the oyster products of the group - fresh shelled oysters, peeled fresh oysters, oysters grilled with cheese – have increasingly appeared on the markets. They are also introduced at many promotion programs. Hausubi, BIM's oyster brand, has been chosen by many consumers as ingredients for their meals. It has also met the requirements of fastidious partners of the group in exportation and been present in almost all retail systems and supermarket chains nationwide.
The deep processing and development of value-added products from oysters of Ha Long Investment and Development Limited Company has opened a new direction to exploit the advantages of regional economic development. In 2019, Quang Ninh's Pacific oyster farming area reached over 3,000 hectares, producing an annual output of nearly 20,000 tons. Thousands of households, especially in Van Don island district, have had their lives improved thanks to oyster farming.
Before successfully localizing the Pacific oyster variety in Van Don (Quang Ninh), BIM Group put into operation many large aquaculture and seafood production zones in this province such as Minh Thanh shrimp farming area (2001) that covered 251ha with the average output of up to 2,000 tons per year.
BIM Food Joint Stock Company in Dong Linh area, Minh Thanh ward is also a pioneer in researching and applying high-tech shrimp farming models in Quang Yen town.
In 2012, after successfully farming 10 hectares of whiteleg shrimp, the company gradually expanded the farming area to 70 hectares. The investment capital of over VND1 billion per hectare was spent on advanced technology, including: water treatment to enhance biosecurity and disease prevention; special aeration system to reduce energy costs and optimize oxygen supply; automatic feeding system with negative sensor to provide feed according to shrimp's demand thereby reducing feed consumption index.
According to business representatives, high-tech shrimp farming helps farmers and businesses improve the farming process, shorten the farming time, and bring economic efficiency 3 to 4 times higher than traditional shrimp farming. During the farming period, enterprises mainly used microbial products for environmental management. The survival rate of shrimp is over 90%. In 2014, BIM started to put high-tech shrimp farming into mass production.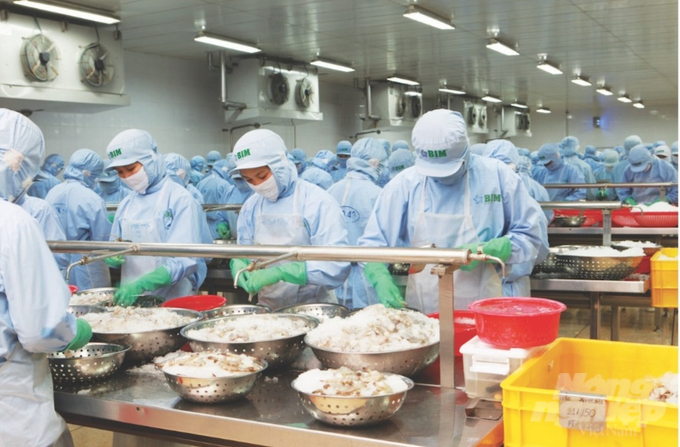 In Kien Giang Province, BIM Kien Giang Food Joint Stock Company has changed its high-tech shrimp farming production method, from raising shrimps in earthen ponds to ponds embedded with canvas. The method helps to reduce the cost of pond renovation, avoid accumulation of dirt and pathogens, prevent diseases and increase the number of farming crops from 1-2 crops a year to 3 crops per year. A new direction helps shrimp farmers improve productivity while encouraging the application of science and technology in shrimp farming areas.
For example, the Phu Quoc island seed development center has a scale of 42ha, specializing in importing and selecting clean seed sources from many countries around the world such as the US, Thailand, Indonesia, Singapore and breeding shrimp with a maximum capacity of up to 3 billion shrimp per year.
1,234ha Dong Hoa shrimp farming area also promotes exports to many demanding markets such as the US, Europe, and Japan with a stable yield of about 16 tons per hectare; or Tac Cau seafood processing factory has an output of up to 13,000 tons of finished products per year.
High-tech clean salt production model
Salt production is another important activity of BIM Group that has brought into play the advantages of a long coastline, transparent blue sea along with natural conditions and climate of Ninh Thuan Province.
The activity of salt production in the province has been invested with modern technology by BIM Salt Production and Processing Joint Stock Company.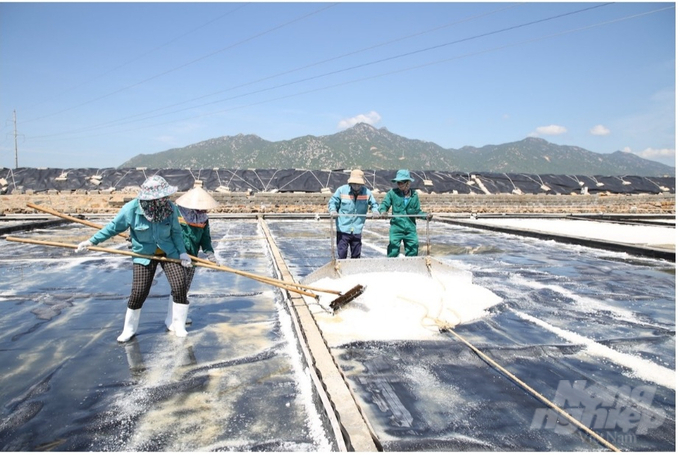 In 2006, the company started to produce salt following the industrial model in Quan The - one of the three largest salt fields in Southeast Asia. The enterprise owns advanced salt production equipment and technology of Serra Group (Spain), large-scale production facilities and a chain management process to ensure the source of raw materials. Therefore, they have been able to introduce to the market natural, safe and high quality salt products. Up to now, BIM Group's 2,200 ha salt industrial economic zone has produced over 350,000 tons of salt per year. In addition to Ca Na and Tri Hai salt fields, the group contributes about 60-70% of Vietnam's salt production.
Right on the salt fields, the group has launched many solar power projects and especially, the construction of large-capacity wind power poles. BIM Energy has installed photovoltaic panels on salt fields, forming the largest clean-energy salt production complex in Vietnam and limiting the direct impact on the environment.
In early October 2021, BIM Wind Power Plant in Thuan Nam district, Ninh Thuan province went into commercial operation. Covering a total area of 2,500 ha and receiving a total investment of VND12,000 billion, the plant marks the milestone that BIM Group completed the strategy of developing clean salt in combination with clean energy.
Currently, BIM Salt Production and Processing Joint Stock Company provides jobs for hundreds of local workers, opening a new direction in economic development for the whole province. The poverty rate in Ninh Thuan has decreased from 23,767 households (in 2016) to 8,280 households in 2021.
According to a representative of BIM Group, over the past 28 years, BIM Foods has always accompanied the general development of the agri-food industry in Vietnam. The enterprise affirms its business method, investment in advanced technology, chain management process with quintessential raw materials to provide high quality and safe products that meet market standards.
Author: Hoang Nguyen
Translated by Phuong Ha
TAG: