Localities requested to strictly sanction fishing vessels losing connection with vessel monitoring system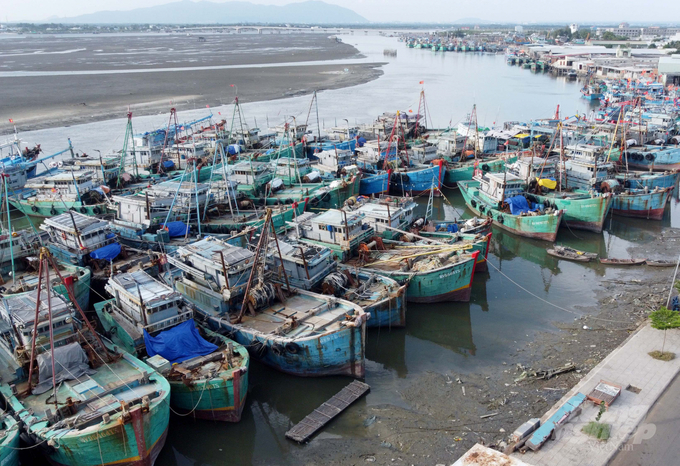 According to Mr. Vu Duyen Hai, Fisheries Department under the General Department of Fisheries, Vietnam still has many many limitations in the fight against illegal, unreported and unregulated (IUU) fishing.
For example, nearly 36% of fishing vessels have not been licensed. Out of 95.3% of fishing vessels that have been installed with a vessel monitoring system (VMS), 45-55% of them regularly lose connection. In many localities, the percentage of licensed fishing vessels is quite low, under 50%.
In particular, the control of the amount of exploited seafood at the ports is low, as up to 5 coastal provinces and cities have no statistics on the seafood that are passed through ports.
Additionally, encroachment on foreign waters still occurs regularly. In the first 8 months of this year, 62 cases/92 ships/845 fishermen were arrested and handled by foreign countries.
At ports, the number of vessels and the amount of exploited seafood being checked is low (accounting for 55% and 23% respectively). The rate of handling violations is also limited while law enforcement is ineffective and inconsistent.
Ms. Nguyen Thi Trang Nhung, Deputy Director of the Department of Science, Technology and International Cooperation (General Department of Fisheries), highlighted some major risks upon the European Commission (EC)'s arrival for inspection, which are also mentioned in international reports.
For example, in addition to certificates for seafood products exported to Europe, Vietnam also issues certificates for those exported to other markets such as Thailand or Malaysia.
Recently, Thailand has announced some records related to shipments exported to this country with signs of being erased and redone. From October 10-15, the EC inspection team will work with the Directorate of Fisheries of Thailand. One of their working agenda is to discuss the certificates of Vietnamese seafood shipments exported to Thailand.
To properly prepare for the EC's visit to inspect the implementation of anti-IUU measures in October, Mr. Tran Dinh Luan, Director of the Directorate of Fisheries stressed the importance of completing the registration of fishing vessel records on the software system.
Furthermore, localities need to check and request vessels without VMS to immediately install this system. If just one fishing vessel is discovered to lack VMS by EC, it will be suspected to conduct illegal fishing.
Relevant localities and forces need to remain on duty to immediately handle the issue of fishing vessels losing connection to VMS. It must be dealt with strictly and seriously without any excuses, Luan added.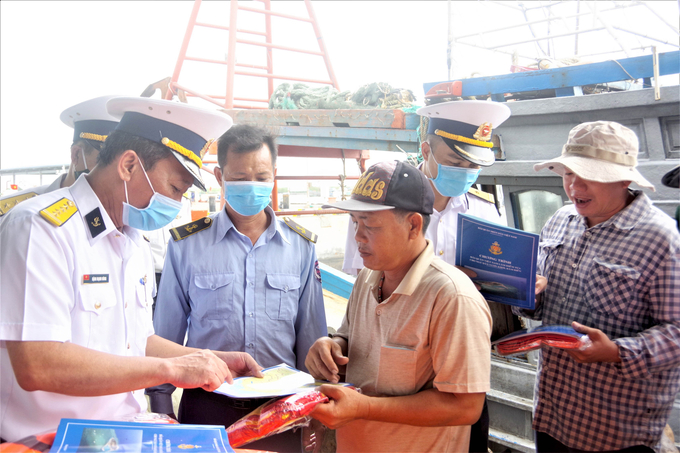 IAnother worrying issue, according to him, is that the penalties for violating fishing vessels this year in localities are low compared to previous years, which might cause EU inspectors to question that localities have not strictly and properly sanctioned violating fishing boats.
Border guards and authorities need to implement synchronously and cross-check between localities in controlling ships entering and leaving fishing ports to ensure their equal level of management.
The director also noted that the fishing activities must still be carried out normally as usual on the arrival day of the EC inspection team.
"The fishing port should not prevent the vessels from entering on that day. Otherwise, EC will immediately realize the abnormality when checking the history of fishing vessels entering and leaving the port," he added.
To address the problem of IUU fishing, the EC has been evaluating exporting countries since 2012. Countries that fail to meet EC standards are issued a "yellow card" warning, followed by a "green card" if issues are resolved, or a "red card" if they are not. A red card can lead to a trade ban on fishery products.
The EC in October 2017 issued a yellow card due to Vietnam's inadequate action to combat IUU fishing.
To ensure the yellow card is lifted soon, prime minister on September 14 issued Decision 1077/QD-TTg on preventing IUU fishing.
Officials from the EC will visit Vietnam again this October to check measures against IUU fishing in coastal areas. The trip aims to review the country's efforts in removing the "yellow card" warning issued by the EU and the check will be conducted directly at fishing ports.
Deputy Minister of Agriculture and Rural Development Phung Duc Tien emphasized that ministries, sectors, localities and units need to work together and strictly implement IUU fighting measures to achieve better results in this upcoming EC's examination.
Authors: Thanh Son - Minh Sang
Translated by Phuong Ha
TAG: