Enter the Impact Entrepreneurship Bootcamp for a chance to win great prizes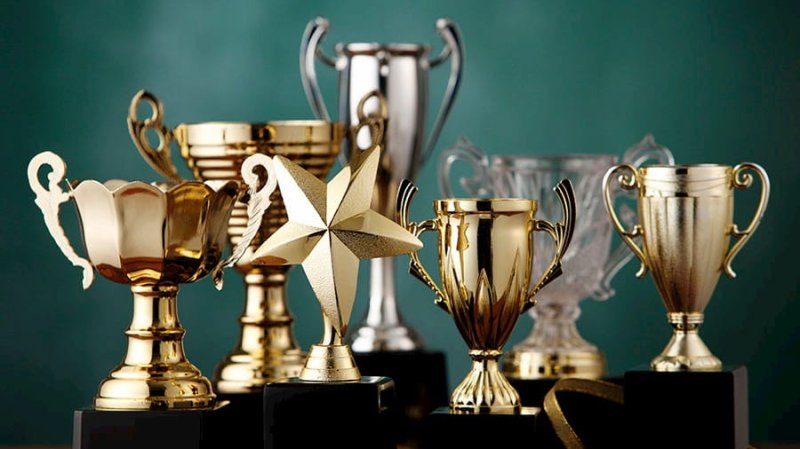 The Impact Entrepreneurship Bootcamp (IEB) – Build Your E-Base competition is now being opened for youths aged between 18-25. Candidates who have willing to hunt for scholarships will have the opportunity for an exchange trip for 7 days and 6 nights in Singapore and other attractive awards with 500,000,000 VND of the total prize value.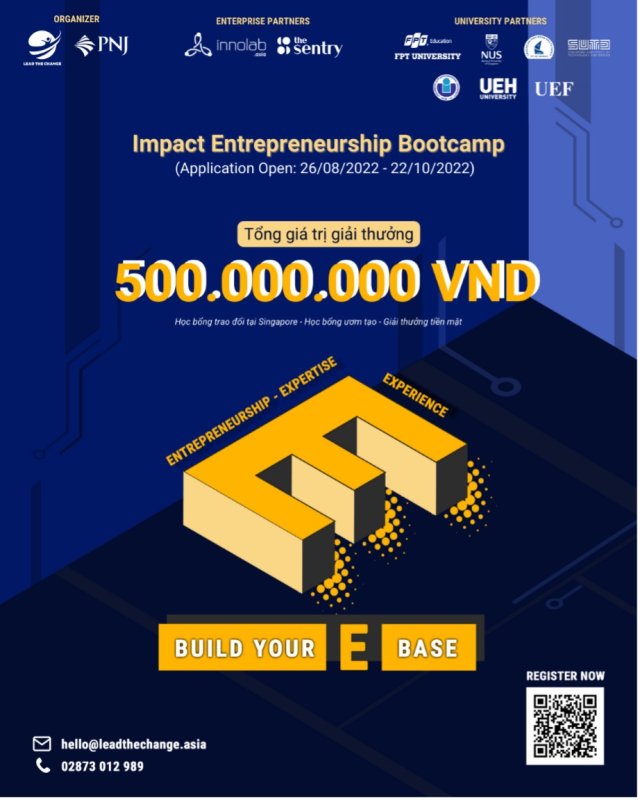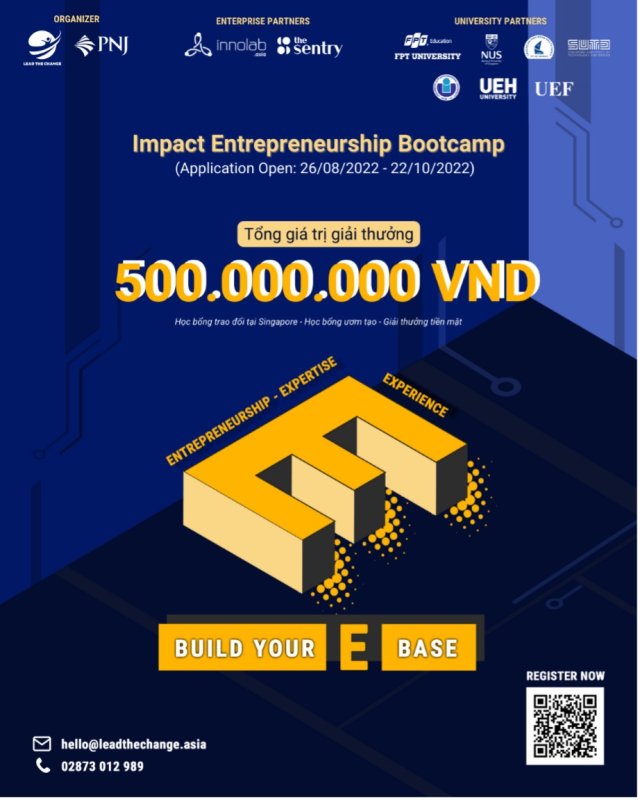 Application time: August 26, 2022 – October 22, 2022
How to apply – fill out the application form here: https://leadthechange.asia/impact-entrepreneurship-bootcamp/
IEB – Build Your E-Base is co-organized by Lead The Change and PNJ. Lead The Change is an organization for social impact with the mission of nurturing a brave, resilient generation of young leaders who constantly cultivate and develop their competitiveness to create a positive impact on the community.
The program is designed with intensive workshops, competitions and 4 rounds of challenges. After IEB, participants would have a strong E-Base to be the future leaders with Entrepreneurship – Expertise – Experience.
Benefits from the contest:
Prize 1: Scholarship to participate in Lead The Change Exchange Trip in Singapore for 7 days and 6 nights.
Prize 2: PNJ Business Incubation Scholarship
Prize 3: Cash Prize
Certificate on completion of the training workshops in the competition
The Bootcamp (IEB) takes place online, you can participate in every province.
In addition to attractive prizes, the contest offers various in-depth experiences:
Workshop series with practical topics: Design Thinking, Business Model Canva, Marketing Strategies, Basic Finance, Product Designing, etc.
Develop Innovative Solutions with 4 real-world business challenges.
Mentoring sessions with industry experts.
Practice relevant soft skills: teamwork, problem solving, presentation, negotiation, leadership, etc.
Contact: hello@leadthechange.asia for more details.
Facebook
LinkedIn
Reddit
Twitter
Email
Related
TAG: