Clams account for 73% of bivalve mollusk exports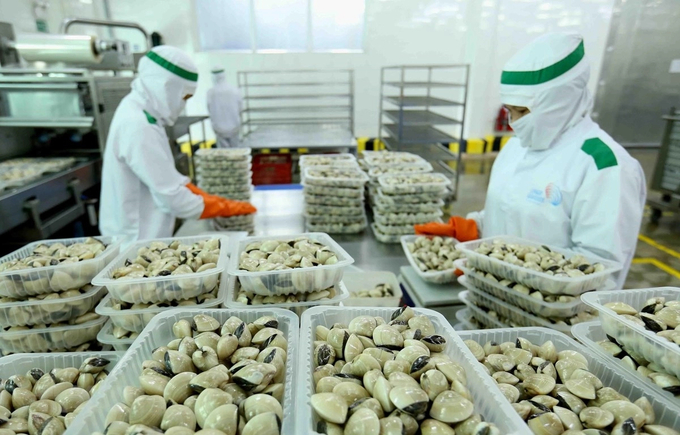 The Prime Minister has issued Decision No. 339/QD-TTg approving the Strategy for developing Vietnam's fisheries to 2030, with a vision to 2045.
The strategy aims to develop comprehensively and comprehensively the whole fishery industry from fishing and farming to processing and trading in seafood.
In addition, the Prime Minister also issued Decision 1664/QD-TTg approving the project on the development of marine aquaculture to 2030, with a vision to 2045, with particular attention to fish species and mollusks (e.g., clams, oysters, mussels, scallops).
According to Mr. Tran Cong Khoi, Deputy Director of the Aquaculture Department (General Department of Fisheries - Ministry of Agriculture and Rural Development), it is not until now that mollusks are interested.
The Government, Ministry of Agriculture and Rural Development, and localities have focused on developing the mollusk industry. The mollusk development plan shows that since 2011. By 2016, the plan had been revised and supplemented.
"When the Law on Planning was issued, the specialized laws expired and had no legal validity, but the mollusk development plan still has scientific value," said the Deputy Director of the Aquaculture Department.
When the Project on marine aquaculture development to 2030, with a vision to 2045, was born, localities issued plans to implement and carry out specific tasks under the Scheme. In which mollusk development is considered an important task.
"The Government, the Ministry of Agriculture and Rural Development, and localities are very interested in the development of mollusks. In the past, mollusks in Vietnam were mostly harvested from the wild and brought into farming areas. Currently, Vietnam can produce artificial mollusk seed and meet the farming needs of farmers," said Mr. Tran Cong Khoi.
Mr. Khoi also said that the technical issue of mollusk farming is also concerned. If there was only free-range farming in the past, now people know that controlled farming, especially the open-farming model, can help prevent the environment.
The Ministry of Agriculture and Rural Development has programs and plans to develop environmental monitoring for aquaculture by 2030. Including monitoring open water areas for clam and mollusk farming, thereby providing early warning of environmental problems to minimize damage to people.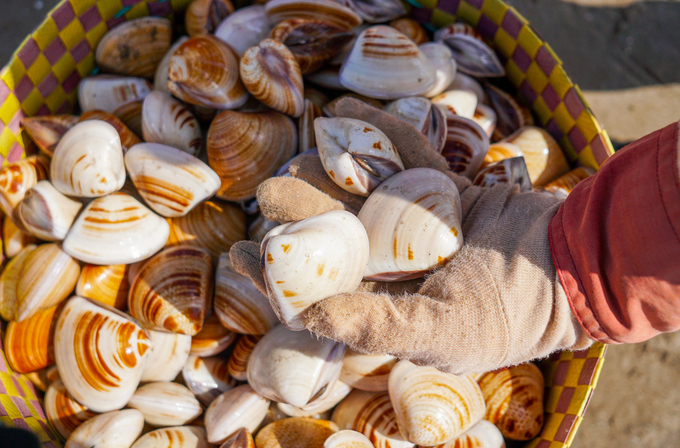 According to Mr. Khoi, the conduct of trade promotion has also been vigorously promoted. In 2021, the export of shellfish products reached nearly US$ 142 million, up 35% compared to 2020. This year, up to 10/12 months of mollusk exports recorded double-digit growth while maintaining an average of 22% to 82%.
In the structure of shellfish exports last year, clams were the main product, accounting for 73% with nearly US$ 103 million, up 52% compared to 2020. The second most exported product was snails accounting for 10% with over $14 million, up 3%. Followed by scallop products, scallops accounted for 8%, with US$ 11 million, up 13%. The rest are oyster products, mussels, abalone, and mixed types.
In 2021, Vietnam exported shellfish products to more than 50 markets. Spain is the largest single market for Vietnam's shellfish, accounting for 18%, Italy and the US ranked second with a share equivalent to 17%, and Portugal with 15%. Japan ranked fifth, accounting for 8% of Vietnam's shellfish exports.
The role of business, science, and technology in mollusk development is enormous. Enterprises are direct mass production units, so they know the techniques and standards of mollusk production very well.
The goal by 2030 is that the water surface area for mollusk farming in our country will reach 43,000 - 45,000 hectares, with an output of 500,000 - 520,000 tonnes, which is quite a high target. "Especially, this indicator also faces difficulties due to competition with other economic sectors. Most mollusk farming is in the coastal intertidal area, so it is easy to face competition with other industries, such as tourism, "said Mr. Tran Cong Khoi.
When localities implement provincial planning and marine spatial planning, it is necessary to identify economic sectors that participate in using marine resources. People need to comply with the provisions of the law. In particular, people need to manage the farming area to meet food safety requirements actively.
Mollusk farmers must be innovative with high technology and meet the market's requirements. They need to link up with each other and closely with agencies in the agricultural sector. In addition, industry management units such as cultivation, animal husbandry, and fisheries also need to coordinate closely.
Author: Pham Hieu
Translated by Ha Phuc
TAG: