Vietnam-Mongolia friendship consolidated attaching to the Silk Road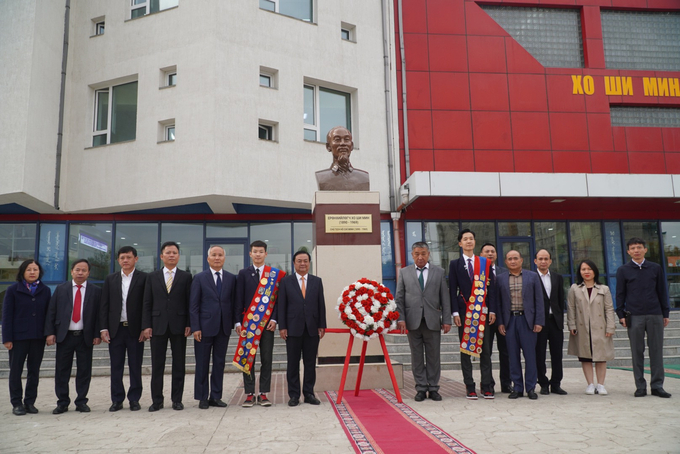 Minister of Agriculture and Rural Development (MARD) Le Minh Hoan has led an inter-ministerial delegation of the Vietnam-Mongolia Intergovernmental Committee (VMIC) on economic, trade and scientific and technical cooperation to visit Mongolia for organizing the 18th VMIC session. He has been warmly and sincerely welcomed by Mongolian friends with good memories.
Chairman of the Mongolian Parliament, Gombojaviin Zandanshatar, expressed his great pleasure at the good traditional friendship between the two countries that has continuously developed as the result of the efforts by the two sides.
According to him, cooperation in some important economic and social sectors between the two countries is also expanding. To celebrate the 70th anniversary of the establishment of diplomatic relations, the two countries should further promote cooperation in the field of trade and investment commensurating with good political relations, at the same time, it is necessary to remove transport bottlenecks to boost economic cooperation.
Meanwhile, Minister Hoan said that a fruitful cooperation development in many fields is proof for the traditional friendship relation between Vietnam and Mongolia. Mongolia can see Vietnam as a gateway to connect with the market of 650 million people in Southeast Asia. At the same time, it is also a gateway to help connect Vietnam with neighboring countries.
Within the framework of the 18th VMIC meeting, the two sides discussed measures to facilitate two-way trade, especially finding solutions to remove transport bottlenecks.Hoan was also pleased to inform the Chairman of Mongolian Parliament that Vietnam is ready to create convenience for the export of livestock products from Mongolia to Vietnam. A delegation from Vietnam's Department of Animal Health is willing to visit processing facilities of Mongolia, promising that Mongolian livestock products will soon be available in Vietnam.
To remove bottlenecks in transportation to promote cooperation in trade, investment and other fields, Minister Hoan led a working delegation to visit the Mongolian Ministry of Roads and Transport Development.Minister Sandag Byambatsogt said trade turnover between Vietnam and Mongolia is still modest due to a geographical distance and some transportation bottlenecks. Mongolia has had a railway agreement with Russia and China and it will work more closely with Vietnam to deal with transportation issues. In particular, Mongolia will negotiate with China to have incentives for transporting goods by rail between Vietnam and Mongolia in transit through China.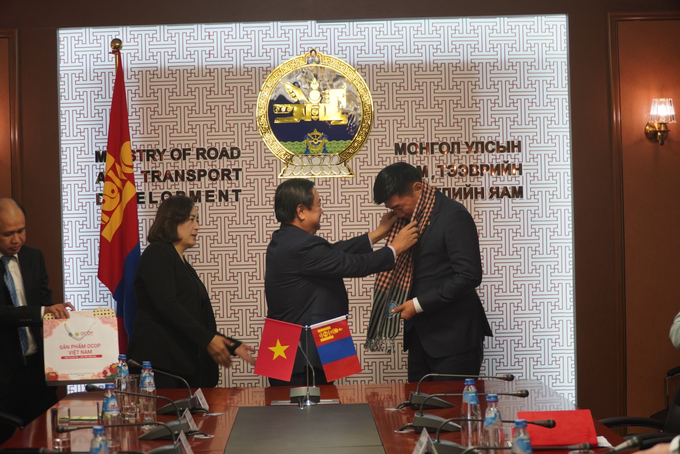 At the Vietnam - Mongolia Business Forum organized by the Mongolian Chamber of Commerce and Industry, Minister Le Minh Hoan warmly welcomed Vietnamese businesses who came to explore investment and business cooperation opportunities with Mongolia. Although many difficulties and challenges are ahead, the Minister fully believed that enterprises of the two countries would take the most advantages of their business' great zoom. Their business cooperation will be an important element to reconnect and further develop the Silk Road with its 2,000-year history, contributing to global prosperity and peace.
Besides promoting economic cooperation, the delegation also focused on strengthening the traditional friendship between the two sides. They visited and presented gifts to High School No. 14 named after President Ho Chi Minh, one of the symbols for the good friendship between the two countries over the past 68 years.
Minister Hoan expressed his emotion on Mongolians' friendship and respect for Vietnam in general and President Ho Chi Minh in particular. He said: "When going abroad, a Vietnamese often says 'my' President Ho Chi Minh. But here today, I can say, our President Ho Chi Minh."
Over the past 70 years of establishment, the school has trained many talents who have actively contributed to the construction and defense of Mongolia, such as President P.Ochirbat, Prime Minister P.Amarjargal, Prime Minister S. Batbold, a number of members of parliament, governor of the Bank of Mongolia, politicians, doctors of science and labor heroes, many of them have received awards from Mongolian State.
Author: Anh Tuan
Translated by Linh Nguyen
TAG: