Four groups of requirement to build mechanization center in Mekong Delta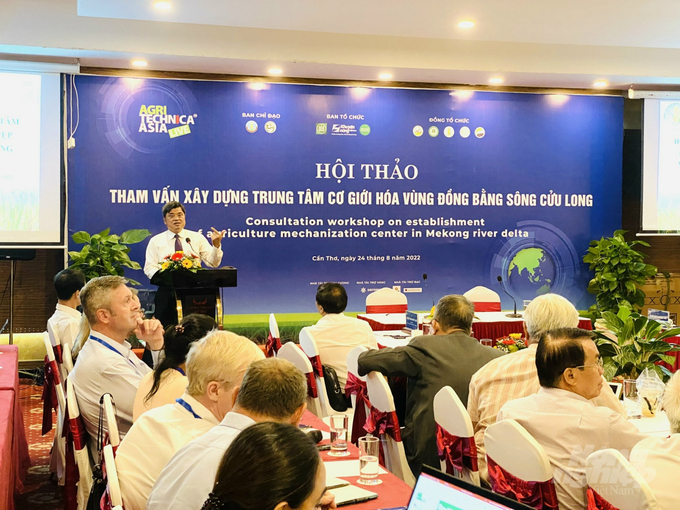 The MARD and the Can Tho Municipal People's Committee co-hosted a consultation session titled "Building a mechanization center in the Mekong Delta" on August 24. This event is part of the Agritechnica Asia Live 2022 series with the theme "Scale-appropriate mechanization for sustainable agriculture."
The mechanization of agriculture and agricultural processing has advanced substantially, contributing to agriculture's stable growth and the construction of new-styled countryside.
Mr. Le Duc Thinh, head of the Department of Economic Cooperation and Rural Development at the Ministry of Agriculture and Rural Development, said that automation of agricultural output has flourished. From 2011 to 2021, the number of all types of tractors increased by 60%, the number of transplanters by 10 times, the number of water pumps by 60%, the number of combined harvesters by 80%, the drying of agricultural products by 30%, the processing of animal feed by 91%, the processing of food by 30%, the processing of aquatic feed by 2.2 times, and the application of pesticides by 3.5 times.
With crop production mechanization ranging from 70 to 100 percent and livestock mechanization from 55 to 90 percent, the automation rate in some periods of certain agricultural sectors is high.
Mechanization in agriculture addresses laboriousness and seasonality, hence enhancing productivity, quality, competitiveness, and the production of the world's premier agricultural exports. In addition, it facilitates the linkage of production firms, cooperatives, and farmers, as well as the formation of service organizations in rural regions, such as those that provide soil preparation, transplanting, pesticide application, harvesting, drying, and storage rental services.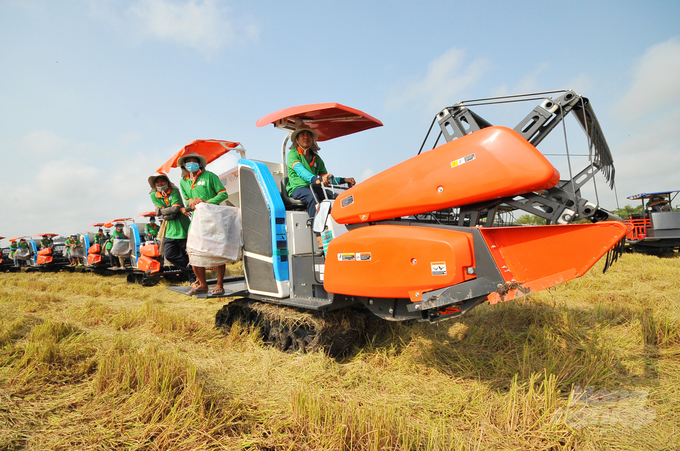 Mechanization in agriculture abounds in the Mekong Delta since it is the country's primary agricultural region. For the rice plant, mechanization in tillage reaches 100%, sowing and transplanting is 75%, care and protection is 85%, harvesting is 95% and straw collection is 90%, etc.  For fruit trees, mechanization in soil preparation (rowing, trenching, tilling) accounts for more than 90 percent, care (irrigation, plant protection medications) accounts for 60 to 70 percent, while harvesting is performed manually. For aquaculture, equipment such as aerators, water temperature sensors, harvesters, and pond infrastructure machinery have been used.
At the seminar, scientists, experts, and specified agencies shared the same concept of the draft Decree for constructing a mechanization center in the Mekong Delta to attract and gather large firms and typical cooperatives.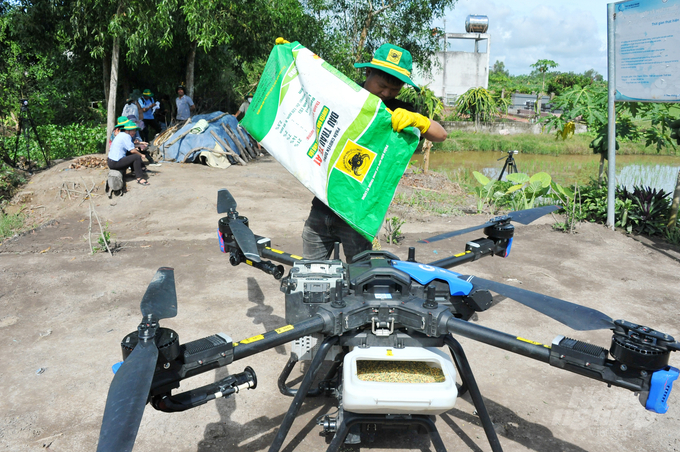 Mr. Tran Thanh Nam, deputy minister of the Ministry of Agriculture and Rural Development, stated that the development of mechanization in agriculture and agricultural processing is an important mission for the agriculture industry to increase the added value of agricultural commodities, sustain growth, and participate in the global agricultural supply chain.
The Deputy Minister emphasized that to improve and modernize mechanization in agricultural production, MARD expected to establish a mechanization center that is synchronized in terms of equipment and materials, engineering, and machine inspection..., thereby encouraging the deployment of motorized mechanization not only in the Mekong Delta but on a national scale.
The Deputy Minister proposed four missions, one of which was the establishment of a center for agricultural mechanization, which would provide assistance, training, and the transfer of technologies to farmers, cooperatives, and cooperation groups, as well as educate them on which the machines are used for crop production, shrimp farming, and fruiters, among others. Several cases in Mekong Delta demonstrate that equipment suppliers and farmers do not seek a unified voice to synchronize the mechanization of agricultural production.
Second, when the mechanization center is activated, it must become a location for the production of modern machines to build a continuous chain, from which the firm will get mechanical assistance from the state.
Thirdly, the mechanization center is responsible for imparting services, science, and technology about mechanics to farmers and is a credible center for farmers to get their machines repaired.
Fourthly, the center is where standards, laws, automated processes, and occupational safety for users are verified.
Author: Le Hoang Vu
Translated by Linh Linh
TAG: