Mechanization in fruit production: poor in post-harvest handling
On August 22, MARD in collaboration with Tien Giang People's Committee held a seminar on "'Mechanization in fruit production". The seminar is a part of the global-spotlight "Agritechnica Asia Live 2022" events themed "Scale-appropriate mechanization for sustainable agriculture".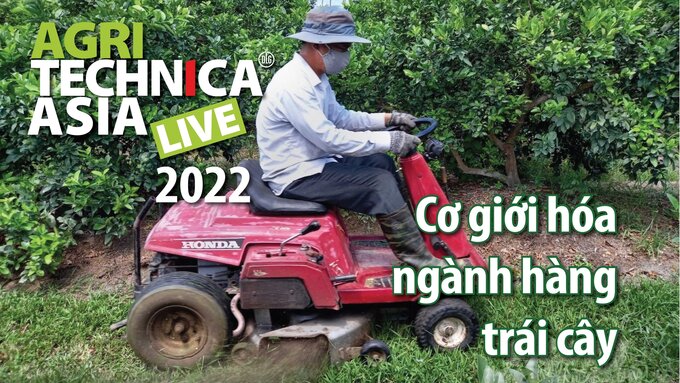 Mechanization is conducted in the stages of tillage and care
Similar to other fields in the agricultural industry, fruit production boasts a high rate of mechanization, from 70%. According to the Department of Economic Co-operation and Rural Development, mechanization has only been done well at the tillage stage (about 90%) and care (from 70-80%). The stages of harvesting, transportation, and post-harvest preservation have been poor. 
"The mechanization rate in fruit production has only focused on some stages including soil, irrigation, care and processing, and preservation. Harvesting, fruit wrapping, and plowing the soil to fertilize (for mango trees) are still mainly conducted manually. Most fruit trees are cultivated on the terraces for the Mekong Delta regions. For the midland and mountainous areas, the scattered area and high slope are the hurdles of mechanization," said Mr. Vu Van Tien, deputy director of the Department of Economic Cooperation and Rural Development.
He elaborated that the technical infrastructure including poor traffic and electricity, and fragmented cultivation scale among others are unable to meet the requirement of mechanization. Farmers often plant fruit trees at much higher densities than prescribed. There is no suitable machine to ensure quality and quantity for the mechanization of fruit tree production.
Tien Giang is the locality with the largest area of fruiters in the Mekong Delta, about 87,000 hectares. Mr. Vo Van Lap, Head of Tien Giang Rural Development Sub-Department shared that mechanization in tillage accounted for 84.3%, motorized pumping accounted for 100%, and pesticide spraying by machine accounted for 100%. The application of a water-saving irrigation system into production accounts for 59% of the area.
Regarding support policies for mechanization, Mr. Lap elaborated that Tien Giang province has supported subjects of the Prime Minister's Decision on support policies to reduce post-harvest losses in agriculture. By 2020, there were 481 borrowers with a total loan amount of VND 136,704 million, the supported interest amount was VND11,154 million. Customers borrow money to invest mainly in combine harvesters, agricultural dryers, tillers, leveling fields, etc. 
The province also implemented several display models and transferred advanced techniques in agricultural mechanization to farmers from agricultural extension expense. In rice production, there are a model adopting a straw rolling machine for post-harvest production, a model of using rice transplanters in combination with manure inclusions, and a model of sowing with trays. On fruit trees, a model of saving watering for soursop, and a model of dragon fruit trellis. From industrial promotion funds, the province has supported enterprises/cooperatives with machinery and equipment in processing, packaging, and preserving fruits. However, Mr. Lap also acknowledged that the state's mechanisms and policies are not proper enough to attract businesses to invest in agricultural mechanization.
At the seminar, attendants also mentioned the vital issues to promote mechanization in the coming time including more good support policies and mechanisms. Mr. Nguyen Duc Long, director of Vietnam Institute of Agricultural Engineering & Post-Harvest Technology shared: "Fragmented agricultural production scale, farming households play the main production subject, poor investment capabilities for mechanization are the hurdles". Dr. Nguyen Huy Bich, dean of the Faculty of Engineering and Technology, University of Agriculture and Forestry in Ho Chi Minh City, shared the same view, stressing that "mechanization is impossible if the farmers remain poor". 
The Mekong Delta has 400,000 hectares of fruit trees, which accounts for roughly 40 percent of the country's total land area. Fruit production reached 4,3 million tons, accounting for sixty percent of the nation's total. The value of fruit tree output reached VND 48,651 billion, accounting for 48% of the value of national fruit production. According to Mr. Vu Van Tien, the Deputy Director of the Department of Economic Cooperation and Rural Development, the country's principal export is fruit. It is vital to mechanize the phases of production and harvesting in order to raise the competitiveness of fruit products by enhancing their productivity, quality, labor efficiency, and production costs.
Farmers need to support each other 
Mr. Nguyen Duc Thinh, Director of the Department of Economic Cooperation and Rural Development affirmed that mechanization must be focused on, especially by the Ministry of Agriculture and Rural Development. The Department has advised the Government on two documents on the strategy of mechanization and processing in agriculture and a decree on mechanization and synchronous mechanization in agriculture.
"We agree with experts' opinions that both importing machines from other countries and promoting domestic production capabilities are vital. No country is able to progress to mechanization without dependence on technology and machine imports. We are unhesitating to import machines but they must be innovated to match the country's situation and aims", Thinh stated. 
Regarding the credits for mechanization, MARD will propose other relevant ministries and departments to provide appropriate mechanisms. "Farmers' organizations had to support each other at first before looking for state's mechanisms. Even in the link chain, we also recommend businesses support farmers. Cooperation is the key to solving the problem in mechanization," Thinh stressed.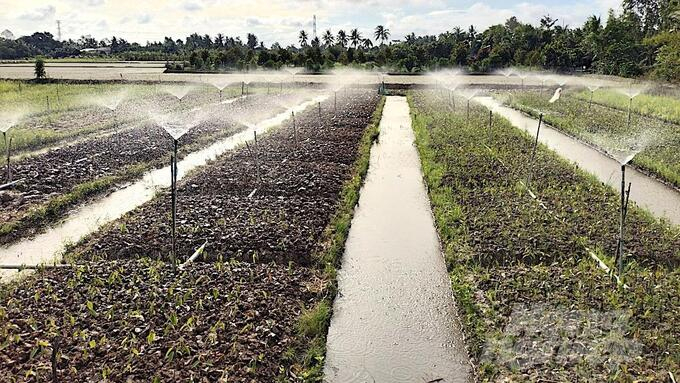 For effective mechanization in Ben Tre, Mr. Huynh Quang Duc, deputy director of the Department of Agriculture and Rural Development shared that it was essential to re-organize the large specialized cultivation area and re-design the planting area. He added: "In mechanization, capital is not the only thing to highlight, you should mobilize social resources to join. People will keep investing as long as it generates profits. There should be policies to protect people's initiatives. Second, it is vital to create conditions for people to scale up their production scale". 
Authors: Minh Dam - Huu Duc
Translated by Linh Linh
TAG: