Bao Yen looks to produce organic cinnamon and reach out to high-end markets
On August 11, Bao Yen district (Lao Cai province) held a seminar to find solutions to in-depth processing of cinnamon products, looking to build the Bao Yen cinnamon brand  and reaching the world.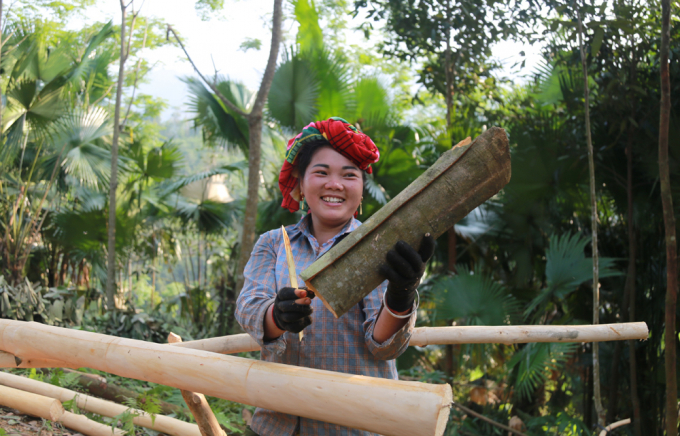 Thanks to favorable geographical position, Bao Yen district has the potential to develop the agricultural industry through agricultural and forestry specialty products which are abundant supply of raw materials for food industry and urban areas inside and outside Lao Cai province.
At present, Bao Yen district has more than 23,500 hectares of cinnamon. It's expected that by 2025 the area will increase to 25,000 hectares. Currently, ultimate production of cinnamon branch and leave is estimated at around 156,000 tons; cinnamon bark output reaches nearly 78,000 tons which are enough for seven producing and processing enterprises and cooperatives in the district.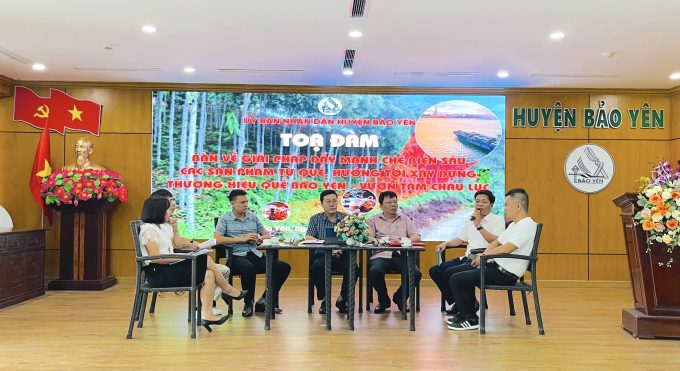 "However, most of cinnamon grown in Bao Yen district has undergone raw processing, so the value of these products is not fully exploited.  Therefore, in the next time, Bao Yen will pay more attention to calling enterprises to invest in in-depth processing of cinnamon to increase the value of the products.  Along with that, Bao Yen will focus on building raw material areas of organic cinnamon, targeting high-end markets such as the EU, South Korea," said Nguyen Xuan Nhan, Standing Deputy Secretary of the Bao Yen Party Committee.
Apart from cinnamon products, Bao Yen district has a large area under tea cultivation. Tea plant is considered as a crop that secures livelihoods of the locals and creates stable income for them. Currently, the district has one processing plant with capacity of 1,000 tons of fresh tea leaves, equivalent to 200 tons of dried tea. This facility has linked up with tea growers to cover most tea grown in the area.  
In Bao Yen, 599 hectares are now covered under tea, a decrease of 197ha from early 2021. The district determined that in the coming time it would focus on recovering tea-growing areas, paying more attention to intensive and organic farming practices to increase both tea yield and quality.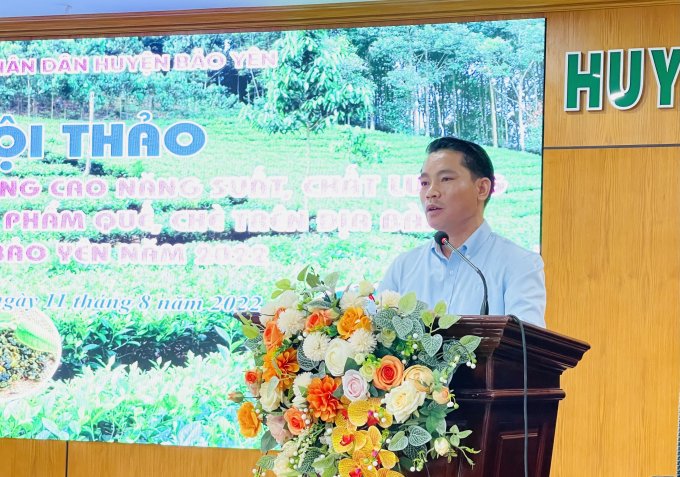 "With big and important goals set for the years to come along with the help and support from central and local governments as well as associations and enterprises, Bao Yen district will be determined to do its best to promote different resources, creating favorable conditions to work with enterprises and local people to transform the district's agriculture into modern and sustainable industry, further develop the cinnamon and tea industries, reaching the world," Nguyen Xuan Nhan emphasized.
Recently, Bao Yen has made great progress in terms of infrastructure.  The district has a diversified traffic system including National Highway No.70, National Highway No.279, the Hanoi- Lao Cai Expressway along with roads, railways and waterways which are convenient for trading, transporting goods and tourism development. Furthermore, Sa Pa Airport is now under construction and will be completed in the near future.
In Bao Yen district, 100% of communes have automobile roads through commune centers. This is the premise and advantage for Bao Yen to fully promote its strengths in agricultural development, especially agricultural commodities.
Authors: Hai Dang
Translated by Mai Tham
TAG: