Localities of Vietnam and Cambodia strengthen cooperation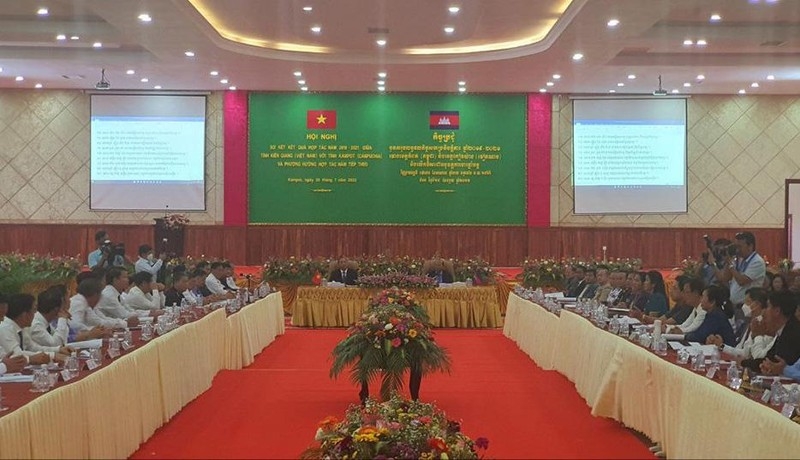 An overview of the conference   
NDO - The southern province of Kien Giang and Cambodia's Kampot Province held a conference in Kompot City on July 28, Cambodia, to review the results of three years of cooperation (2019-2021) between the two provinces and set out cooperation directions for the coming years.
The event was held as part of a series of activities to celebrate the 55th anniversary of the establishment of diplomatic relations between the two countries.
Speaking at the conference, Chairman of Kien Giang Provincial People's Committee Lam Minh Thanh highly appreciated the coordination between functional forces of the two sides, praised the cooperation results achieved, and thanked the authorities and people of Kampot Province for actively coordinating and promoting cooperation between the two localities.
Governor of Kampot Province Mao Thunin thanked for the material and spiritual support of the administration and people of Kien Giang Province and voiced their commitment to continue accompanying Kien Giang Province in promoting friendly cooperation relations for the prosperous development and prosperity of the two localities and two countries.
In recent time, the two sides have cooperated effectively in ensuring border safety, boundary markers, security and order, and in searching for, unloading and repatriating the remains of Vietnamese volunteer soldiers and experts in Cambodia.
At the event, the two sides signed cooperation agreements for the coming years, agreeing to continue promoting economic cooperation, trade promotion, and the strengthening of measures to prevent and combat smuggling and trade fraud; as well as to step up investment promotion and tourism promotion activities and strengthen cultural and social cooperation, people-to-people exchanges, etc.

TAG: