Tea production and price declines push farmers into hardship
Tea hills across Huong Son district (Ha Tinh province) drooped and were devoid of harvesters in June due to the intense heat. According to locals, products were exported at a sluggish rate, and the purchase price offered by factories fell, driving farmers into challenges.
Ms. Le Thi Minh Duc in the commune of Son Kim 2 in the district of Huong Son has nine rods of tea that are entering their peak harvest season. After deducting labor and fertilizer expenditures, this crop has cost her around VND 4 million in losses due to a decrease in output and selling price.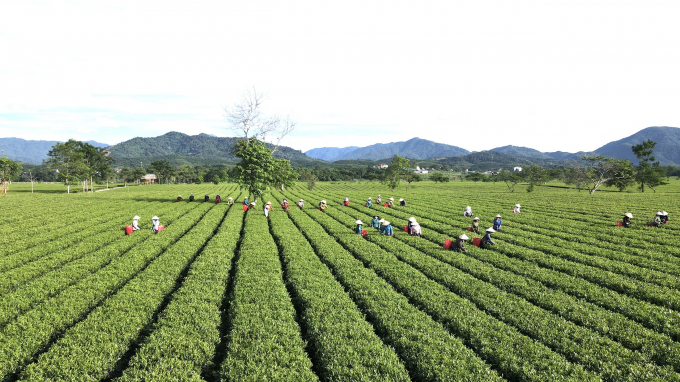 "Last year, I collected around 15 tons of fresh tea; C-grade tea was acquired for VND 6,400 per kilogram; D-grade tea was purchased at VND 5,500 per kilogram, and the estimated profit after deducting all costs was 30%.
However, I have only harvested more than 4 tons of tea in the first five months of 2022, selling it for VND 6,000 per kilogram for C-grade tea and VND 5,000 per kilogram for D-grade tea. It is going to be a significant loss as the investment costs were much higher than that of 2021."
Ms. Tran Thi Son of the village of Thuong Kim, who shared the same unfortunate situation, created approximately two tea acres on hills. During the same time period last year, she collected between 5 and 6 tons of fresh tea, however this year she has only collected more than 3 tons. This year, the selling price of tea decreased by 400-600 VND per kilogram, resulting in low economic efficiency.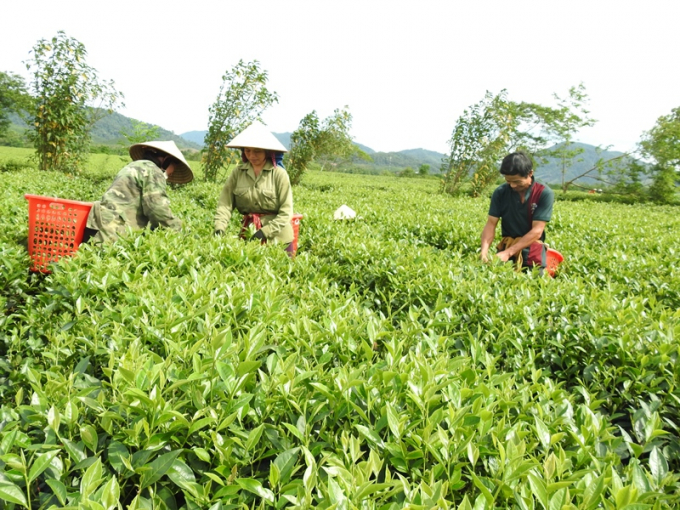 Ms. Son stated, "We spent around VND 2.5 million for each tea rod, and each worker averaged VND 250-300 thousand.  High input cost, while the selling price of tea declined, causing more possibilities of loss". 
Mr. Nguyen Hong Sanh, the director of Tay Son Tea Factory, stated that the company presently purchases tea from around 1,000 households covering 330ha. In 2021, the unit acquired around 4,300 tons of fresh tea; however, during the first five months of the year, only approximately 1,500 tons were purchased.
According to Mr. Sanh, the record-high cost of fertilizer is not the only cause for the decline in tea output. The majority of the tea cultivated in the Huong Son area is LDP2 tea, and the ideal temperature range is between 22 and 30 degrees Celsius, but the weather has been poor this year. Occasionally the temperature drops precipitously, making it difficult for tea plants to develop.
In the first few months of the year, the slow rate of export to West African and West Asian nations has resulted in a steep decline in the purchase price of tea.
Currently, the communes of Son Kim 1, Son Kim 2, Son Tay, Son Hong, Son Lam, and Son Lam account for the majority of the 622 hectares of tea located in the entire district of Huong Son.
In order to solve the issues with the price and quantity of tea, the district of Huong Son advised people not to harvest in huge volumes. Concurrently, vigorously battle dryness for tea plants so as not to reduce production, coordinate with purchasing units to assure the harvesting, selling, and fertilizer investment strategy, and invest in fertilizers to gradually raise the output of the plants.
Chairman of the Son Kim 2 Commune People's Committee Cu Manh Tuan, emphasized: "Tea has been a reliable source of income for over 1,000 people in the villages of Tien Phong, Lang Che, Thanh Dung, Thuong Kim, and Ha Vang for decades.
Every year, from April to June, the main harvest season begins, and people are excited due to the stable production and price; however, the price of tea has declined and the yield has not been achieved, so producers are suffering losses."
Authors: Thanh Nga - Vo Dung
Translated by Linh Linh
TAG: