More than 3,600 students participate in "Painting for forest planting" with Panasonic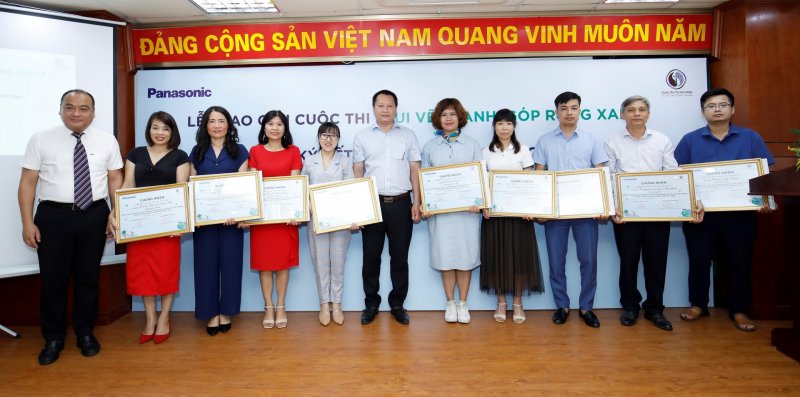 The contest received enthusiastic support and participation from schools across the country
The contest "Painting for forest planting" was organized by Panasonic in March on the occasion of Earth Hour in cooperation with Center for Natural Resources and Environment Communication (CNREC), aiming at not only creating a fun and artistic activity for students, but also increasing their awareness about environment, enabling students to convey their own message about environment protection through their personal works. The special highlight of this program attracted students even being implemented during pandemic that it is the first time students nationwide can contribute to forest planting, in respond to the "1 billion green trees for Vietnam" program by Vietnamese government. It is also the spirit conveyed in "Panasonic Green impact" declared early this year towards CO2 emission neutralization within Panasonic group globally.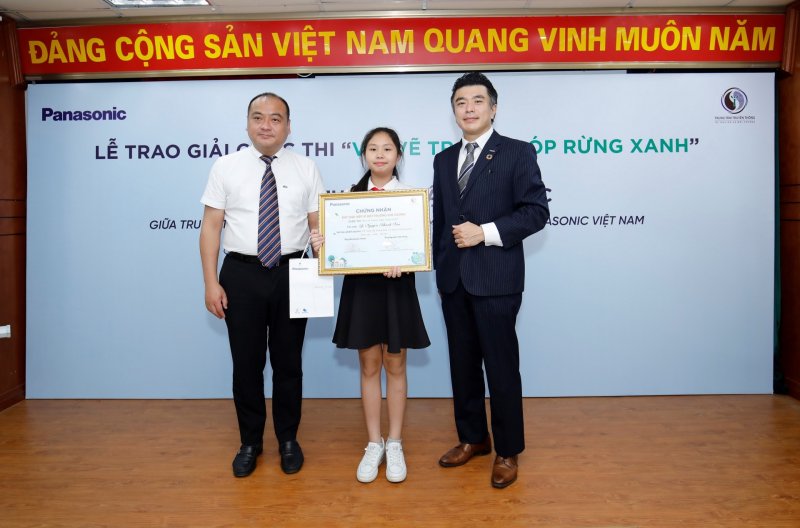 Panasonic and CNREC award students with the most outstanding paintings
Mr. Marukawa Yoichi, General Director of Panasonic Vietnam, shared: "Over the past two years, we all were affected a lot by COVID-19, not only Panasonic but also the whole society, including students. But I believe we have to move forward, that's why we keep focus and enhance our activities in education and environment. I am very happy to see how much Vietnam children, schools and parents love Environment and ready to take action together to make a sustainable Vietnam. This is a new activity on top of our annual tree planting program, where we aim to generate more values from the society by encouraging students to participate, plant forest together with Panasonic. Beyond our joy and surprise, we have received over 3,600 paintings from students of seven provinces over the country, which is more than doubled our initial target. Therefore, after finishing planting the first batch of 1,500 trees in April, we shall plant the rest 2,100 trees in August. This is very meaningful for Panasonic as 2022 is also the first year in new journey for the next 50 years in Vietnam, towards realizing Wellness and sustainable development of Vietnam. We also plan a very special tree planting program in 2022, with the biggest scale of tree planting ever done by Panasonic in Vietnam, with participation of our customers and business partners in the whole country."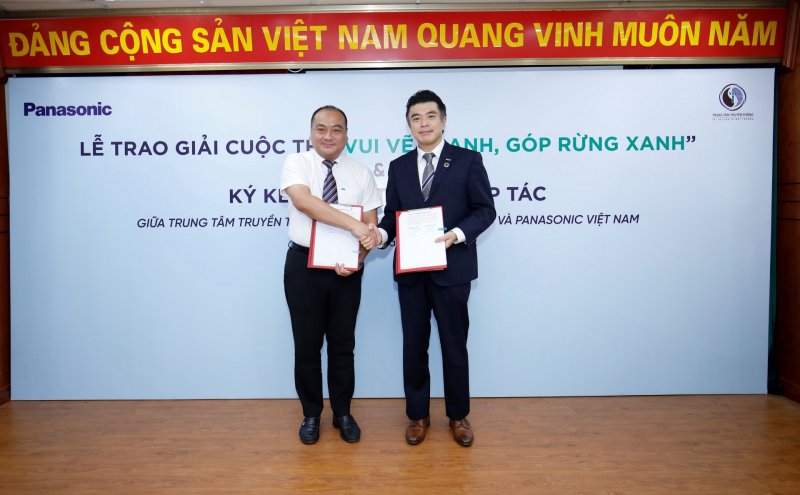 The MOU signing between Panasonic and the Resource and Environment Communication Center
At the ceremony, Panasonic Vietnam and the Center for Natural Resources and Environment Communication (CNREC) signed the Memorandum of Understanding (MOU) to promote environment and education activities toward 2025, including eco learning and STEM experiencing classes through activities at local schools, and online.
Mr. Nguyen Viet Dung, Director of the Center for Natural Resources and Environment Communication, Ministry of Natural Resources and Environment, excitedly shared: "The contest brought to us interesting perspectives of students on environment issue. I am very surprised to find that today's students are having great knowledge and awareness about environmental protection. They showed us that even our awareness has to be improved. Under the cooperation with Panasonic, we will implement the program "Panasonic for sustainable schools" in order to create a meaningful playground for students, deliver knowledge environmental protection, climate change responding and sustainable development."
PV
TAG: