Training workshop on solid waste and plastic waste management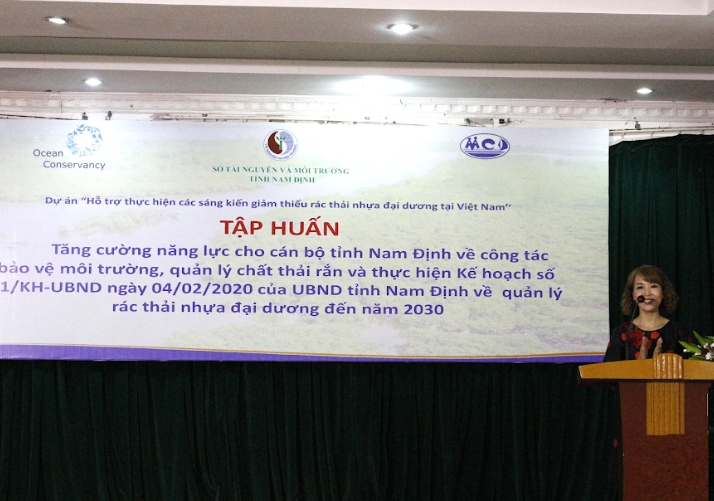 Ms. Ho Thi Yen Thu, MCD Deputy Director, at the event
The workshop aimed to support Nam Dinh Province in effectively implementing the Provincial and National Action Plan (PAP and NAP) on marine plastic waste management (MPWM), while at the same time responding to the Month of Action for Environment (June), World Environment Day (June 5), Vietnam Sea and Islands Week (June 1-8), and World Oceans Day (June 8) in 2022.
The training was organized in the blended face-to-face and virtual format with the participation of about 90 delegates including representatives of national agencies: Vietnam Institute of Seas and Islands, Vietnam Administration of Sea and Islands, MCD and environment experts; and representatives from Nam Dinh agencies: Leaders and officials of DONRE; Representatives of provincial Departments of Agriculture and Rural Development, Information and Communication, Education and Training, Provincial Youth Union and Women's Union, Xuan Thuy National Park Management Board, People's Committee of Nam Dinh City and Tran Te Xuong Ward, People's Committee of My Loc District and My Tan Commune, People's Committee of Nam Truc District and Dien Xa Commune; People's Committee of three coastal districts of Giao Thuy, Hai Hau, Nghia Hung and the coastal communes in those districts. The training also attracted online participation of the representative from Ocean Conservancy, USA, and more than 200 delegates from the Divisions of Natural Resources and Environment, and People's Committees of communes and towns in other land-based districts and cities in Nam Dinh Province.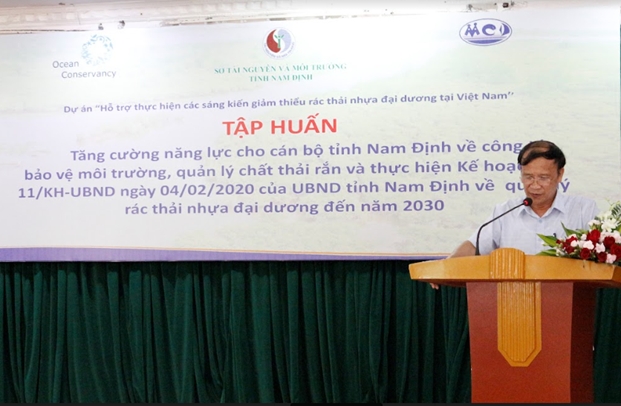 Mr. Phan Van Phong, Deputy Director of the Nam Dinh DONRE, delivers opening speech
The training workshop was a part of the project "Accelerating effort to reduce plastic waste in Vietnam" implemented by MCD with funding and technical support from Ocean Conservancy. This project aims to promote stakeholder's cooperation and connect technical supports to increase the effectiveness of plastic waste reduction efforts in Vietnam, contributing to the implementation of the National Action Plan on MPWM.
At the training workshop, Ms. Ho Thi Yen Thu – Standing Deputy Director of MCD, said: "In recent years, MCD in collaboration with the Nam Dinh DONRE has implemented various activities on enhancing the solid waste and plastic waste management in Nam Dinh Province. As an NGO, MCD connects resources from donors, works with local partners to develop and implement technical assistance projects with research, pilot models, technology transfer, and mobilizes reputable domestic and international experts to assist in fostering knowledge and skills for the officials of local agencies, units and mass organizations, contributing to building up stronger capacity for environmental protection in general and reducing plastic waste in particular, supporting the effective implementation of Nam Dinh Provincial Action Plan on marine plastic waste management until 2030. In line with that effort, today on the World Oceans Day 2022, MCD is very pleased to cooperate with Nam Dinh DONRE to organize this important activity - a training workshop to strengthen capacity for Nam Dinh officials in solid waste and plastic waste management. On this occasion, we would like to express our gratitude to our colleagues at Ocean Conservancy for their continuous support for MCD and DONRE during the implementation of project activities."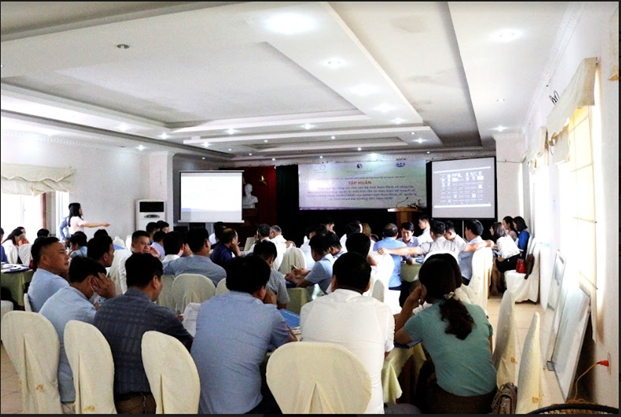 Nam Dinh DONRE organized the workshop towards marine plastic waste management until 2030
Mr. Phan Van Phong - Deputy Director of the Nam Dinh DONRE, commented: "The national action plan for marine plastic waste management until 2030 was issued in December 2019. As a coastal province, Nam Dinh has timely taken action towards implementing the national action plan by developing and promulgating provincial action plan No. 11/KH-UBND dated February 4, 2020 of the Nam Dinh Provincial People's Committee for marine plastic waste management until 2030 and has disseminated it widely to the agencies, units and communities in the province. We believe this training workshop will provide updated information, useful knowledge and necessary skills to support Nam Dinh province in effectively protecting the environment and managing the solid and marine plastic waste. We highly appreciate the technical assistance from MCD for Nam Dinh and thus will continue working with them to successfully implement the projects."
The training workshop yielded positive results, helping the officials of relevant agencies and organizations in Nam Dinh increase their understanding about the international and national context, current status, and trends of plastic waste. The training participants have been provided with updated policies, strategies, and action plans. They have been equipped with basic knowledge and skills on solid waste management in general and marine plastic waste in particular, and also enhanced in environmental communication skills. The training participants have expressed that they would apply their learnings in practices of local environmental protection and waste management, which would eventually contribute to successfully implementing the Action Plan on MPWM at provincial and national levels.
PV
TAG: