Stronger link needed between travel companies and training facilities to address employee shortage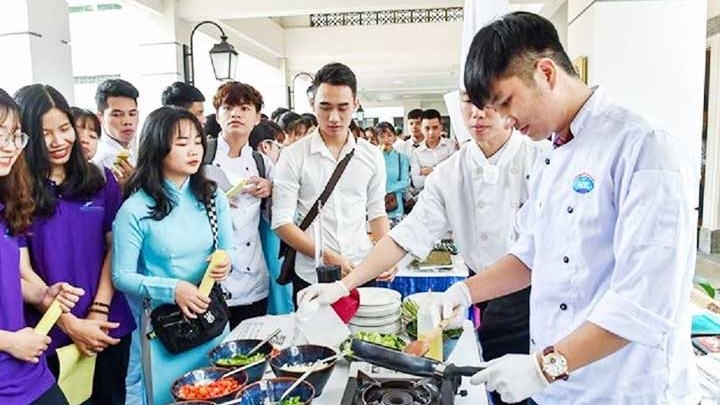 A tourism and hospitality career orientation event in Hanoi. (Photo: Xuan Mai)   
NDO - To solve the tourism sector's workforce shortage, after two years of being severely hit by the COVID-19 pandemic, it is necessary to forge a stronger link between travel companies and tourism training facilities.
According to a survey by the Ministry of Culture, Sports and Tourism, the number of recruits by 15 tourism vocational facilities fell by 32% as of September 2021 and 50% as of December 2021.
Such figures show that a tourism workforce drain is taking place not only at travel companies but also at vocational training centres. The next generation's reluctance to choose tourism as their career is presenting several challenges to the goal of sustainable tourism development.
As Vietnam's tourism sector is recovering and facing a severe shortage of workers, especially highly-skilled ones, an effective solution is to promote cooperation between educational facilities and tourism companies. It will not only help enhance the quality of human resources training but also help enterprises find competent candidates that meet their requirements. Before the pandemic, the link was already established but many problems have remained unresolved in the cooperation between enterprises and training facilities.
At a recent conference, Associate Professor Ngo Van Ha at Da Nang University shared that most training facilities are not fully informed of the manpower demand and technological transformation of tourism companies, resulting in a mismatch between supply and demand.
Schools are still providing training on what they have, not what enterprises need. Many students worked at enterprises as apprentices only to collect data from those enterprises for their graduation report, not to understand the reality to further clarify the theory they learned at school. Many enterprises have to retrain their workers after recruiting. The link between enterprises and training facilities is poor, resulting in an imbalanced curriculum and workforce structure.
Therefore, to close the workforce gap in the tourism sector, it is necessary to perfect the mechanisms for training cooperation between enterprises and vocational centres. At the same time, research on the post-pandemic market is needed to orient the training cooperation, while cooperation between the two sides is needed in formulating the training curriculum to reduce theory and increase practice.
Regarding this content, Nguyen Anh Tuan, Director of the Institute for Tourism Development Research, said that besides reforming the human resources training programme, it is also necessary to reform the recruitment of tourism human resources.
Many experts said that in addition to the conventional form of sending students to enterprises for short stints of on-the-job training, other forms of cooperation between the two sides should be introduced. General Director of the Da Nang Bac My An-Furama Resort Nguyen Duc Quynh said at this time, students can be regarded as additional and potential sources of manpower.
Tourism companies need to cooperate closely with training facilities to enable students to learn and work at enterprises and increase on-the-job training periods. They also need to work with vocational schools to implement short-term training programmes for their new workers and send experts to take part in seminars at training facilities to enhance practical knowledge for students.
Trang Anh/Translated by NDO
TAG: