Creating linkage is difficult, but from where?
Large enterprises join the "big paddy", but problems arise
Provinces in the Mekong Delta have been making an effort in strengthening and supporting cooperatives as well as cooperative groups through integrating many programs and projects. Especially thanks to the Vietnam Sustainable Agriculture Transition (VnSAT) program, new agricultural cooperatives of localities can catch up to the bustling production rhythm. They make a strong investment in storehouse and dryer. They mechanicalize on-field production stages to meet the standards to create linkage with enterprises.
Can Tho has nearly 20 enterprises supplying agricultural inputs for local fields. These enterprises participate in "big paddy" and offer a purchase price VnD 50 -100/kg higher than the market. But to Can Tho, the core issue lies in attracting enterprises to further participate in the production link and support model agricultural cooperatives. Can Tho Department of Agriculture and Rural Development therefore selects four partner cooperatives including Khiet Tam, Hieu Binh, Thinh Phat, and Nhan Loi to produce rice according to Sustainable Rice Platform (SRP) standards to meet consumption requirements in the rice export criteria of Olam Group.
Soc Trang normally focuses on its advantageous rice varieties such as the ST group (ST24, ST25), Tai Nguyen rice, and light fragrance rice. Despite having a fairly good condition for production, Soc Trang's specialty rice variety group is still not eligible for development. While the province produces over 2 million tons of rice/year with 55% of the output being specialty fragrance rice, there are only three rice processing enterprises for export with a scale of more than 20,000 tons/year and nineteen factories and rice processing establishments.
Witnessing the dynamic change in the region, Soc Trang realizes its urgent need to invite enterprises inside and outside the province to create production links and expand the "big paddy".
Looking back over the past ten years, the number of "eagle" enterprises participating in rice production link from the very beginning such as Loc Troi Group and Trung An Joint Stock Company remains low. This reality raises a question: Why?
According to a senior official working in the agriculture industry, what localities find the most difficult is that not many lead and satellite enterprises gather in the production link. Every business needs a stable raw material area.
Some enterprises face difficulties in investment capital for technical infrastructure and response measures to seasonal crops when simultaneously harvesting rice in the ripe season such as means of transport, drying equipment system, and storehouse that ensure rice processing quality.
Obstacles - where do they exist?
According to the Department of Crop Production, the implementation of "big paddy" through production linkages between enterprises and cooperatives in the Mekong Delta has resulted in a decrease in area. In the 2021 autumn-winter crop, the total "big paddy" area only reached over 93,470 ha - 66.7% of the stable 140,000-150,000 ha level in previous crops.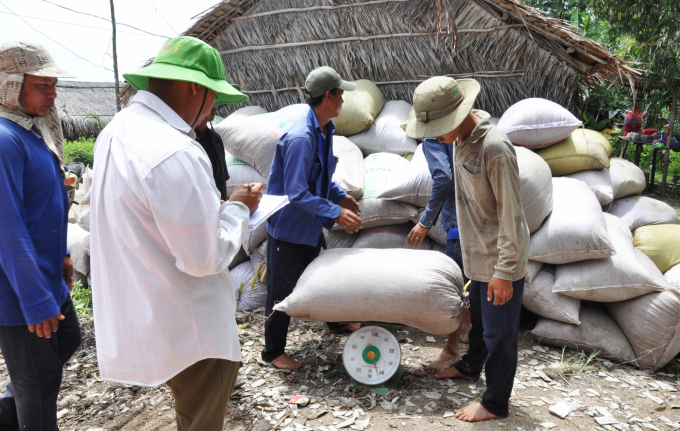 During the harvest season, due to concentrated rice production, farmers selling fresh rice cause enterprises to face many difficulties in the purchasing process. They lack transportation means and are unable to gather sufficient drying equipment and storage. Therefore harvested rice usually has to be gathered at the paddy bank for about 4-5 days to be collected. Some rice areas are beyond the harvest time, costing farmers 7-10 working days to harvest, affecting yield as well as quality.
And concerning production and sale contracts, there is still a lack of an appropriate legal corridor for the settlement of disputes in linkages, especially contracts for the production and consumption of products between enterprises and farmers.
A specific example is that the contract signed with farmers is unclear. In the contract, there is no agreement on the place of purchase, production conditions such as humidity, impurities, and lack of sanctions when the parties fail to perform the contract properly. The content of the product underwriting contract is a guiding contract, not an economic contract, the legality is not high, so parties are easy to violate the contract.
In order to achieve good results in the "big paddy" production link in the Mekong Delta, the Department of Crop Production offers some recommendations:
Review the plan to change the crop and product structure in accordance with the advantages and market demand of each region;
Develop concentrated and large-scale commodity agricultural production areas, organize production in chains for national key products;
Encourage the development of clean agriculture and organic agriculture associated with processing and consumption, building brands for key agro-products in order to increase added value.
Authors: Huu Duc - Minh Dam
Translated by Samuel Pham
TAG: