Virtual exhibition-Maximum support for agricultural products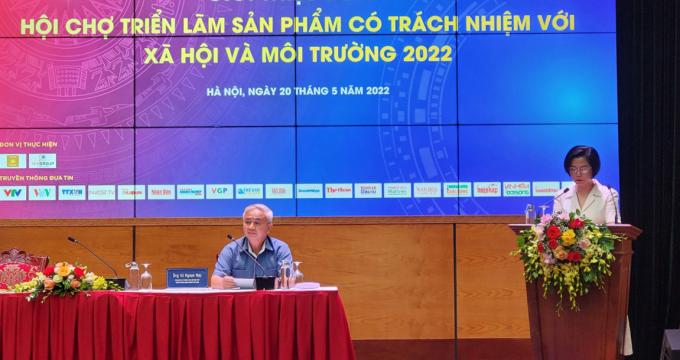 In Hanoi, on the morning of May 20, the Organizing Committee launched the campaign "Building Vietnamese corporate culture" ('Organizing Committee 248') to introduce the Exhibition project "Products responsible for Social and Environment 2022".
The virtual exhibition is organized by the Organizing Committee 248 in collaboration with the Ministry of Culture, Sports and Tourism, Vietnam Corporate Culture Development Association, and related ministries, departments, and agencies. It is an annual event within the framework of the Organizing Committee 248.
This event is an exhibition held on the platform of virtual reality and streaming technology, helping to increase the number of participants and interactions. Visitors to the Exhibition, scheduled to take place from July 29 to August 29, will experience booths and products through smart devices such as smartphones, PCs, tablets, VR devices, etc. 
Mrs. Vi Thanh Hoai, Deputy Director of the Department of Traditional Culture, Ministry of Culture, Sports and Tourism, said that the organization of the virtual exhibition is one of the activities accompanying and supporting businesses in this powerful digital transformation trend today.
The goal of the Organizing Committee is that the virtual exhibition will reach more than 200 exhibition booths; 10 local bridge points in the territory of Vietnam and other countries; 1,000 guests who watched the opening ceremony online; 2,000 visits to online tours; and over 1 million hits during the run.
On behalf of the Organizing Committee, Mr. Vu Ngoan Hop, Standing Vice Chairman of the Vietnam Association for Corporate Culture Development, expressed his wish that the fair would receive much attention from agribusinesses, especially regional specialties, OCOP products, and exhibition standard products such as GlobalGAP.
"If enterprises producing and trading agricultural products participate in the fair, I pledge that the Organizing Committee will have the best support," Mr. Hop shared.
During the meeting on the morning of May 20, Mr. Hop called on businesses with quality products to ensure traceability and contribute to the development of responsible products for society and the environment.
In addition to awarding certificates to event responders, the Fair also organizes many trade promotion activities and trade connections for products.
Author: Bao Thang
Translated by Ha Phuc
TAG: