Joining hands for the green, clean and sustainable agriculture
Green agriculture and green economy promotion following worldwide trend 
On May 12, Minister Le Minh Hoan met with Mr. Paul Dorosh, Division Director of the International Food Policy Research Institute's Development Strategy and Governance Division (IFPRI). 
Minister Le Minh Hoan stated during the conference that Vietnam's agriculture is advancing toward the transformation of added value, green agriculture, and green economic growth in line with global trends.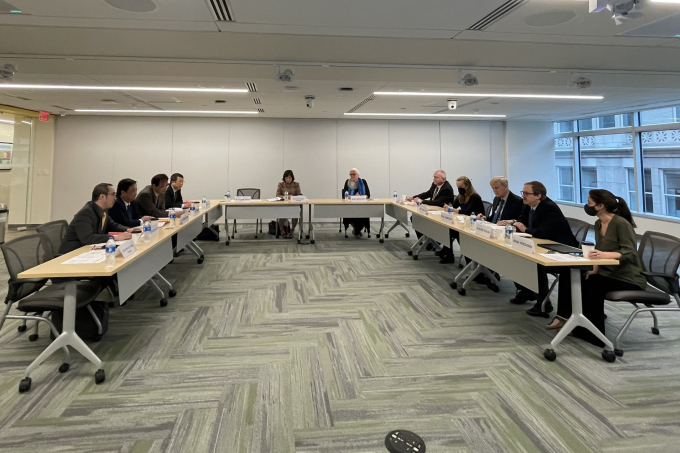 Vietnam has always placed a premium on developing policies for agriculture and national food to encourage reform in agricultural technology, sustainable solutions for poverty reduction and eradication of hunger, green/low-carbon agriculture, and climate change resistance. Vietnam is steadily shifting its approach from a rice-based to a food and nutrition-based strategy to food security. 
Vietnam is currently implementing the "Strategy for Sustainable Agriculture and Rural Development in the period 2021-2030, with a vision to 2050" with the goals of "Building commodity-producing agriculture, firmly ensuring national food security, contributing to socio-economic stability, environmental protection, response to climate change, and effective implementation of international commitments on reducing greenhouse gas emissions... Responsible, modern, efficient and sustainable agriculture production. To build an ecological, organic, circular, low-emission, eco-friendly, climate-adaptive agriculture... 
Vietnam is aggressively carrying out its commitments made at COP26 by implementing a range of policies and initiatives for green emission reduction in agriculture, including methane emissions reduction. In addition, Vietnam participates in several Food System initiatives of the United Nations, including Food innovation Hub, 100 Million Farmers Initiative: Transitioning to net-zero, nature-positive food systems, Agriculture Innovation Mission for Climate - AIM for Climate, and Coalition of Action on Sustainable Productivity Growth for Food Security and Resource Conservation - SPG. 
To achieve the aforementioned commitments, Vietnam requires massive efforts and involvement not only from the government, but also from the private sector, businesses, and direct producers in order to evoke the investment power of the whole society. It also seeks to transform the production model from "increase in output, productivity, use of numerous inputs, and utilization of resources" to "green, low emission, and climate change-adaptive." 
Currently, the Ministry of Agriculture and Rural Development is coordinating with an expert team of Consultative Group for International Agricultural Research (One CGIAR), of which IFPRI is a key member, to develop a draft of the "National Action Plan on transforming a transparent, responsible, and sustainable food system in Vietnam, period 2021-2030." 
Mr. Paul Dorosh lauded the remarkable achievements of Vietnam's agriculture, affirming that programs and projects implemented in Vietnam uphold the principle of balance between production and consumption, promote healthy nutrition for the population, and investigate the incorporation of nutrients into each meal. For the transformation of food security, consumers must have knowledge of nutrition; thus, it is vital to strengthen the capabilities of policymakers. 
Minister Le Minh Hoan proposed that the International Food Policy Research Institute (IFPRI) conduct research and provide assistance to Vietnam in the performance of agriculture industry development strategies, with a focus on assisting the Mekong Delta region in developing transformation models for the shift to green, clean, and climate change-resilient agriculture. 
In addition, he urged IFPRI to enhance collaboration with Vietnam's policy-making bodies and begin cooperative initiatives involving commercial and public sector involvement. 
Prioritized IFPRI research areas for Vietnam include agricultural policy, research and technology transfer, reduction of food loss and waste, disease control, climate change adaptation, deflation of greenhouse gas emissions in cultivation, animal husbandry, and protection of forest, land, and water resources. 
A transparent - responsible - sustainable food supplier 
Mr. Carter Roberts, President and CEO of the World Wildlife Fund in the United States greeted Minister Le Minh Hoan on the same day, May 12. 
Minister Le Minh Hoan stated that the role of agriculture was highlighted during the Covid-19 outbreak. While other businesses and fields confront difficulties and challenges, agriculture contributes to the economy's stability.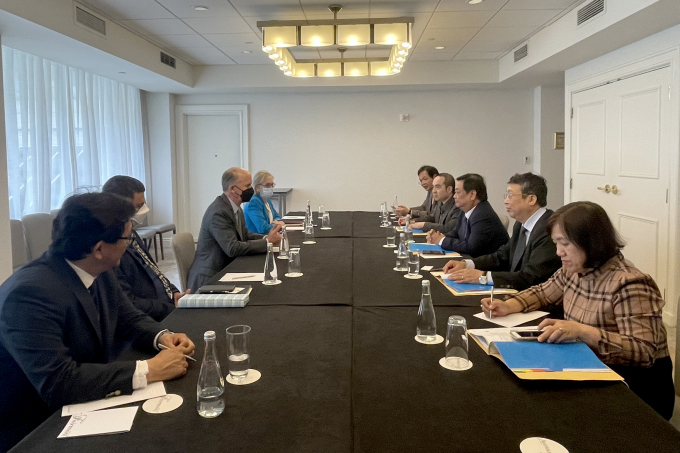 In order for agriculture to develop in a sustainable, green, comprehensive, and modern manner, Vietnam's agricultural industry must adopt appropriate policies and directives to capitalize on all possibilities and challenges and transform risk into a source of strength. 
Vietnam will be a Transparent - Responsible - Sustainability food supplier in accordance with the commitment made by President Nguyen Xuan Phuc at the United Nations Summit on Food Systems in September of 2021; Vietnam will become carbon-neutral by 2050, with agriculture using land and water resources and agricultural inputs economically and efficiently. 
Developing agriculture in accordance with ecological direction is a multi-valued, multi-sectoral approach that integrates economic, social, and environmental values, ensuring comprehensive development in the environment - ecology - human interaction; make the most of natural advantages but also attempt to protect the environment, landscape, and biodiversity in the direction of green growth and green consumption, promote sustainable agriculture and rural transformation along 3 axes: Ecological agriculture - Modern rural - Smart farmers. 
Mobilizing foreign resources, knowledge, experience, science, and technology is one method for overcoming limitations and effectively supporting the agriculture sector's achievement of its goals.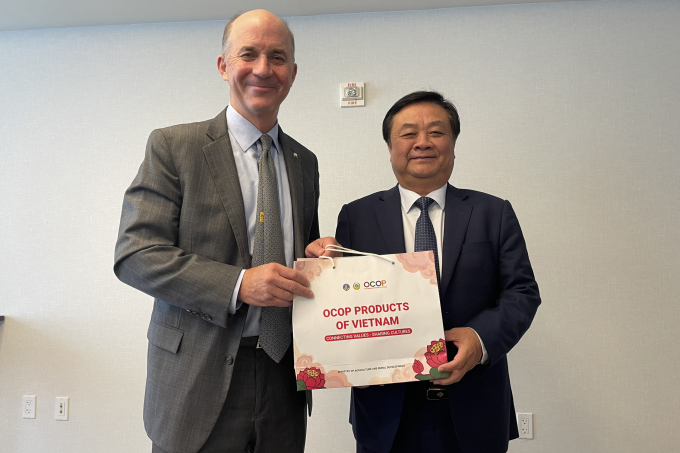 "We greatly value WWF's leadership in preserving biodiversity, building a sustainable future for humanity, sustainably managing natural resources, and providing consultations and assistance to the Government of Vietnam in addressing the challenges of national and sectoral development, particularly in the forestry sector, where the two sides are cooperating very well and effectively today. 
We anticipate continuing to receive extensive and thorough cooperation in the agricultural sector, including forestry, wildlife (conservation, culture, and wildlife trade), ocean (fishery and ocean plastic waste management), irrigation (water and water resource management, river and river basin management), disaster risk management, rural development, food security, trade of agricultural products, environmental protection, climate change, and biodiversity. 
WWF is actively involved in the implementation of the One Health Partnership Framework and provides support to the group working on pandemic prevention. It also supports timely prevention of pathogens on animals, particularly wild animals, as well as the improvement of institutions, policies, and activities in captive breeding and illegal trade, as well as the conservation of common and rare species of wildlife. 
The Minister believes that WWF will be one of the Government's strategic partners in the field of conservation in the coming decades, which is regarded as a golden age for the biodiversity of Vietnam and the world.
Authors: Tuan Anh - Thu Huyen
Translated by Linh Linh
TAG: