Investing roughly USD 4.4 million to restore mangroves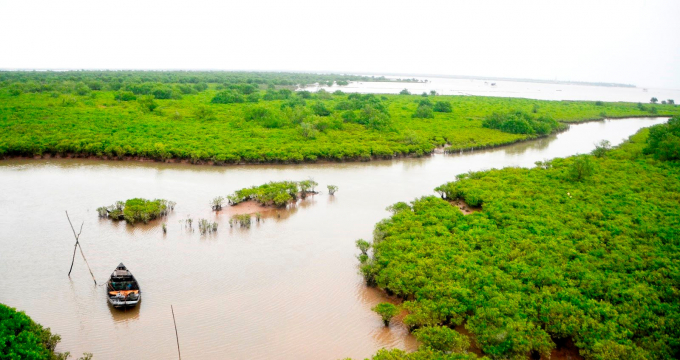 Coastal forest declines rapidly
According to a report from the Vietnam Administration of Forestry under MARD, the total coastal forest area in Vietnam is around 454,000 hectares. Coastal forest plays a key role in maintaining a balanced ecosystem, preserving biodiversity, buffering waves and winds, controlling coastal erosion, safeguarding sea dykes, and protecting people's livelihoods, although comprising just 3 percent of the total national forest area. 
Despite an overall increase in forest cover in Vietnam in recent years, the coastal forest has been severely degraded. Vietnam's mangrove forest has shrunk by a third, from 408,500 ha in 1943 to 270,000 ha in 2015. 
In numerous regions of Vietnam, coastal forests have been converted to short-term, profit-driven activities that are unsustainable. The motivation for deforestation is industrial-scale aquaculture, firewood harvesting, and infrastructural development... These activities have disrupted the hydrographic conditions essential for the survival of the coastal mangrove ecosystem, while the recovery of mangroves is a tough and complicated process. 
From a practical perspective, the non-refunded Project "Recovery and Sustainable Management of Mangrove Forests in the Red River Delta" has been implemented from 2021 in Xuan Thuy National Park (Nam Dinh) and Kim Son area is aided by the South Korean government via the Korean Forestry Agency (Ninh Binh).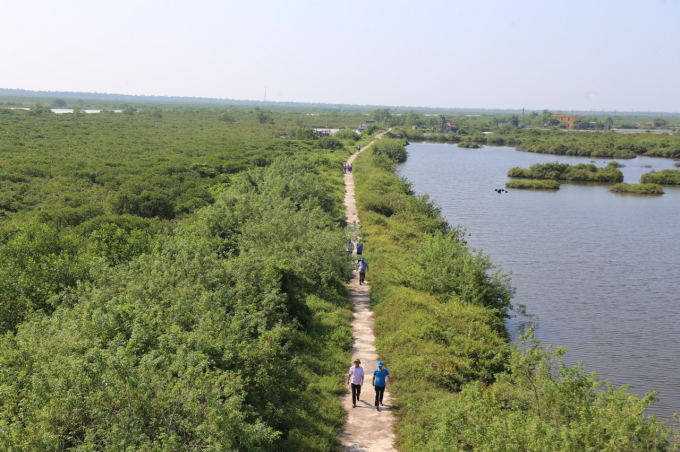 Within four years of execution, from 2021 to 2024, the Project establishes four distinct objectives: Recovery and sustainable management of mangroves in the Red River Delta; development of local livelihoods via mangrove restoration and marine ecological protection; capacity training for forest restoration and seedling production; and collaborative research on sustainable mangrove management. 
In Xuan Thuy National Park (Nam Dinh) and Kim Son district, the project seeks to plant 250ha of new mangrove forest and recover 80 ha of mangrove forest (Ninh Binh). Establishing a seed incubation garden for mangrove trees in the district of Kim Son; new planting and additional planting of 330ha of mangroves; supporting the development of a sustainable forest management plan and promoting ecotourism; providing support for livelihood development; training, capacity building, communication, and study tours; providing support equipment for forest protection; conducting research... 
The project "Recovery and sustainable management of mangroves in the Red River Delta" has a total investment of over USD 4.4 million, of which the South Korean Government's non-refundable aid accounts for nearly USD 3.8 million; Vietnam's reciprocal capital is USD 0.6 million; and the counterpart capital of the Ministry of Agriculture and Rural Development and the two provinces of Nam Dinh and Ninh Binh is USD 0.2 million each. 
Rehabilitate ecosystem 
To successfully and sustainably rehabilitate the coastal mangrove, the project will focus on three main components: financial support for mangrove restoration and sustainable management; investment in a more effective management mechanism through activities that support sustainable aquaculture associated with mangroves; and diversification of the long-term benefits from mangrove protection and maintenance by supporting sustainable livelihoods. 
Regarding the benefits for society and the environment, the project will contribute to the protection of the environment and ecosystem, the coastline, limit erosion and salinity intrusion, preserve and enhance biodiversity, create a habitat for a variety of aquatic organisms, birds, and animals, and reduce greenhouse gas emissions. Specifically, it leads to an increase of 0.19 percent in the forest cover in Ninh Binh since the project's inception.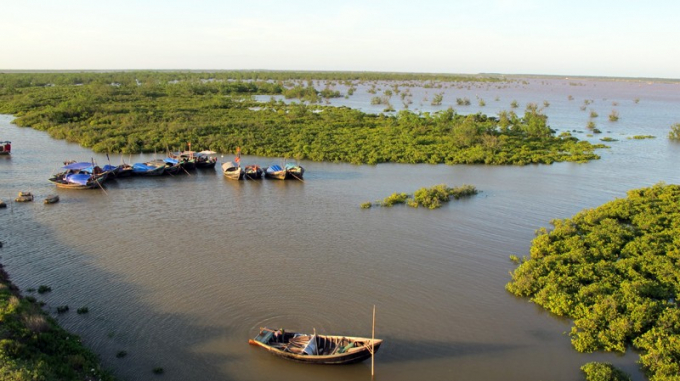 In addition, the mangroves created by the Project will make a significant contribution to reducing the harmful effects of waves and tides on the coast, particularly in minimizing the harmful effects of storms combined with high tides against hundreds of kilometers of sea dyke systems in Ninh Binh and Nam Dinh provinces, thereby reducing the annual cost of sea dyke repair. 
In terms of economic efficiency, the project will reduce the maintenance costs of irrigation infrastructure works and dykes for coastal forest-protected regions impacted by storms and sea-level rise. Particularly, about 18 kilometers of seawall might be safeguarded in the district of Kim Son, province of Ninh Binh. 
The restored and sustainably maintained coastal mangrove forest in the Project area will contribute to the development of aquatic resources beneath the forest canopy. This is a significant source of income for locals actively involved in forest conservation. In addition, the restored forest would preserve over 2,000 hectares of aquaculture in the project region, which produces over 60,000 tons annually and has an annual economic worth of over VND 8,000 billion. 
At the opening session of the World Forestry Congress on May 2, 2022, the South Korean President Moon Jae-In expressed his interest and confidence in the success and contribution of the Project "Restoring and Sustainable Management of Mangrove Forests in the Red River Delta" in the response to global climate change.
Author: Pham Hieu
Translated by Linh Linh
TAG: