Support Vietnam in ensuring water resource security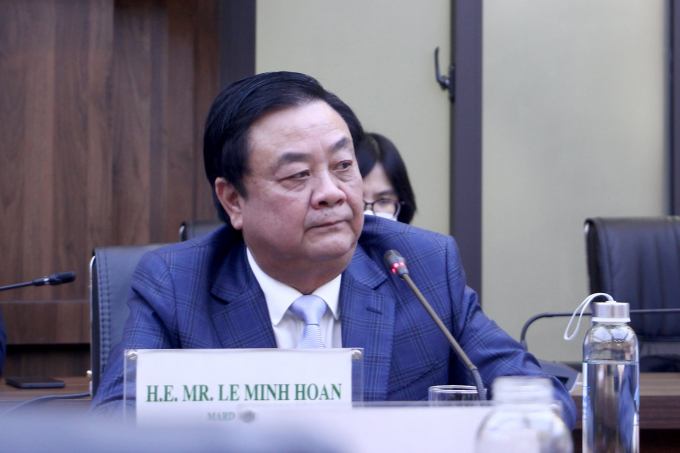 MARD Minister Le Minh Hoan highly appreciated the effective cooperation of the ministry, relevant agencies, and the World Bank (WB) in the water field, which has brought several practical outcomes for agriculture and farmers.
The minister expects the two sides to continue their path to achieve closer and more effective cooperation with greater echoes, responding to the demands of agricultural transformation and clean water in the rural areas.
Vietnam approved the Strategy for sustainable development of agriculture and rural areas in the period 2021-2030, with a vision for 2050, including plans for the water sector.
Vietnam used to be known as a nation with abundant water sources but until this time, the water source has been greatly impacted by other issues regarding environmental pollution, impacts from the upstream Mekong river, water resources degradation in both volume and quality as well as the climate change.
Global Director for the World Bank Group's Water Global Practice Jennifer Sara recognized the close partnership of the two sides in several agricultural projects, handling a series of issues regarding agriculture, rural development, irrigation, dam safety, natural disaster management…
"For years, Vietnam has noted the adaptability and greenhouse gases mitigation. Up to now, the issue is increasingly important and the management of water usage among farmers contributes greatly to the realizing the goals", Ms. Sara said.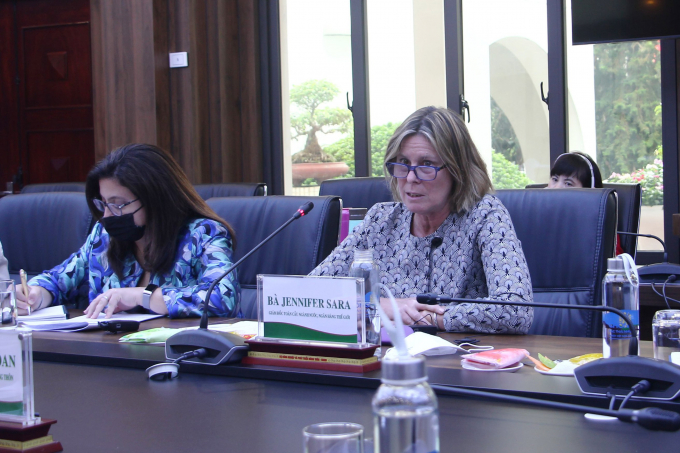 Vietnam is facing the situation of water shortage but sometimes it faces water excess, combined with water contamination and degradation of water quality. So that the launching of the National Rural Clean Water Supply and Sanitation Strategy is worth recognizing to handle issues, and challenges regarding water security and its impacts on the nation and GDP.
WB is reviewing how to respond to and support water security programs and identify priorities where water storage and dam safety are major concerns.
Some ODA projects invested by external sources for provinces seem not to be relevant. As the water field boasts the inter-regional traits but the financing mechanism is still fragmented so each locality has ways to use capital differently.
MARD Minister said that the ministry is working to submit to the Government for the establishment of an appropriate mechanism for lending projects in many areas, including the water sector, which is covered more widely, without being fragmented. The mechanism would be built based on similar and continuous water ecosystem conditions.
MARD has opened a Coordination Office for Agriculture and Rural Development in the Mekong Delta region in Can Tho city and one of its mission is coordinating funding projects amidst the asynchronous mechanism. The office would help promote the role of coordination, integration, and cooperation of the province in the water field and water-benefit field including crop production, husbandry, and fisheries… attaching water programs to sustainable agriculture transformation programs.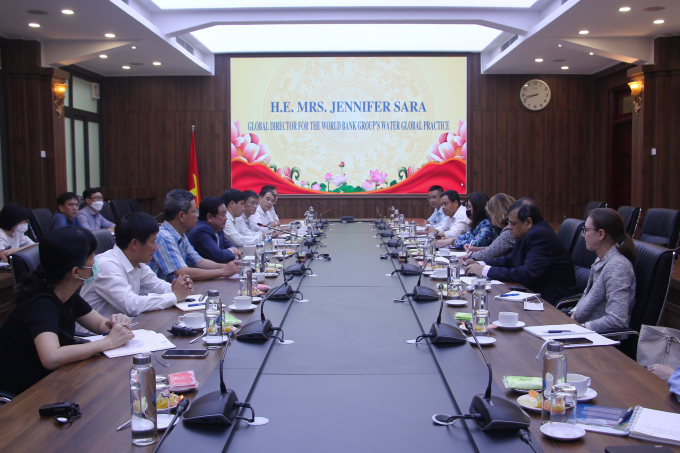 The ministry is expected to open one more in High Centrals in the coming time and the Minister expected WB to support and consult issues regarding the field of water on a broader scale.
He also proposed WB to sent technical advice and experts to support the plan of transforming agriculture and plants to adapt to the water-saving condition. According to the leader of Vietnam's agriculture industry, the issues of water-saving and how to use water effectively also need attention as much as projects to create water sources when groundwater is over-exploited, causing serious damage to the environment and exhaustion of water resources.
"We have launched a program to develop sustainable fisheries, including water-saving models of shrimp farming in Tra Vinh, which prevent water from being evaporated much, which can regenerate shrimp farming water... The program, which has been spread from large enterprises to small shrimp farming households, will bring positive effects, helping to limit disputes and conflicts over clean water sources among farming households, "Minister Le Minh Hoan said.
Ms. Sarah shared that WB is willing to help Vietnam in dam safety projects, which not only focus on repairing and upgrading dams, and reservation capacity but also take the effectiveness and water usage capacity into account.
The WB can share experiences with Vietnam in the fields of water security, water conservation, and reserve… She believes that there should be coordination between large to small businesses and the participation of the private sector.
Water conservation plays an important role and must have a multi-sectoral approach such as agriculture, tourism, energy... which requires all sectors in the economy to coordinate differently. The WB is ready to support the Ministry of Agriculture and Rural Development in implementing the national water security strategy, however, Ms. Sara said that people's participation, awareness-raising, and application of digital technology are also important content.
The World Bank representative also shared that shortly, this organization will support Vietnam in implementing advanced digital technologies currently applied in many countries in the region towards an inter-sectoral and multi-sectoral approach to ensure water security as well as ensure the safety of dams to store water and control pollution.
Responding to the WB's question about the ministry's priorities for the water sector, Minister Le Minh Hoan said that the strategy for agricultural and rural development has shifted from single-value to multi-value, single-use to multi-use.
"If only viewing irrigation works as to where to produce water, it is the single value perspective. We want to open up a larger space in existing works and projects with an integrated model of many issues from administration, space expansion, tourism, job creation, policy pilot, contract public-private partnership to generate revenue, digital transformation in the irrigation sector to have a monitoring system to develop appropriate response scenarios instead of just stopping at a warning level...", the Minister said.
Author: Linh Linh
Translated by Linh Linh
TAG: