Preparations made for flight from Romania bringing Vietnamese home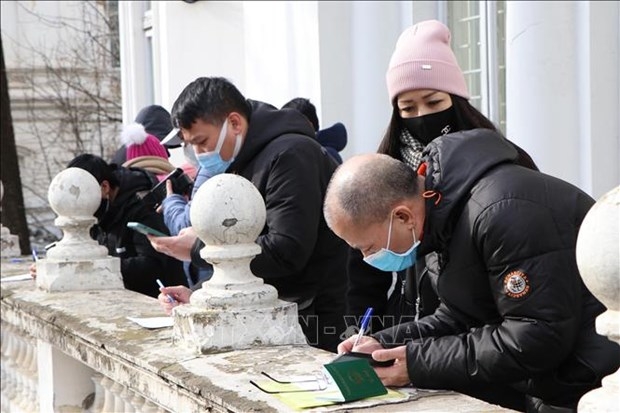 Vietnamese citizens fill in necessary forms at the embassy in Romania. (Photo: VNA)   
NDO/VNA - Vietnam's representative agencies and associations of Vietnamese in Romania are making efforts to prepare for a March 12 flight bringing citizens who had to flee from Ukraine home, the Embassy of Vietnam in the country has announced.
This will be the second repatriation flight bringing Vietnamese people home from Bucharest.
The VN68 flight is to depart from Bucharest's Henri Coandă international airport at 5:20pm on March 12 and land at Hanoi's Noi Bai airport at 4:40am on March 13 (local time). It is projected to carry 276 passengers.
Vietnamese Ambassador to Romania Dang Tran Phong said passengers include under-12 children accompanied by adults, elderly people, pregnant women, persons with illness, students, and people in disadvantaged circumstances.
In addition, the embassy and the Vietnamese community in Bucharest are assisting more than 600 compatriots with procedures and accommodations while waiting for upcoming flights to Vietnam.
TAG: