Ensuring health and safety of students amid the pandemic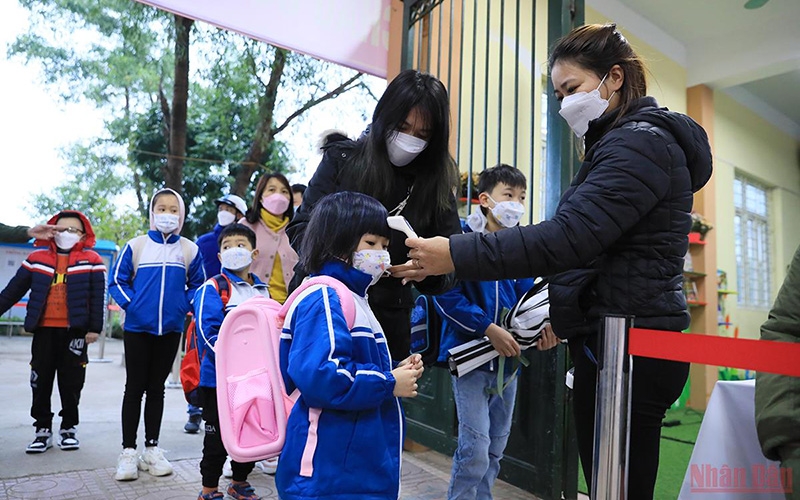 Students at Van Canh Primary School, Hoai Duc District, Hanoi return to school in mid-February 2022. (Photo: Thanh Dat)   
NDO - Going to school is a legitimate and urgent need of students. However, the severe effects of the COVID-19 pandemic have made it difficult to open schools, especially when educational institutions are still confused on how to handle F0 and F1 cases.
The Ministry of Education and Training has actively coordinated with the Ministry of Health and localities to direct and guide the reopening of schools across the country.
According to statistics of the Ministry of Education and Training, as of February 28, 54 provinces and cities have organised in-person classes for preschool children while nine provinces and cities have yet to organise in-person classes or have had to suspend direct learning.
Regarding primary students, 53 provinces and cities have conducted direct teaching while10 provinces and cities have not or had to suspend direct teaching.
Meanwhile, 59 provinces and cities have allowed in-person teaching for junior secondary students and four provinces and cities have to suspend or switch to online learning. As many as 62 provinces and cities have implemented direct teaching for senior high school students and only one province is teaching online.
In the provinces and cities that are organising in-person teaching, there are some districts that must teach online due to the level of the pandemic.
In fact, many localities that are currently organising direct teaching have seen teachers and students constantly infected with COVID-19. Some educational institutions awkwardly handle F0 and F1 students and conduct unreasonable zoning, leading to the absence of many students and the switch back to online learning.
There are schools that lower rating of officials and teachers for being F0 cases, which is both inappropriate and offensive in addition to affecting the psychology of teachers and students.
Some localities have different views on pandemic prevention and control at educational institutions. In particular, a number of parents do not feel secure to allow their children back to school, especially preschool and primary school students who have not been vaccinated.
In addition, there lacks school health workers in many localities, leading to the mobilisation of most of the staff and teachers in charge of the pandemic prevention and control. There is also a shortage of funds for the procurement of equipment for pandemic prevention and control at educational institutions.
It is also difficult for educational institutions to conduct distancing during direct teaching because of the large number of students. In addition, students still interact with each other directly during break time.
Therefore, in order to limit confusion and inadequacies in the prevention of the COVID-19 pandemic to open schools safely and smoothly, the Ministry of Health needs to unify the identification of F0s and F1s as well as the isolation period for high-risk subjects in accordance with the current pandemic situation.
The Ministry of Education and Training should guide educational institutions and teachers to ensure the psychological well-being of students when they come to school.
Furthermore, schools need to have appropriate handling solutions without too much worry when detecting F0s to avoid psychological effects on teachers, students, and students' parents. When there is an infection at the school, it is necessary to immediately follow the instructions of the professional agency to limit the risk of further infection.
Parents need to work closely with the school, especially when there is a F0 case in their child's classroom. Parents should actively grasp the information to guide and support their children to take measures to prevent the pandemic while encouraging them to go to school and protect their own health at school.
TAG: