Dragon fruit needs a revolution to production reorganization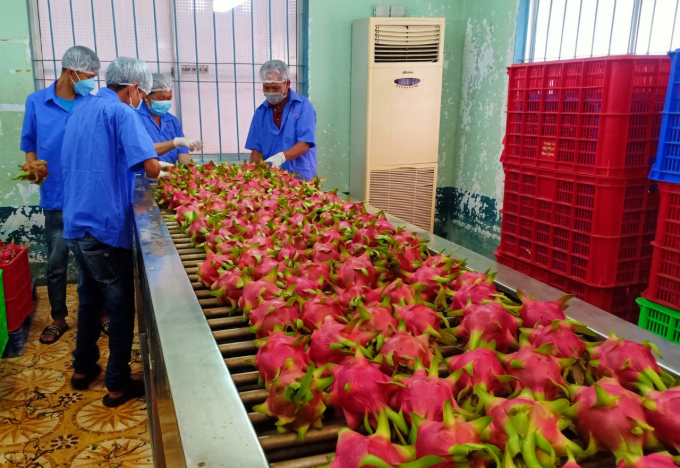 Need a revolution to reorganize production
At the conference held on the morning of February 21, Minister Le Minh Hoan said that, all from the Ministry of Agriculture and Rural Development, to localities, businesses and farmers has changed. Because Vietnam's approach has followed the old way of thinking for a long time, production takes output volume as the main thing. But the market controls production. Therefore, it is necessary to research to understand the market thoroughly.
The Minister assigned the Crop Production Department to carefully study and analyze the market. The localities must control and grasp the number of dragon fruit farmers, the number of dragon fruit purchasing units, etc. There is a direction to bring farmers into the appropriate production organization.
The Minister said that the Chinese could do it, but the Vietnamese could not because the production mindset is still small and fragmented. Localities need a revolution to reorganize production from the commune level, not spontaneously developing production.
In addition, localities also need to study to reduce production costs, reduce the risk of product price drops, and switch from dragon fruit small exports to official exports. Because this is the trend of countries to control epidemics, taxes, even currencies.
According to the Minister, other agricultural products also face market, linkages, and consumption challenges. Therefore, localities need to build agricultural ecosystems. In which everyone must have a sense of responsibility. The Ministry of Agriculture and Rural Development agencies must also provide information on mechanisms, policies, markets, etc., to the localities.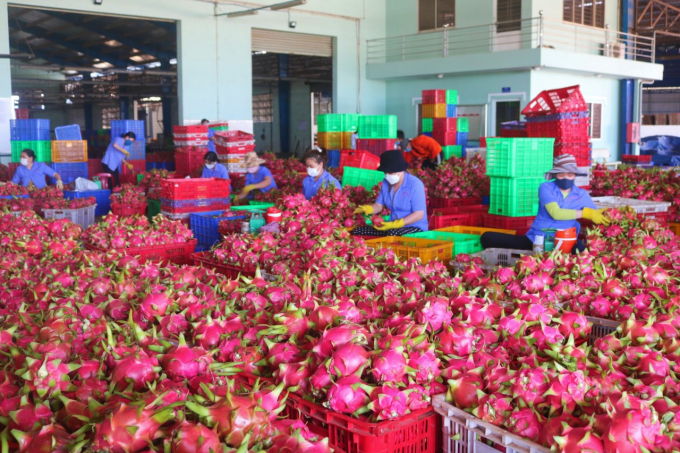 Depending on the Chinese market
Le Thanh Tung, Deputy Director of the Department of Crop Production, said that Vietnamese dragon fruit is currently grown in most of 63 provinces and cities with a total area of ​​nearly 65,000 hectares, with an average output of almost 1.4 million tons per year.
Three provinces, including Binh Thuan, Long An, Tien Giang, grow the most dragon fruit. In 2015, the export value of Vietnamese dragon fruit reached US$ 483 million, and by 2020 it will get more than US$ 1.1 billion. The area planted to dragon fruit over the years has gradually expanded.
However, Vietnamese dragon fruit relies heavily on the Chinese market. Recently, due to the impact of the Covid-19 epidemic, China implemented the "Zero Covid-19" policy, making it difficult to export dragon fruits to this market.
For dragon fruit processing, Vietnam currently has a variety of products but only accounts for about 5% of the output of dragon fruit. Therefore, it is necessary to promote processing to help increase production by 20-25%.
Mr. Mai Kieu, Director of Binh Thuan Department of Agriculture and Rural Development, said that dragon fruit is the province's main crop with high economic value compared to other crops. The average revenue from dragon fruit trees is VND 350-400 million/ha/year; the average profit is about VND 150 - 170 million/ha/year.
Currently, the area of Binh Thuan province's dragon fruit is about 33,750 hectares; dragon fruit output reaches 700,000 tons per year. There are 12,397 hectares of dragon fruit certified with VietGAP and nearly 355 hectares of dragon fruit certified with GlobalGAP.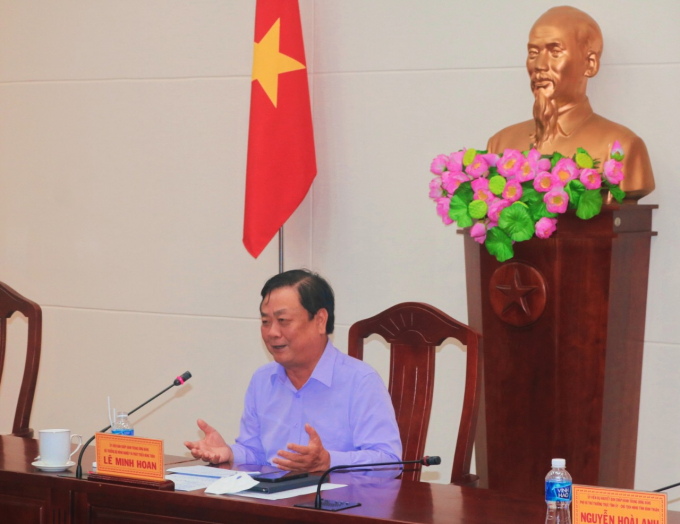 However, Mr. Kieu said that the production of dragon fruit in the area has many shortcomings and limitations, such as the production scale is still small and fragmented; the construction of concentrated production areas has not been much, has not yet created a large volume of products capable of competing in the market economy; Consumption market is not diversified, depends heavily on the Chinese market.
Currently, some border gates are temporarily closed, or customs clearance product quantity is limited, which significantly affects the consumption and export of Vietnamese dragon fruit.
Mr. Nguyen Van Man, Director of Tien Giang Department of Agriculture and Rural Development, said that the province currently has nearly 10,000 hectares of dragon fruit with a total output of 260 thousand per ton. There are 73 purchasing and processing establishments for export to the Chinese market with 150,000 tons. The difficulty is that when China changes its consumption policy, the price of dragon fruit can drop to only VND 2,000-3,000 per kilogram.
Therefore, according to Mr. Man, Vietnam needs to re-plan growing areas, attract deep processing enterprises, invest in cold storage systems, reduce export output to the Chinese market in parallel with diversifying markets.
A representative of Hoang Hau Dragon Fruit Co., Ltd. said that now China has grown dragon fruit with a large area and large output, so it has directly affected the consumption of Vietnamese dragon fruit.
Dr. Tran Minh Hai, Director of the Center for Cooperative Economics Training and Consulting (School of Agriculture and Rural Development II), said China can grow dragon fruit now. When it comes to the primary season, they do everything to promote the domestic market. Therefore, the export of dragon fruit to this market is no longer the same as before.
Moreover, many countries now also develop dragon fruit, such as Cambodia, with ​​about 12.8 thousand hectares of dragon fruit. In contrast, five years ago, this country was only about 3,000 hectares. Therefore, Vietnamese dragon fruit has more and more competitors.
Developing links to sustainable dragon fruit production areas is difficult in Vietnam because cooperatives are all thinking for profit, not for community purposes. Vietnamese dragon fruit currently has a large output, but the quality quantity accounts for a small percentage, not meeting the needs of some markets.
Authors: Kim So - Minh Hau
Translated by Ha Phuc
TAG: