Breakthrough in high-tech brackish water shrimp farming in Long Xuyen Quadrangle
Chairman of Kien Giang Provincial People's Committee Lam Minh Thanh, on February 18, led a provincial delegation to inspect the production and development of brackish water shrimp farming in districts of Long Xuyen Quadrangle. Specifically, the delegation visited shrimp farms of NTSF Seafood Joint Stock Company, Trung Son Seafood Processing Joint Stock Company (Duong Hoa Commune, Kien Luong District), Dong Hoa Aquaculture Area, BIM Kien Giang Seafood Joint Stock Company (Phu My Commune, Giang Thanh District) and some individual farming households in the area.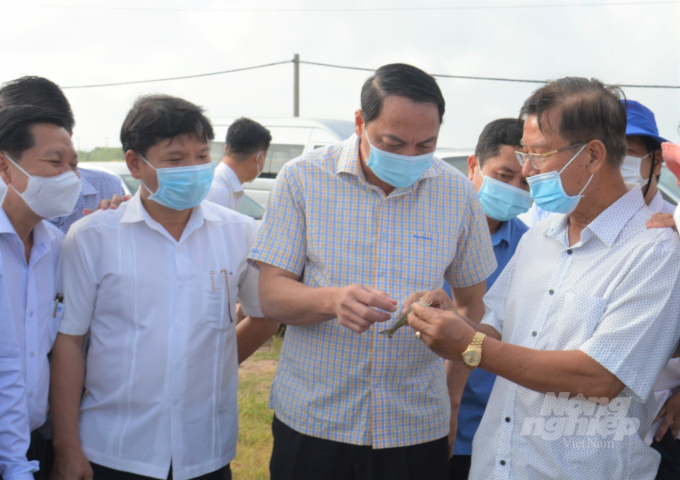 In addition, the delegation also visited the starting point of an offshore sea water pipeline supplying for the key shrimp farming area at Cha Va beach, Duong Hoa Commune, Kien Luong District. This pipeline system was invested by Minh Phu Seafood Corporation with phase 1 having a total capital of nearly VND500 billion.
Through the real evaluation, this year, the weather is relatively favorable, so businesses and households are releasing shrimp for the main crop. The shrimp are growing very well. Most of the farming sites have switched to high-tech farming and farmers use most of the area for building reservoirs for water treatment before supplying for farming. In particular, the current price of fresh shrimp is quite high stimulating farmers to boldly invest and expand production.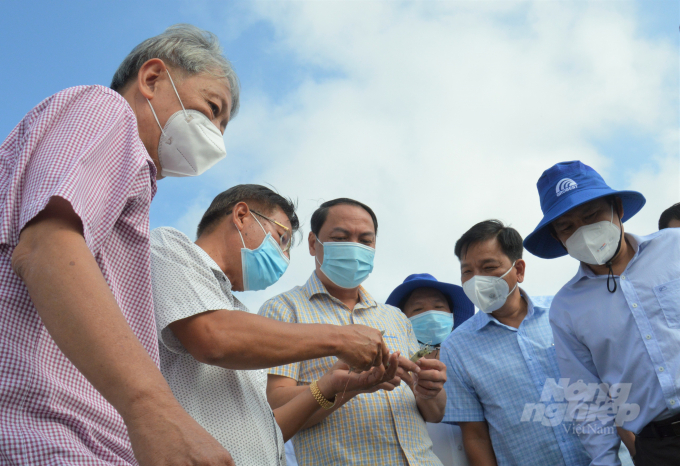 Officials of Kien Luong District People's Committee proposed the province soon boosts infrastructure investment in the high-tech industrial shrimp farming in Duong Hoa Commune. At the same time, attention should be paid to invest more in irrigation systems including separate water supply and drainage channels and smart irrigation to reduce the impact of climate change and diseases and increase sustainable production.
Meanwhile, business enterprises suggest the agricultural sector to pay attention to dredging water supply and drainage canals in the area creating spaces for the intake of saltwater from the sea, reducing environmental pollution, etc. In addition, the functional sector needs to connect with rural vocational training schools and units to provide skilled labor forces for aquaculture development and seafood processing for export.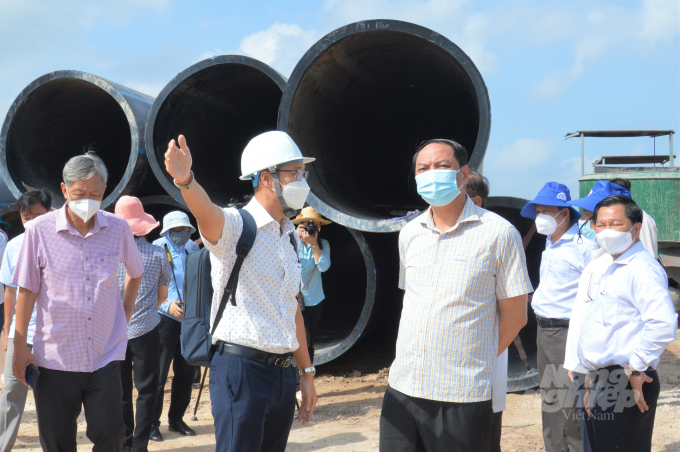 Mr. Quang Trong Thao, Deputy Director of Kien Giang Department of Agriculture and Rural Development, said that in 2021, the province's brackish water shrimp farming area reached 137,415ha, with harvest output estimated at 104,690 tons, nearly 7,000 tons overfulfilling the scheduled plan. Long Xuyen Quadrangle has only a farming area of 18,760ha, but the production contributes up to 44,430 ha. There are 10 industrial shrimp farming enterprises in the whole region, with an output of nearly 10,000 tons.
In the 2022 plan, Kien Giang will expand the brackish water shrimp farming area to 140,630ha, with an output of 108,500 tons. In which, industrial and semi-industrial shrimp farming is 4,200ha with an output of 39,250 tons, mainly in the Long Xuyen Quadrangle.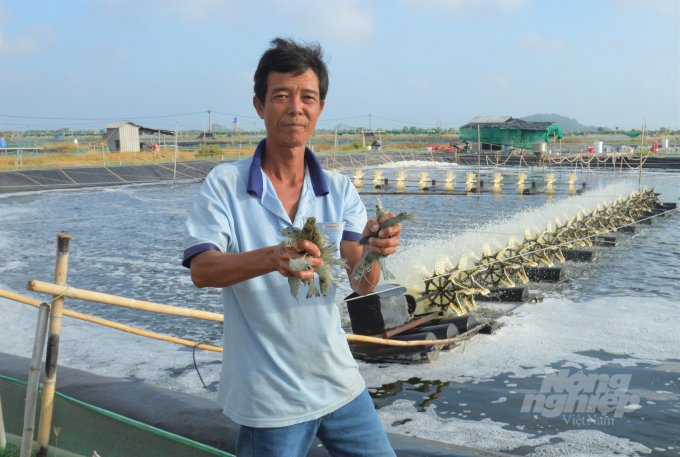 Chairman of Kien Giang Provincial People's Committee Lam Minh Thanh affirmed that brackish water shrimp farming is a strength of the province's agriculture, creating jobs and promoting socio-economic development in the area. Therefore, the province is very interested in developing shrimp farming, planning to expand the farming area, and increasing the harvest output every year. Businesses and local people need to step up investment, apply technology, change farming methods to increase efficiency and sustainability. Districts' authorities must focus on solving difficulties for businesses and shrimp farmers attracting more workforces in shrimp farming so that to solve employment issues for local laborers ...
In the afternoon of the same day, the delegation worked with the Giang Thanh People's Committee of District on the socio-economic development in the district, the prevention and control of the Covid-19 pandemic, and the promotion of border trade in the Giang Thanh Border Gate area where connects trade with Ton Hon Border Gate, Cambodia's Kampot Province.
Author: D.T. Chanh
Translated by Linh Nguyen
TAG: