Quick wilt on pepper plants tends to increase
According to the Plant Protection Subdepartment of Quang Tri province, many pepper gardens have encountered the issue of stagnant water on soil due to the effects of cold weather and prolonged heavy rain in recent times. In addition, high soil moisture and groundwater create ideal conditions for the rise of a variety of diseases, particularly quick wilt, which tends to spread rapidly.
The province has 73 hectares of pepper afflicted with quick wilt, an increase of 24 hectares year on year, including 4 hectares with severe infection. Those afflicted were spread throughout many districts in Cam Lo (37 ha), Gio Linh (16 ha), and Vinh Linh (20 ha).
It is predicted that the rain will continue in the coming time and the humidity in the air will stay high. This provides excellent circumstances for quick wilt to develop on pepper plants, causing severe damage.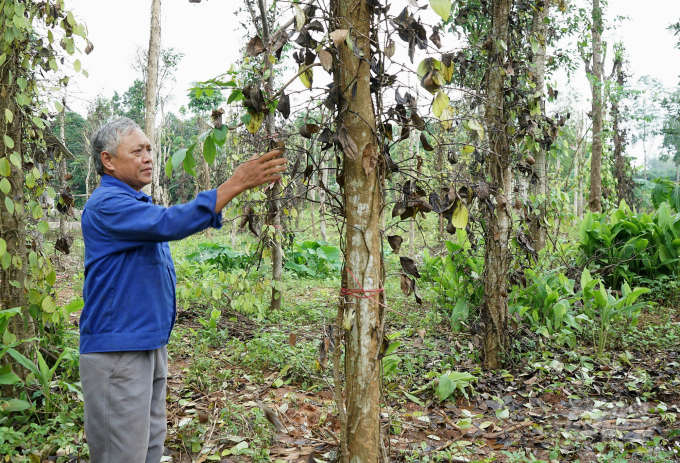 Mr. Tran Minh Tuan, deputy director of Quang Tri province's Crop Production and Plant Protection Sub-department, recommended farmers that in order to properly avoid the illness, they must dig and clean drainage ditches on and around the garden. Additionally, they are advised to inspect the garden regularly for early identification of quick wilt, clean the garden, collect diseased plant remains and remove them from the pepper garden area, then destroy and treat the soil around the ill plants with lime powder. Cut branches near to the ground to allow for ventilation of the pepper root, hence preventing fungal infection transmission from the soil.
Additionally, farmers should take advantage of dry weather to medicate their gardens by spraying Aliete 800WG, Ridomil gold 68WP, Agrifos 400... on all ill plants, and soaking their roots.
It is required to gather and kill badly sick pepper posts and dead pepper plants, as well as to treat pits with powdered lime. Before replanting, treat the planting hole with biological products.
The whole province of Quang Tri now boasts approximately 2,000 hectares of pepper, mostly in the Vinh Linh, Gio Linh, Cam Lo, and Huong Hoa districts. Pepper prices have plummeted precipitously in recent years, exacerbated by disease outbreaks in several locations, posing numerous issues for pepper producers. Due to low pepper prices, some farmers neglect pest and disease management, hence increasing the danger of pests and illnesses.
Author: Cong Dien
Translated by Linh Linh
TAG: