Delighted with the new fiscal year's rice shrimp crop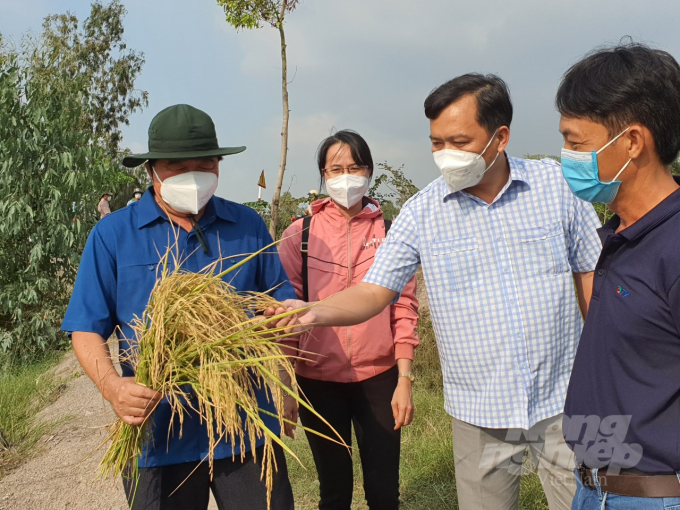 "Strike it good" when cultivating rice on shrimp farming land
Farmer Huynh Dan Dung, hamlet 15, Phong Thanh Dong commune, Gia Rai town, Bac Lieu province, recently harvested 1.5 hectares of ST24 rice on shrimp farming land, with an average yield of 6.3 tons/ha. The trader puts a deposit of VND 8,000 per kilogram at the start of the season.
"Thanks to favorable weather, this rice harvest cost just over VND 30 million per 1.5 ha, which means that each 0.1 hectare of rice production area costs just VND 2 million in fertilizer and pesticides." My family may make VND 45 million per hectare in profit minus all expenses at the present selling price," Mr. Dung excitedly revealed.
Sharing the same joy,  Mr. Truong Thanh Quoc, hamlet 15, Phong Thanh Dong commune, said: "Even though rice yield this year was only 5.6 tons per hectare, inferior to that of 2020 but the rice was sold at a fair price, allowing my family to profit by more than VND 40 million per hectare."
According to Mr. Quoc, his family was worried and even considered skipping the harvest owing to high input material costs, which were 1.5 times higher than the previous year's crop while rice prices remained unpredictable. However, he was left with no other option and chose to sow as usual.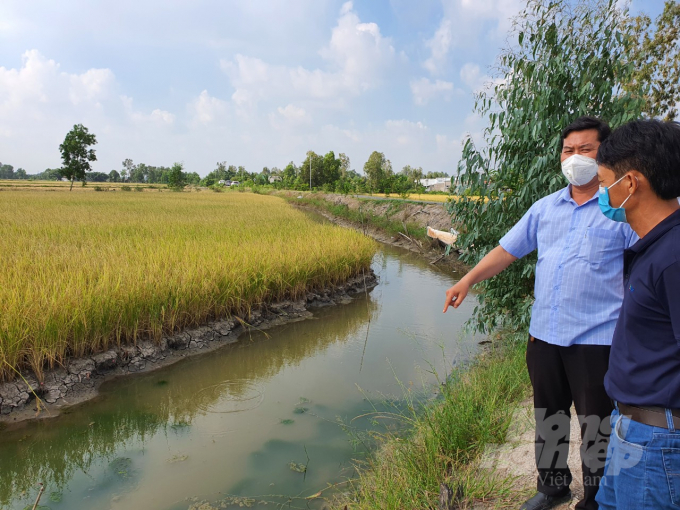 Mr. Huynh Thanh Toan, Head of Gia Rai Town's Economic Department, said that the whole town sowed more than 3,000 hectares of rice on shrimp land in 2021, has harvested more than 2,500 hectares so far, and 500 hectares are due to be harvested entirely by January 15. ST24, ST25, Mot bui do, OM 5451, OM 2517... are the primary sowing seed varieties.
According to Mr. Toan, farmers harvested large yields of rice on shrimp land in 2021, with an average of more than 5 tons/ha, notably in Phong Thanh Dong and Phong Tan communes, where productivity reached 6 to 6.5 tons/ha. Additionally, the price of rice has climbed in recent days, which has rice growers excited.
Rice is now priced between VND 6,000 and 8,500 per hectare, depending on the varieties and quality of rice. Farmers earn about VND 30-45 million per hectare with costs being deducted.
The giant river prawn wins both harvest and price
Farmers in Ca Mau and Bac Lieu provinces were excited to begin harvesting giant river prawns in the opening days of the new year. Several production models, in particular, have been approved according to VietGAP...
Ms. Hong Thi Nhanh, hamlet 9, Khanh Thuan commune, U Minh district (Ca Mau province), collected 1.2 hectares of male giant river prawn intercropping with paddy rice. Rice and shrimp production were high due to careful technological construction over the culture process, as well as strict adherence to scientific guidelines.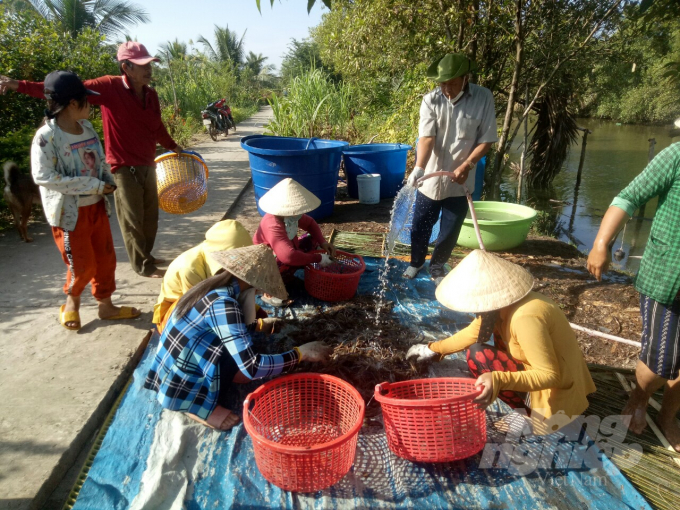 Ms. Nguyen Ngoc Muoi of Nguyen Phuc commune in the U Minh district reported that her family cultivated over 30,000 shrimp seeds in a 1.2-hectare area. Due to the assistance with water treatment and the provision of high-quality shrimp seed, particularly for feeding shrimp at the proper dosage, her family's area of giant river shrimp develops quicker and produces more offspring than other farming households.
Mr. Ton Trung Khang, Head of Hamlet 9, Khanh Thuan Commune (U Minh District), stated: "In recent years, the community has boldly implemented VietGAP-compliant shrimp-rice farming methods. The average production of farmed shrimp this year is 300-400 kg/ha, with some families achieving 450-500 kg/ha, while rice yields also exceed 3.5 tons/ha. I want to mobilize people to duplicate this strategy in the next years based on the results obtained."
Mr. Nguyen Thanh Toan, Chairman of the U Minh District People's Committee, stated: "The model of male giant river shrimp intercropping in rice fields by VietGAP standards is an extremely effective economic model that not only assists people in improving the water environment in shrimp squares, which is well adapted to harsh weather conditions and complicated changes such as today," but also assists people in increasing income on the same area.
"The crop's success this year has generated tremendous excitement among farmers, encouraging them to reproduce the next harvest without hesitation," Mr. Toan explained.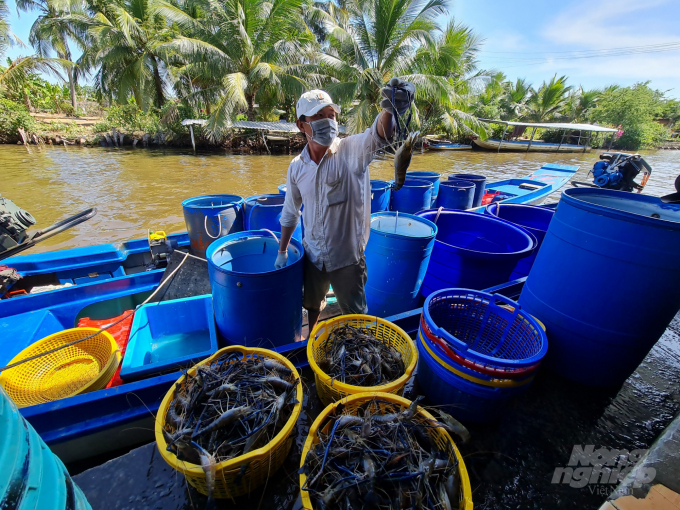 Shrimp prices have surged in Bac Lieu, Phuoc Long, and Hong Dan districts, and farmers are delighted to collect huge freshwater shrimp to celebrate Tet.
Mr. Vo Minh Huy, Deputy Head of the Department of Agriculture and Rural Development in Hong Dan district, said that at the time when the pandemic was still complex, the province implemented social distancing measures, some products were harvested too late due to a lack of merchants and a very low price.
During the period of social alienation, the price of oxygen-powered giant river shrimp ranged between VND 80,000 and 100,000 per kg, while the price of dead shrimp was between VND 50,000 and 50,000 per kg.
However, only 3,000 hectares of the entire 12,000 hectares of huge river shrimp have entered the harvest season in preparation for Tet. Currently, the price of oxygen shrimp ranges between VND 120,000 and 150,000 per kilogram, depending on the kind. Since then, the town has been packed with excitement "Mr. Thai said.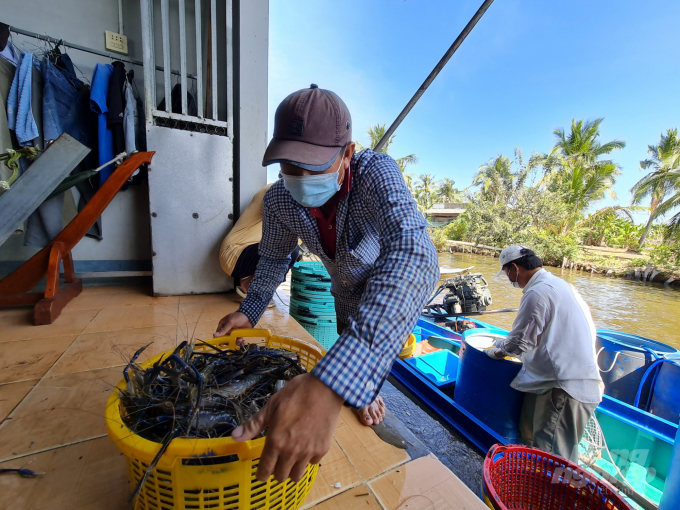 Experts and scientists see the rice-shrimp model as an efficient, ecologically benign, and climate-adaptive form of production. Currently, the salty-sweet ecological zone north of Bac Lieu province's National Highway 1 is ideal for developing the rice-shrimp model.
Bac Lieu province planned and expanded the model's output to roughly 40,000 hectares between 2021 and 2022, investing hundreds of billions of dong in irrigation systems and in-field irrigation to apply the model.
Additionally, the local agricultural industry supports the use of science and technology in rice production. Particular emphasis is placed on organic rice production and clean shrimp to boost value.
To incentivize farmers to duplicate ST24 and ST25 rice types, the state funds 50% of rice seed production and serves as a conduit for enterprises and farmers to sign off on off-sale items, therefore establishing a price linkage chain. Create the brand "Scented rice - Clean shrimp" for added value.
Mr. Do Minh Thang, Chairman of the Gia Rai Town People's Committee, said that the town has expanded the production area of ST24 and ST25 rice types, which has resulted in great results, including good crop and a favorable pricing. When people engage in the cultivation of ST24 and ST25 rice, particularly during harvesting, enterprises flock to the area to demand a high price.
Rice types ST24 and ST25 are now priced between VND 8,000 and 8,500 per kilogram.
Author: Trong Linh
Translated by Linh Linh
TAG: