VnSAT contributes to Vietnam's coffee industry's transformation
MARD previously conducted a conference to accelerate the deployment of the coffee component in 2022 and to announce the results of the implementation of technical infrastructure for specialty coffee and landscape coffee under the Vietnam Sustainable Agriculture Transformation program (VnSAT). At the meeting, the heads of five Central Highlands provinces' Departments of Agriculture and Rural Development lauded the project's efficiency in reviving the local coffee sector.
Changing the face of the coffee industry
Mr. Huynh Van Liem, Deputy Director of the Kon Tum Department of Agriculture and Rural Development, said that the community has implemented three sustainable coffee projects. The VnSAT initiative has achieved many milestones that have contributed to a shift in residents' perceptions.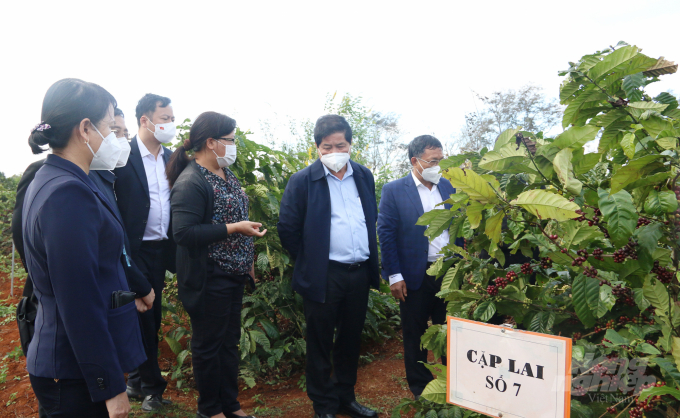 In summary, the initiative enabled Kon Tum province to create 17 cooperation groups and cooperatives, which were organized into a production chain and assisted farmers in consuming thousands of tons of coffee. Additionally, it assists farmers in shifting their production practices and awareness toward sustainability.
Mr. Vu Duc Con, deputy director of Dak Lak's Department of Agriculture and Rural Development, said that the community is very appreciative of the VnSAT project's accomplishments. It has influenced the face of the Dak Lak coffee business in particular and the Central Highlands in general, as well as the coffee sector's spending.
In terms of project disbursement status, Dak Lak currently has nine sub-projects under construction. Whereas five sub-projects have achieved more than 50% of the volume, the remaining four sub-projects are under progress. The municipality guarantees that nine projects will be finished on time by June 30.
Similarly, Mr. Luu Trung Nghia, head of the Gia Lai Department of Agriculture and Rural Development, said that six goals of the VnSAT project launched in the area have been met 100%, while numerous others have been met 300 percent. According to Mr. Nghia, this is a project that the community and residents value highly due to its need.
"VnSAT addresses practical issues and workgroups in each community, assisting in the development of infrastructure, as well as sustainable and successful coffee models. Additionally, the initiative educates farmers about coffee replanting, focusing on the establishment of a link chain in the consumption chain, therefore paving the road for a sustainable coffee business," Mr. Nghia said.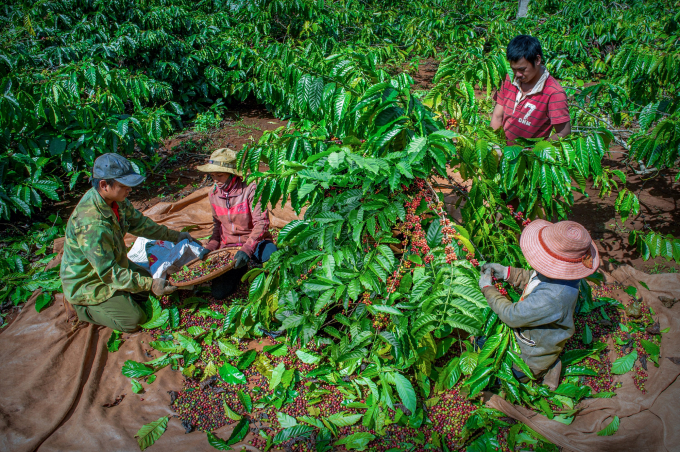 Additionally, Mr. Le Trong Yen, Vice Chairman of the Dak Nong Provincial People's Committee, said that local officials are particularly interested in assisting the province's VnSAT initiative.
As a result, the initiative has planned several practical activities with farmers, including science and technology instruction; nursery building and seed management; coffee replanting; and assistance in the formation of farmers' associations.
Additionally, the initiative assists firms in connecting with farmer groups, therefore contributing to the establishment of a more sustainable value chain. Dak Nong identified pepper and coffee as critical crops and is concentrating its efforts on creating and executing VnSAT project assistance. Mr. Yen said that provincial officials have urged districts and communes to commit to finishing ongoing sub-projects by June 30, 2022.
Contribute to the replanting of thousands of coffee hectares
Mr. Le Van Duc, deputy director of the Ministry of Agriculture and Rural Development (MARD), said that the VnSAT initiative began in 2015 and is scheduled to last another six months. According to Mr. Duc, now is the time to conduct a full evaluation of the project to ensure the project's structures are effective.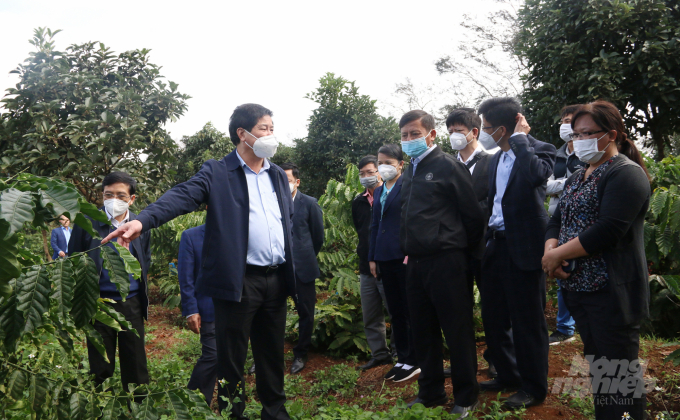 MARD asked the department in 2014 to prepare a strategy for sustainable coffee development and replanting coffee. Thus, the unit established and publicized documentation on technical difficulties as well as criteria for coffee replanting. The VnSAT project, in conjunction with the Western Highlands Agriculture and Forestry Science Institute, has effectively distributed high-quality coffee types, therefore contributing to the establishment of a high-quality seed system for the replanting program.
"VnSAT's capital has significantly aided farmers in developing their capacity via training, infrastructure development, and promotion of the replanting initiative. To further promote the initiative, the Department recommended that local governments consider replanting efforts as regular.
Local governments must incorporate replanting into both the landscape coffee model and specialty coffee production. It is also critical to understand the Institute's mechanized approach for planting, harvesting, and processing coffee," Mr. Duc said.
According to Mr. Pham Ngoc May, deputy director of the International Cooperation Department (MARD), the VnSAT project is so significant that MARD has committed to calling for USD 301 million in financing. The project's requirements have been mostly met so far, assisting in the successful restructuring of the agricultural business. According to Mr. Mau, the finished initiative aided in the development of multinational organizations' confidence. From there, it will be easy to raise funds for more initiatives.
"Through the efforts of local governments and citizens, the average coffee yield exceeds 2.8 tons per hectare, compared to the global average of 1.8 tons per hectare. This is a significant accomplishment for the Vietnamese coffee sector. Deep-processing operations have shifted in a good direction over time. This is a solution that will help us increase the value of coffee and reduce raw coffee exports," said MARD Deputy Le Quoc Doanh.
"Local governments should make efficient use of the excess. It is vital to assess the models' practicality; the influence of development infrastructure on the province; and the role of linkage chains in connecting markets. Units need a final appraisal of the project to use as a foundation for campaigning for other initiatives," Mr. Mau said.
Le Quoc Doanh, deputy of MARD, said that the VnSAT initiative contributes to changing the perception of coffee cultivation in Vietnam. The initiative assists Vietnam in doing rigorous coffee research. According to the leader, MARD constructed and finished two key schemes as part of the project, including planning for specialty coffee and landscape coffee production.
Throughout the implementation phase, each location will choose locations, varietals, cultivation methods, and processing techniques to transform specialty coffee into a brand. Thus, specialty coffee contributes to the diversification of goods and the elevation of Vietnam's status.
It will assist local communities in harmoniously developing coffee, ensuring long-term sustainable growth.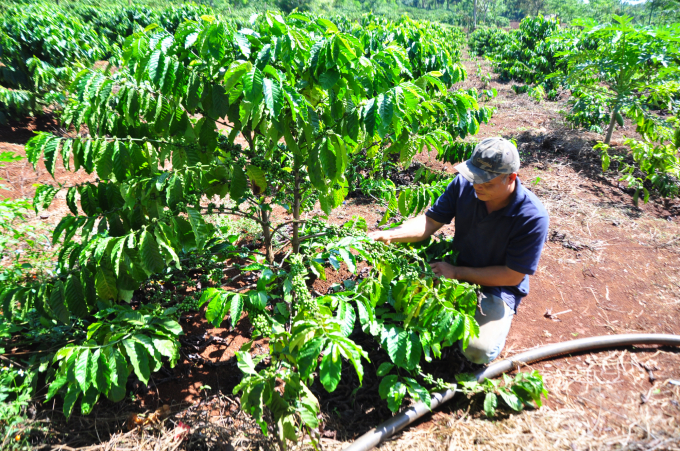 According to Deputy Minister Le Quoc Doanh, the majority of Vietnam's coffee was cultivated in the 1980s and 1990s and is now considered old, resulting in a poor yield.
Thus, in 2014, the Ministry of Agriculture and Rural Development established an objective of replanting 120,000 hectares by 2020; nevertheless, 162,000 hectares have been replanted to date, with significant assistance from the VnSAT initiative.
Productivity rose steadily throughout the years as a result of the regular procedure used in replanting. To ensure proper replanting, the Ministry and local governments have strengthened variety management. Since then, communities have established nurseries stocked with the greatest types for long-term growth.
MARD recommended that municipal governments continue to consider replanting as a regular task in the future. After replanting, local governments must follow a uniform procedure for selecting the finest and most acceptable kinds for their residents.
According to Deputy Minister Le Quoc Doanh, the VnSAT initiative has provided infrastructure, roads, and drying yards to several farmer groups and cooperatives. As a result, local governments must work to strengthen the value chain-connecting function of these facilities, so assuring long-term and successful growth.
Provinces must expedite the building of sub-projects and finish them by June 30, 2022 in order to assure quality and aesthetics, maximize capital efficiency, and eliminate waste and loss; and periodically encourage, oversee, and report progress to MARD in order to address issues as they arise.
Author: Minh Quy
Translated by Linh Linh
TAG: