Suggestions of Minister of MARD Le Minh Hoan the Red River Delta in producing rice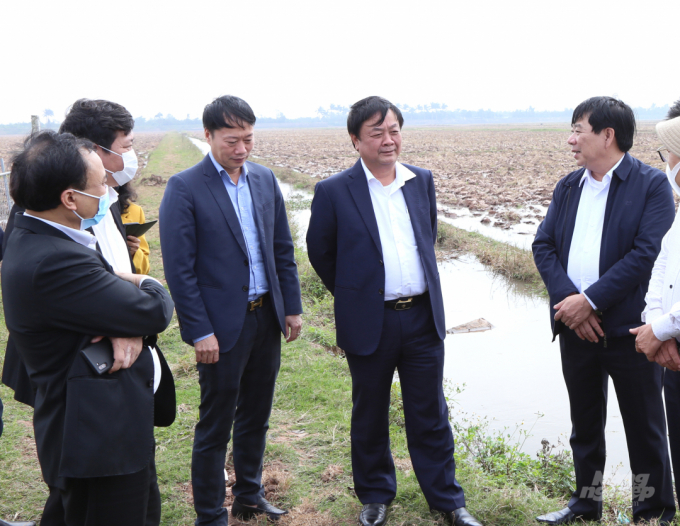 Digitalize information of each field for land management
After attending the international seminar on agricultural economic models and rural residential areas, vision to 2030, orientation to 2045 in Thai Binh province on January 8, Minister Le Minh Hoan of the Ministry of Agriculture and Rural Development and Mr. Dinh Vinh Thuy, Director of the Department of Agriculture and Rural Development visited Binh Dinh Agricultural Service Business Cooperative (Binh Dinh Cooperative, in Kien Xuong district, Thai Binh).
16 years ago, the cooperative's headquarters was built with the support of Japan's JICA. The organization also trained the staffs of the cooperative with knowledge on production capacity and management capacity.
"At Binh Dinh Cooperative, capital contribution of the members is land use rights. By this special method, Binh Dinh Cooperative is able to remove barriers on fields, merger small field plots, reorganize the fields and synchronously invest in irrigation infrastructure, intra-field roads to serve the mechanization of all stages in the process of production, processing, preservation and product consumption," said Tran Thanh Son, Director of Binh Dinh Cooperative.
"At the end of each crop, members of the cooperative are shared the increment of about VND 1.6 million per "sao" (1 sao is equivalent to 360 square metre).
Up to now, Binh Dinh Cooperative has organized 4 areas linking production and consumption of seed rice in cooperation with ThaiBinh Seed Group and another enterprise, in a total area of more than 200 hectares. In addition, the cooperative also cooperates in production and supply about 3,000 - 4,000 tons of high quality commercial rice each year for Hung Cuc enterprise (also in Kien Xuong district).
When farmers contribute their land to the cooperative, all the data is digitalized, managed by specialized software and is publicly available on a website.
In case the State recovers land to implement projects in the national and public interests, people still enjoy all the rights on that land plot (different from farmers leasing land to enterprises for 10 - 20 years).
After reorganizing the fields on a large area, Binh Dinh Cooperative applies mechanization and provides services for all stages such as plating trays - transplanting machines, tilling, procedure once in a crop for fertilizer, spraying pesticides by drones, harvesting rice...; followed by product preservation, processing and consumption.
Since then, the income of the members contributing land to the cooperative increased to VND 430,000 VND in a crop compared to the average profit of households growing rice outside the model.
Local supply of processed rice for businesses
Mr. Le Duc Thinh, Director of the Department of Economic Cooperation and Rural Development (Ministry of Agriculture and Rural Development) said: "We highly appreciate the Binh Dinh Cooperative on how it is organized to concentrate land and produce in a large scale, thereby reducing production costs through the application of science and technology. The most important thing is that the life and production activities of the villagers come into order."
Binh Dinh Cooperative has 25 members who contribute capital and are paid a monthly salary, while the cooperative members who contribute the land use rights will receive an increment of about VND 1.6 million for each sao in a crop. In addition to providing agricultural services, the cooperative also provides internal credit services and other non-agricultural services, bringing high efficiency to members.
"In the coming time, the Department of Economic Cooperation and Rural Development is ready to support Binh Dinh Cooperative to expand the scale of paddy drying kilns and modernize storage warehouses to meet the requirements of quality improvement and sustainable development," said Thinh.
According to Dinh Van Thuy, Director of Thai Binh Department of Agriculture and Rural Development, currently, rice processing factories in Thai Binh have to go to the South to buy raw materials, because in the northern provinces, the price of rice is very high and cannot be buy in bulk.
In order to expand production scale, farmers must be mobilized to contribute both capital and agricultural land use rights, as Binh Dinh Cooperative has done successfully. Thus, processing enterprises only need to contact the cooperative to be able to buy raw materials in large quantities right in the province instead of having to buy raw rice very far from the southern provinces.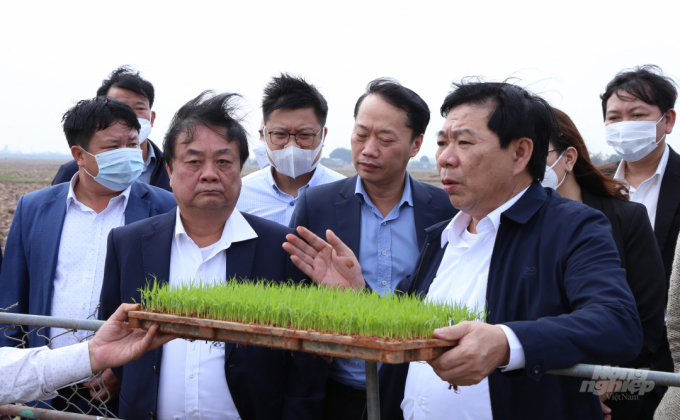 Suggestions for building Thai Binh rice brand
Department of Agriculture and Rural Development of Thai Binh has advised the province to build models to reduce rice production costs through the application of higher and more thorough mechanization at all stages. The second is to reduce the cost of fertilizers and pesticides by implementing good production processes.
However, according to Dinh Van Thuy, in order to fulfil above targets, cooperatives must have a comprehensive innovation from the stage of organizing production, implementing the input service stages.
"Farmers are now they rely on cooperatives. Cooperatives self-organize production, when products are available, they are preliminarily processed, processed and sold to the market, thus reducing the intermediary stage. In particular, members of cooperatives have their income increased," said Thuy.
Thai Binh is the homeland of many people who are now living and working nationwide. And minister Le Minh Hoan see it as a favorable opportunity to consume rice for the farmers.
"63 provinces and cities in Vietnam all have Thai Binh's people. Why should we do not think of bringing rice products to serve those who are now living far from their homeland through the e-commerce system. I think, from then these people will help expand the market for Thai Binh rice," suggested Minister Le Minh Hoan.
According to Minister Hoan, Thai Binh's rice output ranks first in the North, but only reaches about 1 million tons each year. Meanwhile, the annual rice output of Dong Thap is 3 million tons, Kien Giang is 4.5 million tons... Therefore, Thai Binh in particular and the Red River Delta provinces in general, besides applying solutions to reduce production costs, increase value for rice, also need a different approach to position the value and brand of rice grains through identifying market segments with high quality, special rice products. This will be different from other provinces in the Mekong Delta where rice is mainly exported in large quantities.
The removal of the field edge by Binh Dinh Cooperative has contributed to increasing the production area by 18%, but most importantly, we create conditions for synchronizing and mechanizing production; we can erase the "own investment mind" of the farmer. When they work together, they have a community to discuss long-term development orientation.
Minister Le Minh Hoan
Author: Minh Phuc
Translated by Khanh Linh
TAG: