High-yielding SSC586 silage corn variety has great potential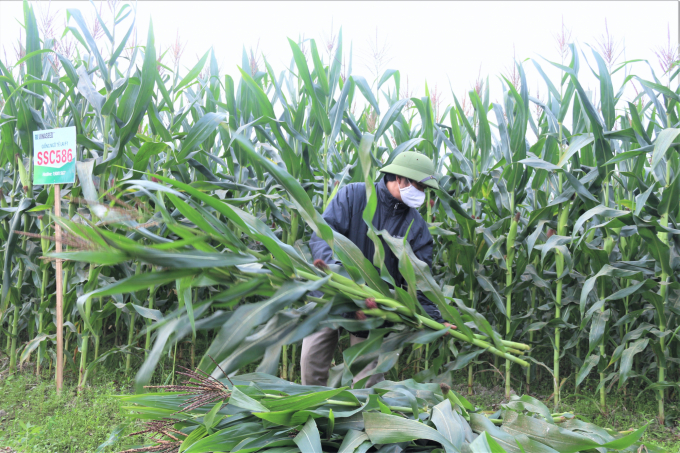 Profit can reach VND1 million/sao
In recent years, Thai Nguyen province has promoted livestock production, especially dairy cows, beef cows and buffaloes. The development of commercial cattle has brought high economic value to the locality.
In Pho Yen township (Thai Nguyen province) the total number of cattle has more and more increased, driving more demand for forage that are mainly different type of grass, plant leaves and various agriculture by-products.
To have high-quality forage to feed cattle, local authorities have proactively turned the area of low-yield and less effective cultivation areas into corn growing areas for silage.
The area of silage corn cultivation has been expanded across the province, particularly in less-effective rice fields.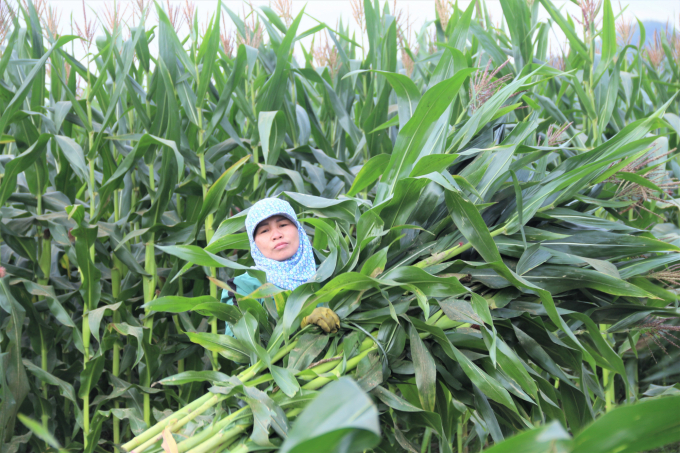 In the 2021 winter crop, the Economic Office of Pho Yen township in coordination with the Viet Nam National Seed Joint Stock Company or Vinaseed and the Pho Yen Branch under Thai Nguyen Agricultural Material Joint Stock Company implemented a linkage model of corn silage production and consumption in Dam Muong 12 village, Minh Duc commune. This model covered 2 hectares out of 10 hectares of rice land in the area.
Sai Thi Xuan living in Minh Duc commune grew SSC586 corn variety in the 2021 winter crop. Xuan said the SSC586 variety strived better compared to other varieties of corn for silage. It also owned a number of outstanding features such as requiring less care while bringing profit higher over the rice crop.
The farmers participating in the model said growing SSC586 corn variety could create income 1.5 times higher than other corn varieties. Along with that, the local farmers could take the initiative in irrigation. However because of skyrocketing fertilizer prices over the past time the farmers have hesitated to expand the area of silage corn. If they received support they could increase the area in the next winter crops.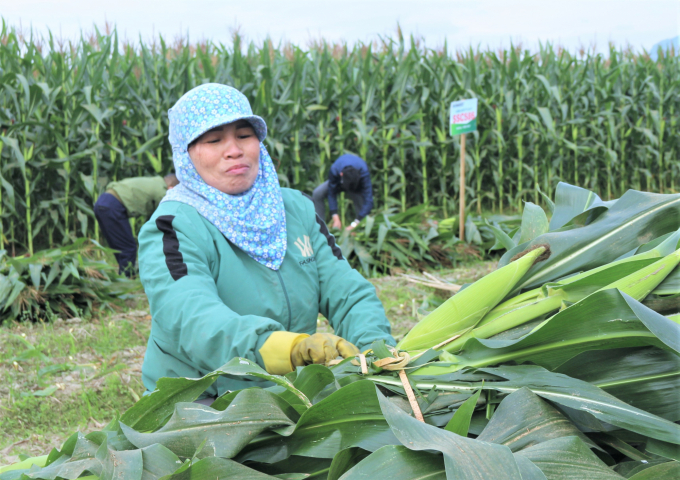 Tran Van Thu, Director of Pho Yen Agricultural Material Branch said the SSC586 corn had all required characteristics of a silage corn variety such as strong growth, thick stems and leaves, suitability for high-density planting. Besides, this variety was resistant to drought, pests and diseases, especially the rust fungus.
"The experiments showed that three crops of the SSC586 corn could be grown a year. 80-85 days after planting corn could be harvested for silage. Therefore, it's totally suitable for the winter crop without affecting the next crops.
Pho Yen Agricultural Material Branch has coordinated with Vinaseed Group to link up with agencies, livestock enterprises in order to help farmers sell their winter corn harvest.
"This year, SSC586 corn could be sold for higher prices at around VND850 per kilo. After accounting for all expenses farmers could earn a profit of more than VND1 million per sao. So they are very happy with the result," said Tran Van Thu.
Forming an area specializing in corn cultivation for silage
Dong Thanh Farm under Dong Thanh Ha Noi Joint Stock Company in Dong Anh district is now raising 17,000 cows and these cattle can consume 200-300 tons of forage every day. The company has come to Pho Yen township to buy SSC586 corn for silage. The company has bought around 200-300 tons at VND800-1,000 per kilo.
According to Le Thanh Tuan, Director of Dong Thanh Hanoi J.S.C, although there were different varieties of corn for silage SSC586 corn variety was the best one that could yield 1.8-2.2 tons/sao .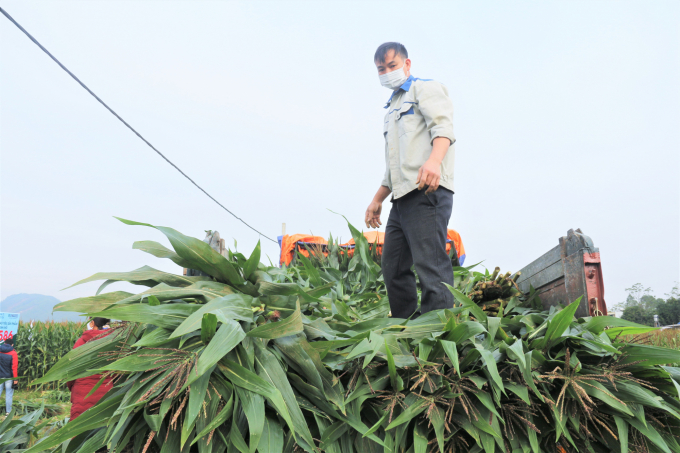 "Through purchasing corn silage we are not only feeding our cattle but also raising farmers' income. I hope that they can expand the area of silage corn cultivation in the near future," Le Thanh Tuan expressed.
According to Duong Van Hien, Head of Pho Yen's Economic Office, the district has recently been mapping out value chain-based corn silage production areas
So far, the SSC586 variety has been under cultivation in Pho Yen and many enterprises has signed contract with the local farmers to buy the crop with attractive prices.
Because SSC586 corn variety was domestically researched and developed by Vinaseed the seeds were sold for reasonable prices compared with imported varieties, thereby contributing to make farmers feel safe and secure in production," said Tran Van Doanh, Business Manager of Vietnam National Seed Group Joint Stock Company (Vinaseed Group).
Authors: Pham Hieu - Duc Minh
Translated by Mai Tham
TAG: