Sweet potato good domestic consumption, potential for export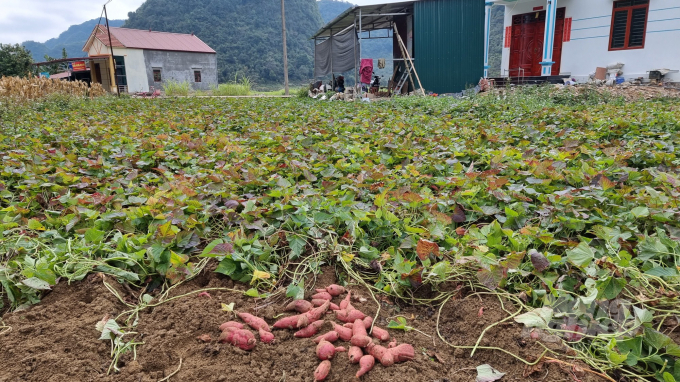 Sweet potato has been one of the traditional food crops grown by the Nung people in Phuc Sen commune, Quang Hoa district, for a long time. In recent decades, it has been found that sweet potatoes bring much higher economic efficiency than corn and rice. So many households have expanded the growing area. Each household grows from a few hundred to several thousand square meters of sweet potatoes.
Mr. Hoang Van Hung, Doan Ket hamlet, Phuc Sen commune said: Sweet potatoes are easy to grow, care for, and have few pests and diseases. But to have many large and uniform tubers, it is necessary to apply the proper techniques and fertilize enough for the plants to grow well, for the sweet and aromatic taste. Sweet potatoes only grow for four months, usually from July to December. Mr. Hung's family collected about 4 tonnes of this year's potato crop worth VND 40 million.
Mr. Phung Van Chi's family, Quoc Tuan hamlet, is one of the households with the largest area of sweet potato growing in the commune. This year, he planted 4,000 m2 of sweet potatoes, of which 2,000 m2 of Japanese sweet potatoes. Mr. Chi shared: "My family used to grow sweet potatoes mainly for food. Seeing that growing potatoes have a high income, in recent years, I have expanded the area to grow both traditional white potatoes and Japanese yellow potatoes, and purple potatoes".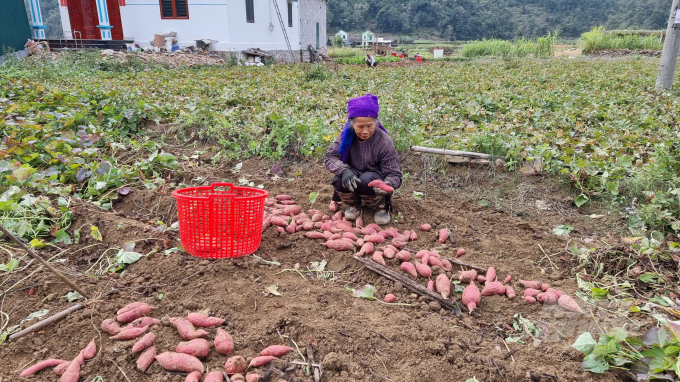 Last year, the wholesale price of sweet potatoes was VND 5,000-6,000 per kilogram, and the retail price was VND 10,000 per kilogram. This year, many traders from Lang Son bought for VND 10,000 per kilogram; If retail, the average price is from VND 13,000 - 20,000 per kilogram. With more than 10 tonnes of tubers, Mr. Chi's family earns more than VND 100 million this year.
Previously, people in Phuc Sen mainly planted traditional white sweet potato varieties. Since 2018, Quang Hoa district has brought back some communes to grow Japanese yellow sweet potato varieties. Many hamlets in Phuc Sen commune have tried planting and expanding the area.
It is a new sweet potato variety suitable for the climate and soil in Phuc Sen commune. For Japanese sweet potato plants to have a high yield, large tubers need a lot of manure to make the soil loose. Japanese sweet potatoes' yield is nearly twice as high as that of traditional sweet white potatoes; Consumers favor the quality of sweet and fragrant potatoes.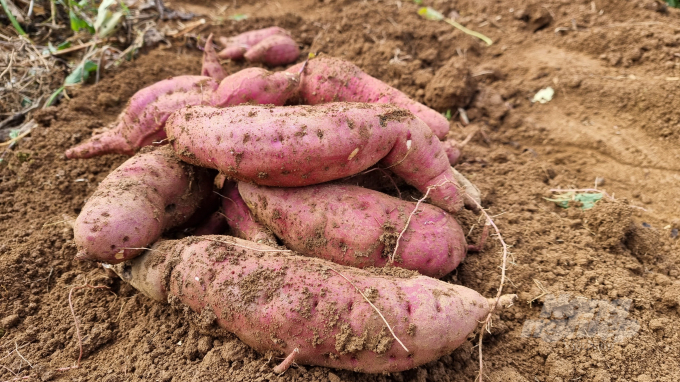 In 2021, Phuc Sen commune will expand its sweet potato growing area to more than 100 hectares, mainly in the hamlets: Quoc Tuan, Quoc Dan, Khoo, Dia Tren, Dia Duoi. Sweet potatoes grown in Phuc Sen commune are medium-sized, from 300 - 400 grams, big tubers from 600 - 800 grams. Productivity is 28 tonnes per hectares. The total output is nearly 3,000 tonnes. With an average selling price of VND 10,000-12,000 per kilogram, each hectare of sweet potatoes earns almost VND 300 million, many times higher than traditional maize and rice crops.
Phuc Sen commune has actively propagated people to change their crop structure in recent years, converting many inefficient crop areas to growing sweet potatoes, radishes, and zucchini. In particular, the sweet potato plant expands the area and brings high income.
People in the commune know how to apply science and technology and put new potatoes into cultivation for high productivity and output. Many households have an average income of VND 30 - 50 million per year; Some households earn from VND 70 to more than VND 100 million per year from growing sweet potatoes, contributing to a significant source of income, contributing to income criteria so that at the end of the year the commune will aim to build a new countryside.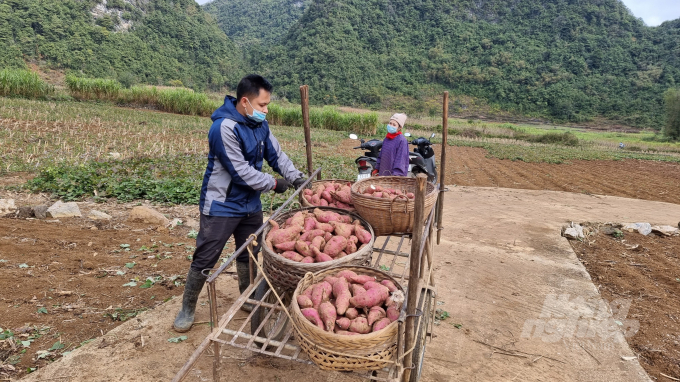 Mr. Luong Van Huan, Chairman of Phuc Sen Commune People's Committee, said that sweet potatoes grown in Phuc Sen commune have gradually affirmed their brand and are present in many markets in the province. The commune has actively coordinated with specialized agencies of the district to build models of science and technology transfer for the people; find a way to link product consumption with the development of community tourism;
Besides, propagating and mobilizing people to establish groups, cooperative groups, cooperatives in production and consumption of products; production associated with processing; To increase the application of science and technology, so that sweet potato plants give uniform tubers, high yield and output; focus on building a brand for Phuc Sen sweet potato to reach out to the market outside the province.
"It is important to find a stable output, with reasonable planning to avoid a crisis of excess like other agricultural products," Mr. Huan added.
Author: Cong Hai
Translated by Ha Phuc
TAG: