Rubber industry in an impressive growth year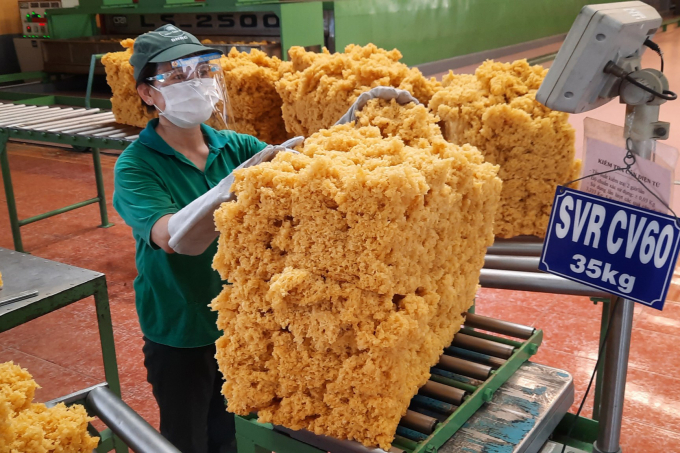 USD3 billion milestone
The General Department of Customs (GDC) reported in the first 11 months of 2021, the country's rubber exports reached 1.7 million tons worth USD2.85 billion, up 11.9% in volume and 40.8% in value compared to the same period of 2020. Thus, it can be affirmed that, despite many difficulties due to the 4th Covid-19 outbreak, 2021 is still a successful year for the rubber industry.
Not only that, rubber exports in 2021 grasped the very important milestone of USD3 billion again after 10 years. Specifically, in 2011, due to a record high price in the world market, rubber exports surpassed USD3 billion for the first time, reaching over USD3.2 billion.
In the following years, due to a sharp decline in prices, rubber export lost the USD3 billion milestone. Even in some years, it fell below USD2 billion. But in 2021, thanks to a strong increase in price, export value has reached USD2.85 billion in 11 months. The GDC reported by mid-December, rubber export value in 2021 was USD3.068 billion, officially catching the USD3 billion milestone again after 10 years.
Impressive growth in many markets
In addition to a sharp increase in prices, the success of rubber exports in 2021 also came from the fact that Vietnamese rubber is penetrating deeper and deeper into many important markets.
China continues to be the largest market for Vietnamese rubber. In 2021, exports to this market remained stable. Information from GDC also revealed in the first 11 months of 2021, Vietnam exported 1.2 million tons of rubber to China, worth USD1.96 billion, up 1.71% in volume and 26.3% in value over the same period of 2020.
According to the Import-Export Department (Ministry of Industry and Trade), information from Chinese Customs showed Vietnam's market share in China's total rubber imports increased significantly in 2021.
Specifically, in the 10 months of 2021, China's rubber import turnover reached USD10.14 billion, up 17.1% over the same period of 2020. Thailand, Vietnam, Malaysia, South Korea, and Japan were the 5 largest markets supplying rubber to China.
Vietnam was the second largest rubber supplier to China in the 10 months of 2021 with USD1.69 billion, up 31.5% over the same period in 2020. Vietnam's rubber market share in China's import total turnover in the first 10 months of 2021 accounted for 16.7%, up sharply from 14.9% over the same period of 2020.
Along with stable exports to China, Vietnam's rubber exports to many important markets such as the US, EU, Malaysia, Korea, and India also grew strongly in 2021.
In the first 10 months of 2021, rubber exports to India increased by 96.4% in volume and 153.6% in value; to Korea by 57.8% in volume and 95.2% in value; to the US by 80.5% in volume and 130% in value; to Germany by 79% in volume and 129.7% in value...
In general, among the 10 largest markets of Vietnamese rubber, except for China with only a slight increase in volume, exports to 9 others all raised very strongly in volumes such as Sri Lanka and Russia. This is clear proof that Vietnamese rubber is penetrating more and more strongly into markets other than China.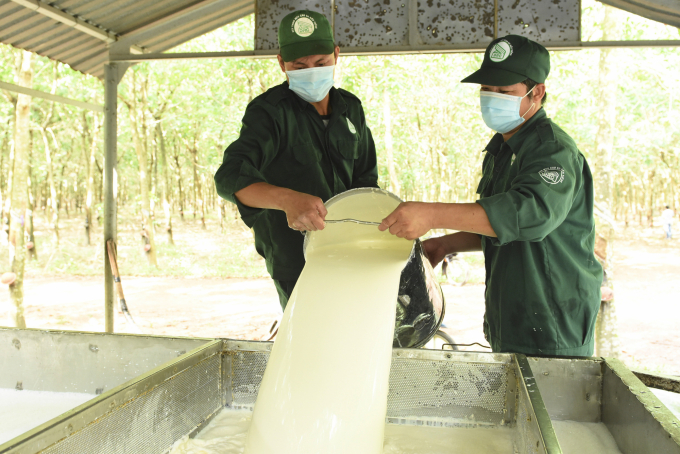 VRG's efforts to maintain production output
To get high results in rubber exports in 2021, along with good prices and output, another very important factor for the successes was that of the efforts made by the whole industry, especially the Vietnam Rubber Industry Group (VRG) and its members in maintaining production in the context of the prolonged stressful Covid-19 pandemic, inconvenient weather and natural disasters occurred in many areas.
During the complicated development of the Covid-19 pandemic, the Group had directed member units to implement many important solutions to maintain production and consumption.
First of all, it had proposed technical solutions to proactively respond and adapt to the pandemic situation, organized management activities by setting up a suitable and flexible plan to complete the output target ensuring production safety. 
It has paid special attention to employees through coordination with localities to promote vaccination, implement 5K to prevent infection, and protect the on-site workforce.
In processing activities, factories and workshops located in high-risk areas (Southeast region), were ordered to strictly adhere to the "3 on-site" production principle considering the safety and health of workers as the top priority.
Thanks to practical and timely solutions in pandemic preventing to maintain production, and overcome disadvantages caused by weather and natural disasters, there have been 16 VRG rubber companies completing the 2021 yearly plan 30 days earlier than scheduled.
In the most pandemic-affected Southeast region, VRG's 5 member units had completed the production plans 30 days in advance. In the Northern mountainous and Central regions, 3 and 2units also fulfilled production plans 30 days in advance respectively.
Also completing the production plan 30 days earlier than scheduled were 4 member units in the Central Highlands. 
Due to the early completion of production plans, it was estimated that by the end of 2021, the total output of the 16 above-mentioned units would exceed the plan by 14,000 tons.
Thanks to many member units completing the annual plan earlier than scheduled, by mid-December 2021, the entire VRG had exploited 377,722.6 tons of latex, reaching 100% of the output plan and fulfilling its target 16 days earlier than scheduled. It is estimated that by the end of 2021, the output of latex exploited by VRG would exceed 5.7% of the plan. This is a very remarkable achievement of VRG in a difficult year due to the Covid-19 pandemic.
Author: Thanh Son
Translated by Linh Nguyen
TAG: