Hung Thinh Phat Cooperative builds dragon fruit value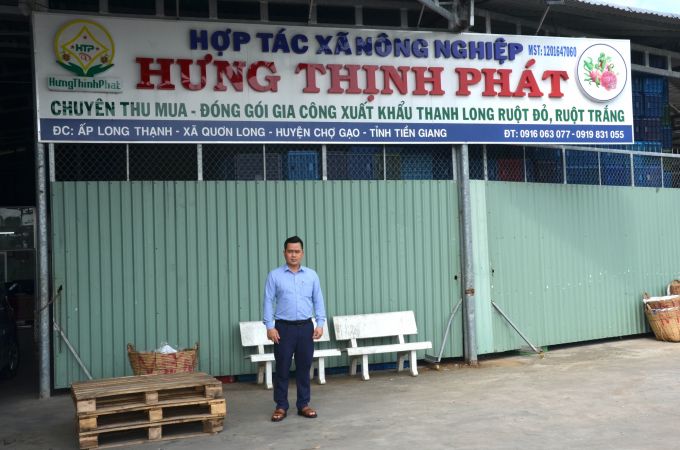 Wishing to join farmers to create value for dragon fruit
Mr. Nguyen Trung Quy (38 years old), a business owner purchasing dragon fruit in Quan Long commune, Cho Gao district, Tien Giang province, has become a director of Hung Thinh Phat Clean Agriculture Cooperative ('Hung Thinh Phat Cooperative').
"When the prices of agricultural products go up, I post information to encourage the spirit of farmers, and when the prices are too low, the information is not negative. Newspapers publish news like dragon fruit is cheap, no one buys it, has to dump it, etc., so businesses can't export agricultural products to foreign countries" Mr. Quy confided about dragon fruit.
Regarding the transition from business owner to director of the cooperative, Mr. Quy said: "In the past, I owned the establishment, purchased in small pieces, calculated benefits only for my personal use. When I have an order, then I buy dragon fruit from farmers. I don't see how to create value for the community and society."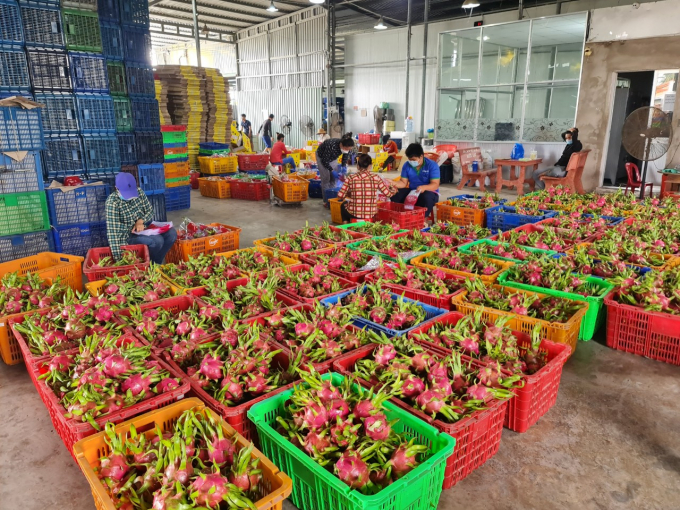 Previously, to keep the reputation as being a business owner, some trucks brought a loss of VND hundreds of millions, but Mr. Quy still had to sell. Because he does not directly produce dragon fruit, Mr. Quy cannot decide the product quality.
Products that are not uniform are not certified by anyone, and it isn't easy to compete. The income of farmers is also not stable. Therefore, Mr. Quy has cooperated with farmers to create a quality dragon fruit area, creating real value for dragon fruit in his hometown.
In April 2021, Mr. Quy and 38 dragon fruit farmers in Quan Long commune, Cho Gao district (Tien Giang province) established Hung Thinh Phat Clean Agriculture Cooperative. Although just over half a year of establishment, this cooperative has made significant changes.
Up to now, the cooperative has linked with eight groups of dragon fruit production according to GlobalGAP standards in Quan Long commune to form a sizeable raw material area with an area of ​​132 hectares. The cooperative's basis is to develop a sustainable value chain for dragon fruit.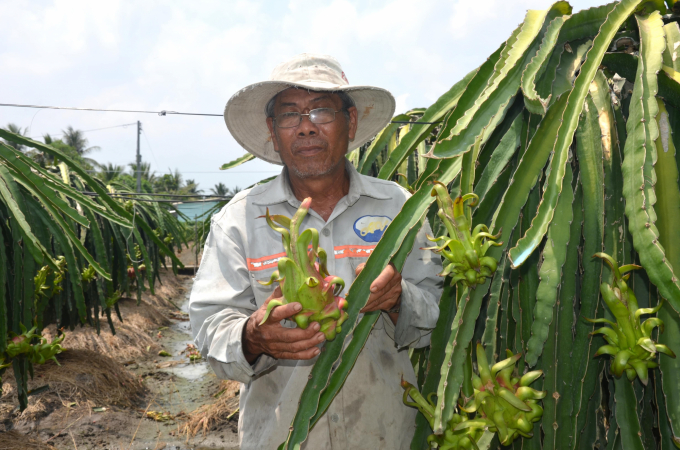 Changing mindsets for farmers
Hung Thinh Phat Cooperative has contributed to changing the perception of farmers to produce safe dragon fruit for export to fastidious markets.
Mr. Dang Hoang Minh from Quan Long commune, as well as many dragon fruit farmers here, said that thanks to joining Hung Thinh Phat Cooperative, he has successfully applied the planting model according to VietGAP standards and then GlobalGAP; also exchanged and transferred dragon fruit production techniques to achieve productivity and quality for export.
Currently, Hung Thinh Phat Cooperative has an operating strategy that focuses on harmonizing the interests of the Board of Directors of the cooperative and its members. Specifically, it must ensure that the cooperative's members are profitable. The cooperative's purchase price of dragon fruit for cooperative members is always at least VND 1,000 per kilogram higher than the market price.
In addition to producing and preliminarily processing dragon fruit, the cooperative also purchases other fruits such as passion fruit, mango, pomelo, etc., for preliminary processing and supply to partners. Each month, the cooperative preliminarily processes 50-100 tonnes of dragon fruit and more than 50 tonnes of other fruits to supply for the domestic market and export to Japan, the US, Korea, China... and the domestic market.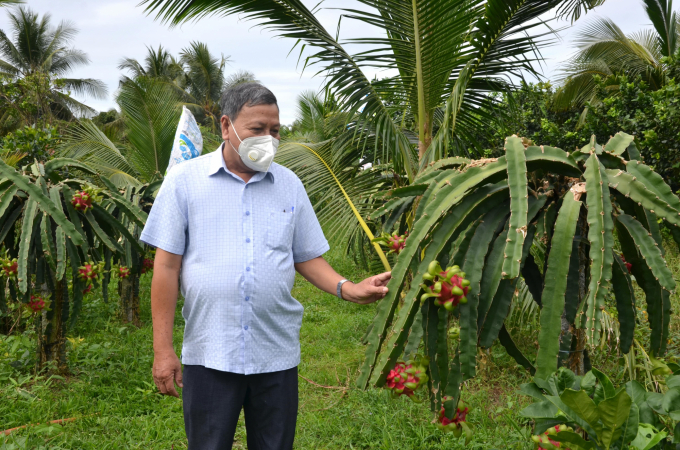 During the 4th outbreak of the Covid-19 epidemic, Hung Thinh Phat Cooperative received orders from Working Group 970 (under the Ministry of Agriculture and Rural Development). It is also one of the very few cooperatives in Tien Giang province that provides packages according to Working Group 970 to connect agricultural product consumption to farmers.
Reaching the international markets
Talking about the operation orientation of the cooperative in the coming time, Mr. Nguyen Trung Quy shared: In the context of high prices of fertilizers and materials, the cooperative has connected to link with Binh Dien Fertilizer Joint Stock Company to supply them at original prices, quality is guaranteed.
In the output link, the cooperative is trying to find foreign customers. With the existing material area and capacity, the cooperative is ready to produce dragon fruits following the standards of different markets such as Japan, Korea, the US, New Zealand, EU, China. Currently, the cooperative is developing growing area codes for export.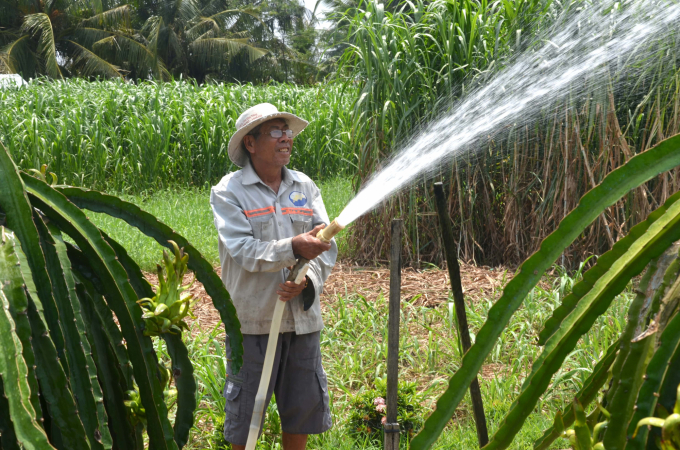 "Farmers will gradually form an economic mindset in production, build a chain of links so that they no longer have to suffer from unstable dragon fruit prices. The cooperative's orientation is to seek collaborative consumption contracts before the members let the dragon fruit produce fruit", said Mr. Quy.
Hung Thinh Phat Cooperative has begun learning and applying digitalization to managing dragon fruit. Soon, the cooperative will use an electronic diary to handle and care for dragon fruit.
"When customers scan the barcode on the dragon fruit, they will know who produced it, on which date, who took care of it, used fertilizers and chemicals like…, which means traceability", Mr. Quy confided.
Hung Thinh Phat Cooperative was also supported by the Tien Giang Department of Agriculture and Rural Development, coordinated to build cold storage meeting European standards to serve the export strategy.
A Japanese enterprise will link production with Hung Thinh Phat Cooperative in the coming time. This enterprise will have a technical team to guide farmers with technical materials to produce according to Japanese standards.
Author: Minh Dam
Translated by Ha Phuc
TAG: