Japan requires high standard for imported fruits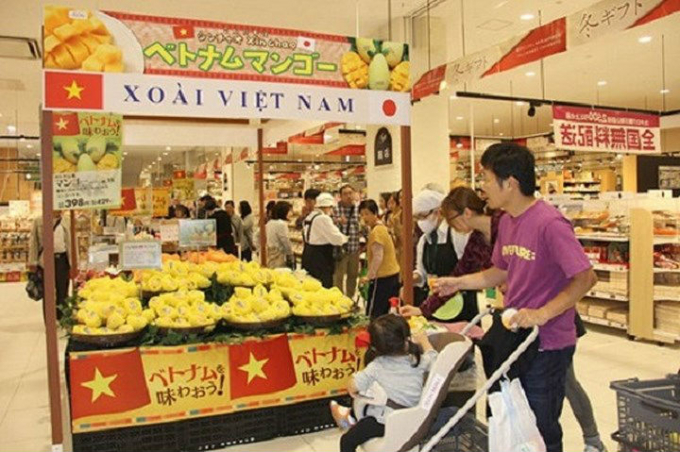 Japan is the country with the highest level of agricultural production globally, with high-quality products and the most beautiful designs. The prices for melons, baskets of apples, crates of strawberries… can reach VND hundreds of millions.
It is due to Japan's millennial tradition of agricultural production, with the passion of Japanese farming families' generations seeking to improve agricultural products.
On the other hand, Japanese consumers are ranked as the world's most gourmet, always demanding products that are delicious and meet beautiful looking and safe for health.
Therefore, the fact that Vietnamese agricultural products are on the shelves of the Japanese market affirms the prestige and opportunity to access other markets for Vietnamese agricultural products. For example, in 2020, when Vietnamese lychees were first sold at AEON, lychees were later exported to Europe, Australia, and Singapore.
There was a time when lychee price was only VND 500 per kilogram on the spot in the past. Many farming households have therefore turned to other crops. It is why Vietnamese businesses want to bring agricultural products to the Japanese market.
So, do Vietnamese agricultural products have the opportunity to export to the Japanese market?
Japan has temperate agricultural products, cold water seafood. Meanwhile, Vietnam is rich in tropical agricultural products and freshwater aquatic products. The Japanese like mango, grapefruit,banana, longan, dragon fruit, vegetables, shrimp, fish, and other tropical agricultural products.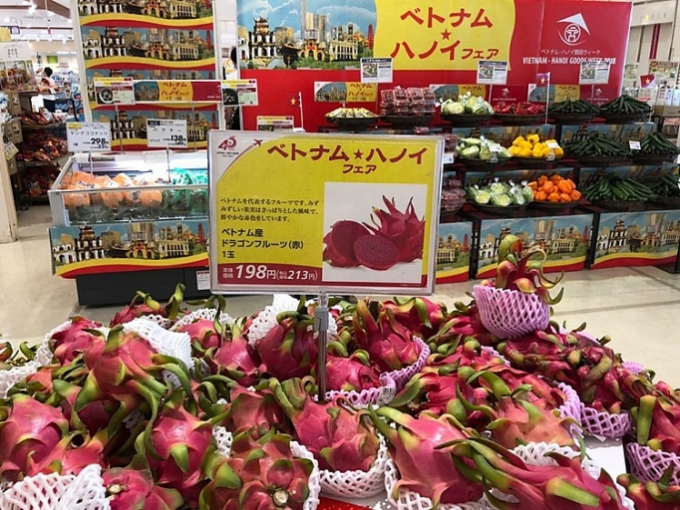 In addition, Japan creates favorable conditions for Vietnamese agricultural products through the FTA tariff system that the two countries participate in, such as CPTPP, RCEP. However, Japan's very high technical requirements and food safety standards are challenging. These standards are not only imposed on imported goods but also domestic agricultural products within Japan.
So why is it difficult for Vietnamese goods to enter Japan? Currently, after the negotiation process, technical handling of problems related to pests and diseases, etc., some of Vietnam's agricultural and aquatic products have been imported into the Japanese market such as shrimp and fish, four types of fruit: banana, mango, dragon fruit (white and red flesh), and lychee. Some other fruits are imported privately due to non-negotiation, such as durian, some types of coriander, herbs.
The production cost of agricultural products in Vietnam is still relatively low compared to other countries producing the same commodity.
It is difficult for Vietnamese fruits to enter Japan, but not impossible if the producer meets the technical requirements. Towards the goal of bringing a particular product to Japan, the following points should be noted:
The product must be uniform and beautiful. It is related to the production process and selection of varieties and tree and fruit care. Japan has maintained advanced agricultural production for thousands of years. Japanese farmers have tinkered with and created many different types, creating high-quality agricultural products, but never satisfied.
The association model is a feature of Japanese agricultural production when small farmers gather in a large organization and operate like a large corporation.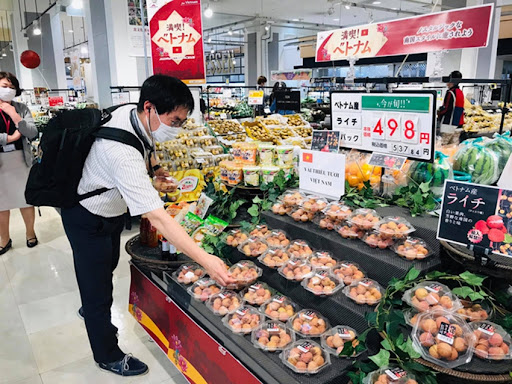 Researchers and agricultural scientists strongly support Japan's agricultural production to create new, advanced varieties in terms of quality, variety, and high resistance to pests and diseases.
The use of chemicals to fertilize and kill insects also needs to comply with Japanese technical processes. It is a complex system regulated by many Japanese agencies. Therefore, it is necessary to consult with agencies that study the legal system in depth.
The post-harvest preservation and processing process plays an essential role in ensuring the quality of our goods to keep their quality and beautiful designs from harvesting, transporting, storing, and displaying to buyers.
Therefore, Vietnam needs to deeply study Japan's quarantine and food safety system's technical requirements. Intermediate distributors also need to invest in storage and processing systems to suit buyers' requirements in Japan.
The important thing is that the system of distributors plays a critical role in delivering goods in time to the buyer quickly, with the right quality, and at the right place. Full compliance with the standards following the procedures must be strictly followed.
The belief of quarantine agencies and Japanese consumers will be lost quickly if only a small shipment violates an excess of banned chemicals or has not eliminated all harmful pests, bugs, bacteria, and fungi.
The key to success lies in the hands of the manufacturer. Vietnam will successfully export many agricultural products to Japan through market research, meeting the technical requirements of the market, and establishing an effective distribution system.
Researching the market and consumer preferences needs to be done regularly and continuously to constantly improve product quality and design and find new varieties to diversify products.
Once the buyer's trust has been established, the producer can rest assured to expand and perfect the production. That is the key for Vietnamese agricultural and seafood products to enter the Japanese market firmly.
Author: Vu Hong Nam
Translated by Ha Phuc
TAG: