Japonica rice - from 'stranger' to 'Hanoi's close friend'
A variety with the strongest growth in the North
Back to nearly ten years' time, endless arguments about whether J02 was plain rice or sticky rice broke out among even the most knowledgable elder farmers. But now Ung Hoa has become the district growing that "strange rice" the most in Hanoi, even in the North, up to 4,009 ha.
It goes by the name of Japonica rice, also called "the Japan rice", with varieties becoming more diverse day after day: J02, J01, VAAS 16, Loc Troi 64, etc.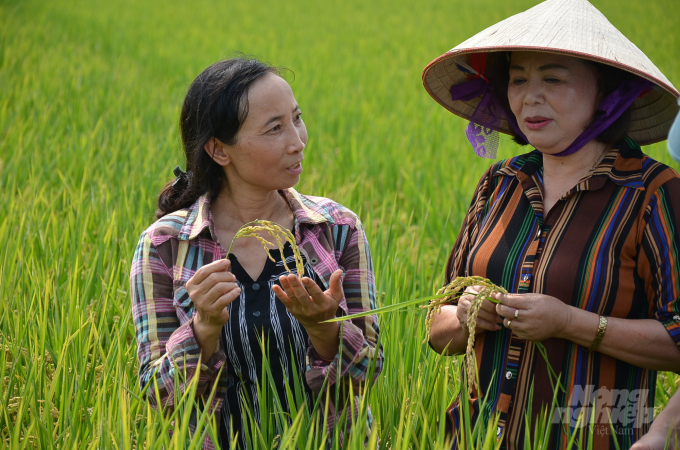 On January 21st, 2019, the Hanoi People's Committee issued Decision No. 438, approving the plan "Developing the production of Japonica rice towards export-standard quality until 2020, vision to 2025".
The plan includes the following goals: develop 50 - 60 production areas of high-quality commodity Japonica rice; increase the value to VND 15 - 17 million/ha/year; promote the development of technology for drying, preliminary processing, processing and preservation of Japonica rice; form 3-5 value link chains for Hanoi rice products.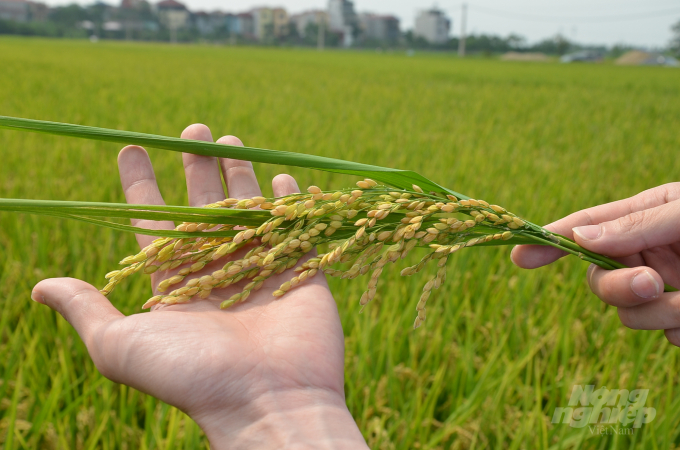 In the year 2020 Hanoi established two collective brands "Nam Phuong Tien Organic Japonica Rice" and "My Thanh Japonica Rice" The local agricultural sector also made contact with five enterprises ready to underwrite the products: GreenPath Vietnam Import-Export and Trading JSC, Bao Minh JSC, Stevision Vietnam Co., Ltd., Vietnam Seed, and Hi-Tech Agricultural Material JSC, and Doan Ket Cooperative.
These enterprises have consumed 40-50% of fresh rice output at Japonica production sites, which makes local officials and farmers more certain to participate in this plan. Especially, GreenPath Vietnam had successfully signed a contract to export organic rice to the German market.
One drawback of high-quality rice is that it degrades very quickly if it is dried or stored using the wrong method.
Hanoi has therefore conducted an experiment to safely preserve rice in the direction of Integrated Pest Management (IPM) in warehouses having PVC film covered and fumigated with herbal preparations to inhibit harmful insects with a scale of 3000kg/model. Another experiment is to preserve rice using modified packaging, and the scale is 2000kg/model.
Results show that preservation of fewer than 180 days for paddies and fewer than 120 days for rice still ensure the quality of commercial Japonica rice in general, maintain protein, glucose and amylose content. Its aromatic feature is also well-preserved.
Total Japonica rice output in Hanoi's plan is 15,539 tons, including 14,293 tons of safe quality rice, 1,246 tons of organic and organic-converted rice. Hanoi has cooperated with consulting units, granted VietGAP and organic certificates, and supervised the production process and kept logs in order to maintain the overall quality of the Japan rice.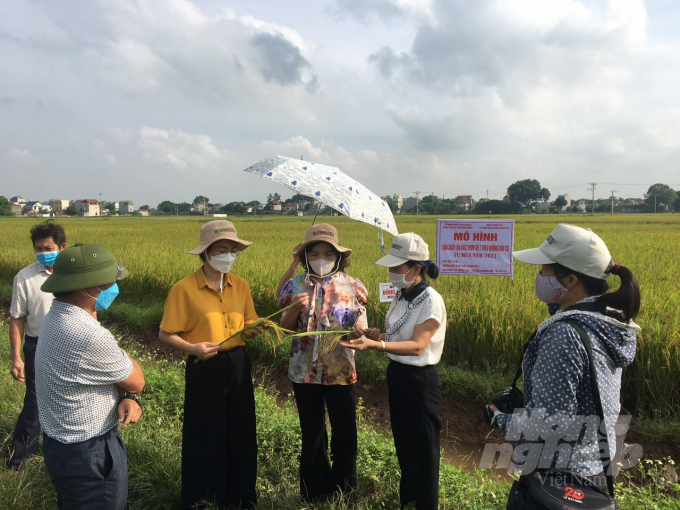 Big potential - big challenges
After two years of implementing the Japonica rice production development plan, despite the lack of funding, the plan's content is still carried out steadily, ensuring the overall progress, quality and efficiency.
To be more specific, Japonica rice's average value is nearly VND 61.7 million/ha/crop, VND 15 million/ha higher than Bac Thom No. 7 the regular quality rice. The total economic efficiency calculated from the production of 2,641 ha of Japonica rice is VND 80,550 million.
The spread of the plan is the most noteworthy. Japonica rice-growing area in Hanoi has increased by 2.55 times (3,651 ha in 2018, 9,310 ha in 2020). If in 2018 Ung Hoa district has 2,282 ha, My Duc district has 179 ha, Chuong My district has 52.6 ha of Japonica, by 2020 the numbers have gone up to 4,009 ha, 861 ha, and 1,454 ha respectively.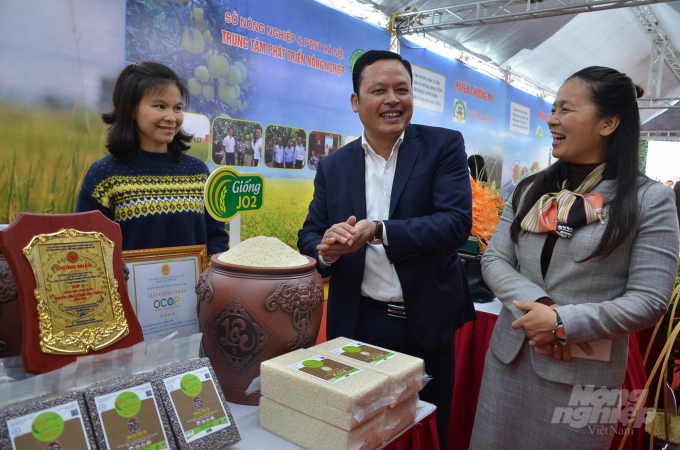 The results of the development of Japonica rice production in particular and high-quality commodity rice according to export standards in general have contributed to bringing the structure of Hanoi's high-quality rice varieties in 2020 to 54.7%, reaching 60.9. % in 2021.
Opportunities are many, but so are challenges.
As stated by Ms. Hoang Thi Hoa, Director of the Hanoi Agricultural Development Center, despite having invited five businesses to connect product trading, the assurance of quality and output under the signed contract remains a long story. Enterprises were only able to purchase 200-300 tons of goods recently. The locals broke the contract themselves, refusing to sell those enterprises the rest of the output.
Apart from production development, Hanoi Agricultural Development Center focuses on building high-quality rice collective brands for localities.
From 2020 to 2021, the unit has coordinated to build three collective brands of Japonica rice and high-quality rice for three communes in three districts: "Japonica Nam Phuong Tien - Chuong My Organic Rice", "Japonica Rice My Thanh - My Duc" and "Binh Minh - Thanh Oai high quality rice".
Author: Duong Dinh Tuong
Translated by Samuel Pham
TAG: