Vietnam outperforms regional countries in COVID-19 vaccination race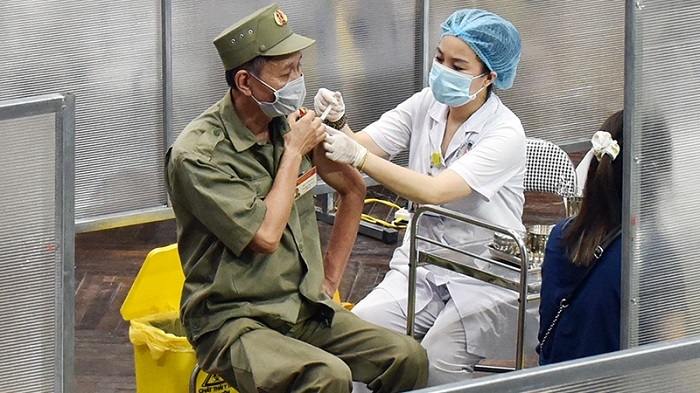 According to statistics from the Vietnamese Ministry of Health, over 146 million doses of vaccines against COVID-19 has been administered to people as of December 27 (Photo: NDO/Duc Anh)   
NDO/VNA – Vietnam became the 53rd country in the world achieving the goal of covering basic doses of COVID-19 vaccine for 70 percent of its population, according to covidvax.live, a website that updates the vaccination speed worldwide every day.
The website reported that only 63 out of more than 220 countries and territories which have provided data on COVID-19 pandemic prevention and control across the world have achieved this goal.
In Asia, Vietnam's vaccination speed and quantity are higher than that of Thailand, Laos, the Philippines, India and Indonesia. Outside of Asia, Vietnam has been lower than the US's vaccine coverage by only two grades, but 40 grades higher than Russia.
According to statistics from the Vietnamese Ministry of Health, over 146 million doses of vaccines against COVID-19 had been administered to people as of December 27, including over 77 million of first shots and nearly 66.5 million of second jabs. Vietnam has counted 2.8 million people getting the third doses so far.
According to Russian news agency Sputnik, thanks to its relentless vaccine diplomacy strategy, from a country with a low rate of COVID-19 vaccine vaccination, Vietnam has become one of the countries having the rapidest vaccination speed in the world in a short time.
The vaccine diplomacy, an unprecedented diplomatic strategy in Vietnam's history, has been drastically deployed in all activities, helping Vietnam safely adapt to and effectively control the COVID-19 pandemic, the news agency said.
Not only successful in ensuring the supply of COVID-19 vaccine, Vietnam's vaccine diplomacy strategy also facilitated the transfer of vaccine production technologies of other countries to Vietnam, including Sputnik-V of Russia, Abdala of Cuba, and Covaxin of India, it added.
TAG: