Polish Film Festival gets underway in Da Nang and Ho Chi Minh City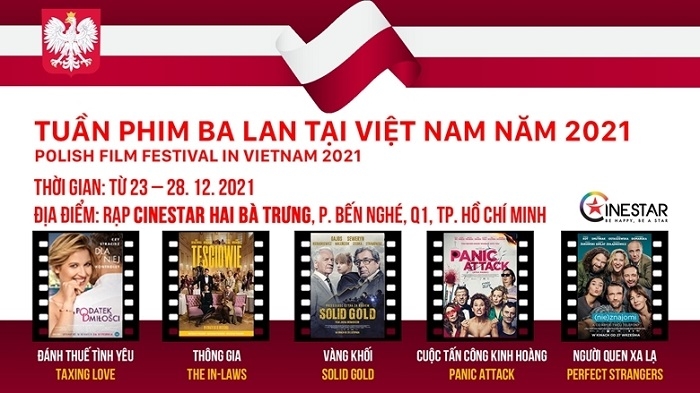 Polish Film Festival gets underway in Da Nang and Ho Chi Minh City    
NDO – The Polish Film Festival in Vietnam is taking place in Da Nang and Ho Chi Minh City from December 23 to 28, entertaining Vietnamese audiences with five interesting Polish cinematic works.
The five films on screen during the festival include 'Danh Thue Tinh Yeu' (Taxing Love), 'Thong Gia' (The In-laws), 'Vang Khoi' (Solid Gold), 'Cuoc Tan Cong Kinh Hoang' (Panic Attack), and 'Nguoi Quen Xa La' (Perfect Strangers).
The event is being held by the Vietnam's Cinematography Department in coordination with the Association of Polish Filmmakers, the Da Nang City Department of Culture and Sports, the Da Nang-based Le Do Cinema, and Cinestar Cinema in Ho Chi Minh City.
The festival aims to introduce the Vietnamese people to the country and people of Poland through films, which were produced with interesting content, high aesthetic features, and entertainment value.
The event also seeks to strengthen the bilateral friendship between Vietnam and Poland.
Speaking at the opening ceremony of the festival in Ho Chi Minh City on December 23, Polish Deputy Ambassador to Vietnam Maciej Duszynski spoke highly of the organising board's great efforts to overcome the difficulties caused by the COVID-19 pandemic in order to host the event.
He hailed that the organisation of the event in Ho Chi Minh City illustrated the great resilience and indomitable spirit of the local people, who are working to revitalise the city following the outbreak of the pandemic.
TAG: