National strategy announced for rural clean water supply and sanitation
No one is left behind
Mr. Luong Van Anh, Deputy Director of the General Department of Irrigation, said the national strategy for rural clean water supply and sanitation by 2030, with a vision to 2045, aims to ensure equal, convenient, safe, and reasonable-cost access to public clean water supply services for all people. The strategy targets to maintain environmental sanitation in public areas and households, boost prevention, control, and deduction of diseases related to water and sanitation as well as health protection. It also aims to improve the quality of life, ensure social security, narrow the gap between rural and urban areas, and contribute to the construction of a new countryside.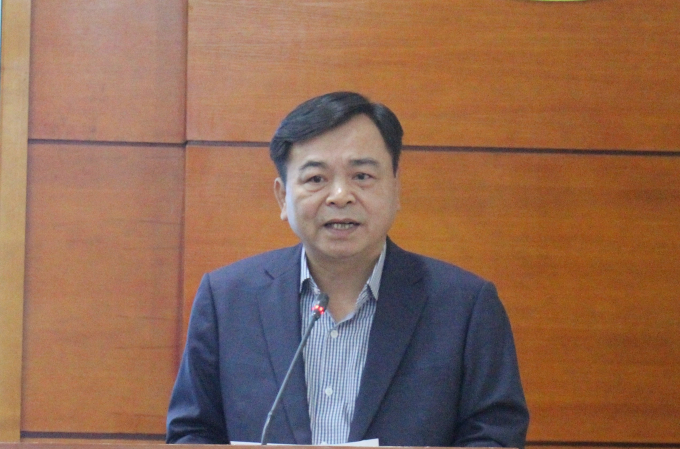 Accordingly, by 2030, 65% of the population will use standard clean water with at least 60 liters/person/day; 100% of households, schools, medical stations will have toilets that meet standards of usage; 100% of people practicing personal hygiene; 25% of concentrated rural residential areas will have a domestic wastewater collecting system with 15% of domestic wastewater to be treated; livestock waste from 75% of livestock households and farms will be treated.
By 2045, 100% of residents will use sustainable, safe, and clean water and sanitation; 50% of concentrated rural residential areas have a domestic wastewater collecting system with 30% of domestic wastewater to be treated; livestock waste from 100% of livestock households and farms will be treated.
Ms. Rana Flowers, UNICEF Vietnam Representative said UNICEF is delighted to be accompanying the MARD in the process to implement the national strategy for rural water supply and sanitation in the coming time. This strategy plays an important role in guiding Vietnam to achieve sustainable development goals.
Vietnam is facing huge challenges of water pollution and saline intrusion, especially in the Mekong Delta. These challenges require the country to find synchronous, sustainable, and long-term solutions instead of investing in temporary measures like now.
Ms. Rana Flowers also said clean water and rural sanitation are important factors in developing smart agriculture, improving productivity, and economic growth of the country at the current time and in the future. Clean water is a matter of survival for every family and individual. Accessing to clean water means that people are protected against diseases…
The national strategy for rural clean water supply and sanitation by 2030, with a vision to 2045, will be an important policy and oriented action. It helps improve access to clean water and sanitation, and more importantly, for the lives of millions of Vietnamese people ensuring no one is left behind.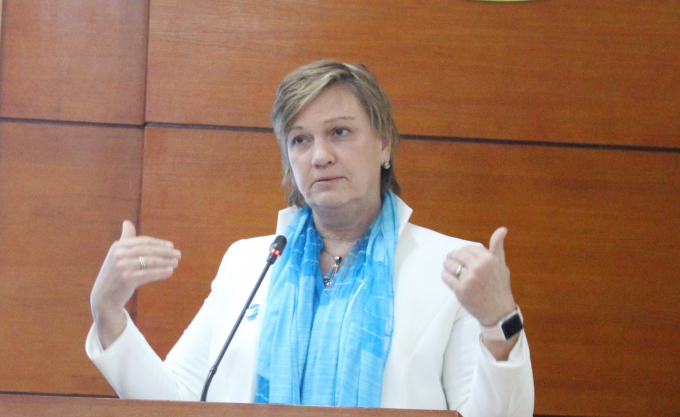 On that basis, Ms. Rana Flowers suggested the strategy should focus on three core issues of adequate and wise investment, proper allocation, and budget resources.
UNICEF is committed to continuing work with MARD to implement the strategy effectively, focusing on remote areas and vulnerable groups such as women and children.
Synchronizing solutions to thoroughly overcome challenges
According to Deputy Minister Nguyen Hoang Hiep, the MARD held this conference with the aim to announce the ministry's policies, views, tasks, and solutions at the same time promote cooperation between ministries, departments, central agencies, localities, and international organizations in the strategy implementation in the coming time.
The MARD Deputy Minister said along with domestic efforts, Vietnam's rural clean water supply in recent years has received financial and technical support from international organizations such as WB, ADB, and UNICEF.
Although encouraging results have been achieved after more than 20 years of implementation of the national strategy on rural clean water supply and sanitation by 2020, approved by the Prime Minister in Decision No. 104/2000/QD-TTg dated August 25, 2000, many difficulties and challenges are remained and need to be solved soon. These challenges are specifically explained as follows:
There are still quite large gaps in the rates of water supply and sanitation between regions, localities, districts, and communes within a province. The number of inefficient works is still high while the water quality of many water supply works is not stable with the operation still loose. The management still weak with responsibilities not clear resulting in a poor and unstable operation.
Results from surveys conducted on over 16,000 centralized water supply projects show that only 34.7% of them are operating sustainably while 34.1% others are moderate, 16.8% inefficient and 14.4% inoperable. One of the main reasons is that the state management and provision of public services on rural clean water in some localities are not stable and effective.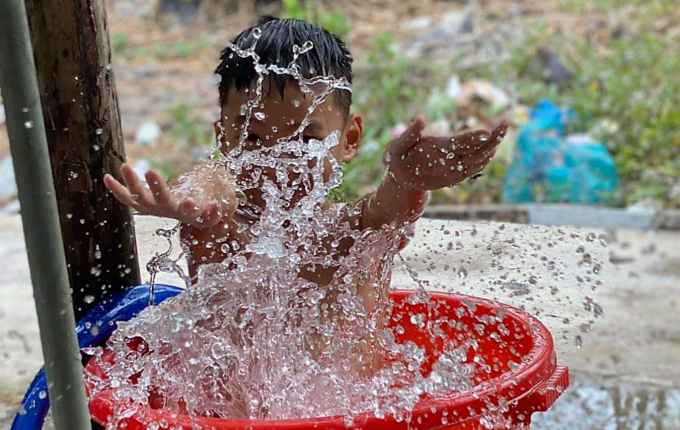 Regarding water quality, although the proportion of people supplied with hygienic water is relatively high (88.5%), only 51% of rural residents are provided with clean water under the QCVN 02:2009/BYT regulation. The water source for water supply works is unstable, not monitored, and controlled. Investment resources are limited, mainly relying on the state budget which cannot meet the increasing investments for rural water supply.
In recent times, prolonged drought, depletion, pollution, and saline intrusion have directly impacted water resources and domestic water supply for rural areas. The lack of fresh water in daily life is fiercely increasing and tends to last over the dry season in many localities.
On that basis, the Deputy Minister suggested ministries, departments, agencies, and localities need to synchronize solutions, focusing on absolutely solving those of the coming time.
In particular, they should focus on promoting communication in the direction of diversifying forms, rich in content, so that to improve awareness and change the views of people and management authorities at all levels about clean water in the countryside.
"We must help people really understand the great benefits of properly preserving and using clean water and sanitation, which will bring better life with more property. For management authorities at all levels, raising their responsibility and views about rural clean water and sanitation is not only a necessity but a must for the society to develop fairly and sustainably," emphasized Deputy Minister Hiep.
It is an urgent task to improve institutions, review legal documents, attract more investment resources, promote socialization and have a specific and reasonable mechanism for clean water prices and cross-price compensation within the locality... The promulgated document must also thoroughly handle the issue of post-investment management and inter-sectoral coordination...
Moreover, the clean water supply management system should be completed from central to local levels, specifying the functions and tasks of each unit. It is also a must to promote the transfer and application of water treatment technology ensuring environmental sanitation, especially for water treatment after natural disasters and floods.
Author: Trung Quan
Translated by Linh Nguyen
TAG: