Conversion to large timber forest: undeniable benefits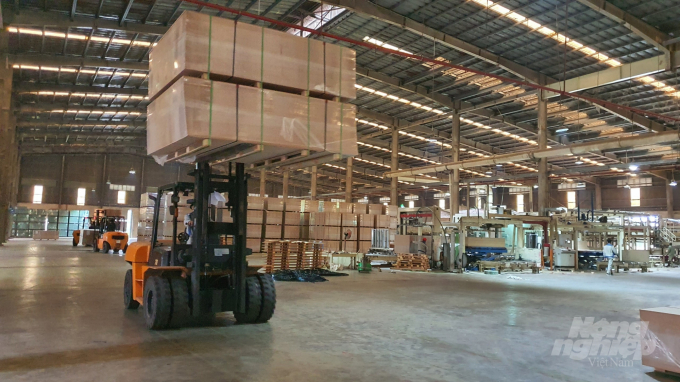 Value 1.5 times higher than small timber forests
Mr. Nguyen Huu Minh, Deputy Director of Phu Hung Cooperative (Hai Phu commune, Hai Lang district, Quang Tri province) excitedly said that the cooperative started piloting the conversion of small timber forests to large timber forests from 2015 on an area of 10 ha. Now all 170 ha of the cooperative's forests have been planted and converted to large timber forests.
In the past, households planted acacia hybrids until the 4th and 5th years of growth then started harvesting and selling to make wood chips. The total value was about VND 60-80 million/ha, equivalent to the average income of VND 12-15 million/ha/year.
Then the old areas became large timber forests. Thinning was carried out after 5 years of planting, from the density of 1,650 trees/ha down to 900-1,100 trees/ha. The cooperative continued to take care of the large timber forest until the 9th and 10th years of growth before harvesting again.
Most trees were over 20cm in diameter at that time. The average output was 180-200 tons/ha. Sawn timber and processed wood are sold at a price of approximately VND 1.4 million/ton. The average income increased to VND 25-30 million/ha/year, 1.5 times higher than the value that small timber forests normally brought.
"The cooperative currently logs 15-20 hectares of large timber forest per year on average, reaching an output of 3,000-4,000 tons," said Mr. Nguyen Huu Minh.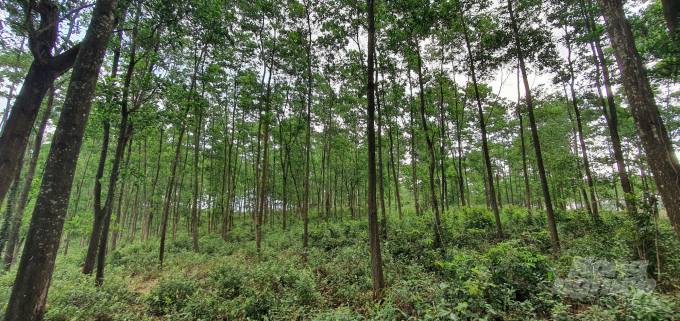 In order to awaken the inherent potential of forests in the area, Hai Lang district has raised awareness and mobilized people to switch from small timber to large timber forests. The local authority instructed specialized units such as the Agriculture and Rural Development Office, the Agricultural Extension Station, the Forest Protection Office to build demonstration models and select quality acacia hybrid varieties to put into production.
The advantage of large timber forests is that when harvested they will be sold to factories processing wood bars, wood veneers, and flooring. Not only will the wood output increase but the value increase as well.
According to calculations on the same area unit, large timber forests yield 2-4 times more than small timber forests.
Towards sustainable development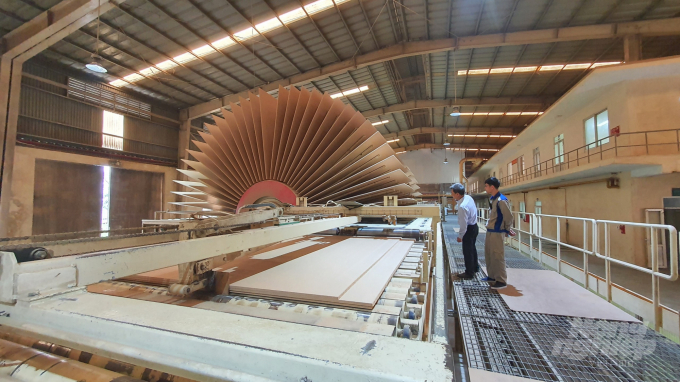 Mr. Van Ngoc Thang, Deputy Director of Quang Tri Forest Protection Department shared that the entire province has over 112,000 ha of production forest. Every year the newly planted and replanted production forest area is 7,500 - 8,000 ha.
"With the outstanding effects this conversion brought, along with the drastic direction of departments, localities and efforts from the people, up to now, the large wood forest area in the whole province has exceeded 3,146 ha. Another 6,100 ha is in the process of converting from small timber to large timber forest," said Mr. Thang.
Along with raising awareness among people and promoting technical guidance, the local agriculture sector will focus on reviewing, adjusting, supplementing forestry plannings and management planning so that Quang Tri can further showcase the advantages of local products.
Specialized units will appropriately arrange afforestation areas and tree varieties according to ecological zones with the purpose of large timber forest business. The productivity and quality of planted forests will be greatly improved.
Quang Tri's agricultural sector will also tighten management of the quality of large timber tree varieties, evaluate and select high-yield varieties suitable to the conditions of each locality.
The local authorities support and encourage enterprises to enter into joint ventures and associations with households to invest in large timber plantations. Enterprises will invest capital as well as scientific and technological advances, and households will contribute capital through land use rights. They will divide the benefit gained from products according to the capital contribution ratio. The value chain of forest products will thus be established, increasing competitiveness in the market.
Implementing intercropping models of medicinal plants and fruit trees under the forest canopy can help locals acquire a regular income and secure their daily life. The reason lies in the fact that planting large timber forests takes a very long time to "bear fruit".
According to the "Quang Tri 2021-2025 Development Scheme on large timber afforestation, vision to 2030" scheme, the whole province is expected to develop a large timber business area of approximately 16,700 ha by 2025. Successful implementation of this scheme will contribute to improving the economic efficiency of forest growers and providing raw materials for the export woodworking industry.
Authors: Cong Dien - Hoang Anh
Translated by Samuel Pham
TAG: