Prime Minister hails prominent achievements of diplomatic sector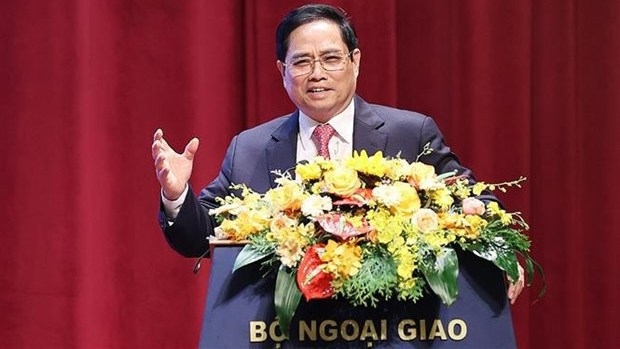 Prime Minister Pham Minh Chinh speaks at the conference (Photo: VNA)   
NDO/VNA – Prime Minister Pham Minh Chinh spotlighted prominent achievements of the diplomatic sector over the last two years when addressing the 31st Diplomatic Conference that was held in both in-person and online forms in Hanoi on December 15.
In his speech, the PM said the sector has effectively implemented the Party's foreign policy, especially fulfilling the role of the ASEAN Chair in 2020 and a non-permanent member of the United Nations Security Council (UNSC) for the 2020-2021 term.
The sector has also actively participated in the fight against the COVID-19 pandemic and in socio-economic recovery and development, including the vaccine strategy, he stressed.
However, besides such outstanding results, the country's diplomatic sector still faces challenges related to strategic research and diplomatic database, he noted.
According to the PM, Vietnam will focus on the following major orientations: building a socialist democracy, a socialist rule-of-law state and socialist-oriented market economy, promoting active and proactive international integration and being an active member of the international community, towards the goal of becoming a developing nation with modern industry and upper middle-income level by 2030, and a developed and high-income country by 2045.
All diplomatic activities must be directed towards and for the interests of the country and people, and legitimate interests of the international community, the Government leader said.
Diplomatic work needs to show "sincerity, trust, equality, efficiency and mutual development", and must also be "resolute, steadfast, flexible, scientific and effective", he stressed.
The PM outlined basic orientations for the three pillars of diplomacy - politics, economy, and culture. He said political diplomacy must follow a foreign policy of independence, self-reliance, peace, cooperation, and development.
Meanwhile, economic diplomacy must contribute to perfecting the institutions, attracting green and clean technology and green finance, promoting the effective implementation of free trade agreements and cooperation in training human resources, improving the investment environment, linking the country with global production and supply chains, and accelerating development of innovative startup ecosystem, he said.
Regarding cultural diplomacy, PM Chinh stressed that it is necessary to implement goals, viewpoints, tasks and solutions set forth by the 13th Party Congress and the last National Cultural Conference, thus contributing to preserving and upholding Vietnamese cultural and people values.
Participants assessed major trends in the current world situation and the global economy, and pointed out opportunities and challenges for Vietnam to successfully implement socio-economic development goals in the coming time.
They also proposed specific measures to implement the motto "economic diplomacy serving development, and taking people, localities and businesses as the centre of service".
TAG: