President meets with WIPO Director General in Geneva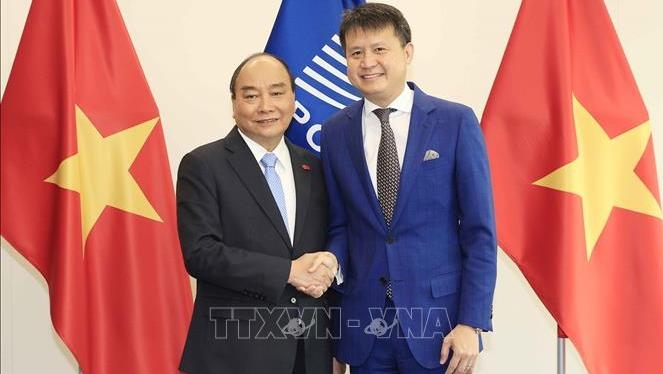 President Nguyen Xuan Phuc (L) and with WIPO Director General Daren Tang (Photo: VNA)   
NDO/VNA – President Nguyen Xuan Phuc on November 29 morning (Vietnam time) had a working session with Daren Tang, Director General of the World Intellectual Property Organisation (WIPO) in Geneva as part of the former's official visit to Switzerland.
At the meeting, President Phuc thanked WIPO for its cooperation and valuable support to Vietnam in consolidating legal institutions, building the intellectual property system, and improving the country's global innovation index (GII).
He called for further support from the organisation during the implementation of the national intellectual property strategy and the Law on Intellectual Property, cultural development, expert training and the improvement of the national innovation and creation capacity.
Vietnam stands ready to work to boost cooperation between WIPO and the region, the President pledged.
For his part, Tang lauded Vietnam's efforts and impressive achievements in socio-economic development, and attributed these outcomes to the country's investment in the intellectual property system.
Lauding Vietnam's outstanding performance in the GII, he said the country has maintained its first position among the 34 lower-middle income economies in the index.
He also praised Vietnam's membership and responsible contributions to activities of the WIPO, and pledged to provide more assistance for the Southeast Asian nation in resources and technologies.
The WIPO Director General suggested cooperation between the two sides in building an intellectual property training centre for youths and entrepreneurs, and establishing a global network of entrepreneurs.
Vietnam and the WIPO would step up collaboration in intellectual property training for diplomats and negotiators, he said.
On this occasion, President Phuc attended a ceremony bestowing the WIPO's IP Youth Ambassador title upon three Vietnamese students who invented a helmet called Vihelm.
The helmet is specifically for those working on the frontline to prevent COVID-19 and is designed with both safety and comfort features.
In his remarks, Phuc thanked WIPO for granting the title to the young Vietnamese inventors, and expressed his hope that Vietnamese youths will make more innovations and creations, further contributing to national construction and development.
TAG: