Nhan Dan reporters win eight prizes at National External Information Service Awards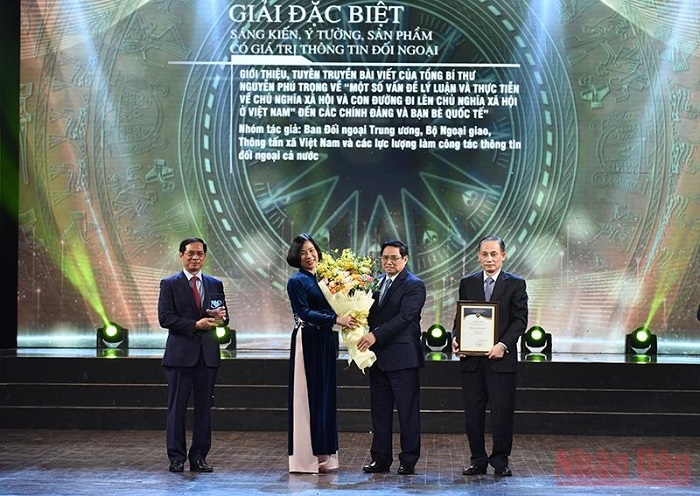 Prime Minister Pham Minh Chinh (third from left) presents the grand prize to leaders of the Party Central Committee's Commission for External Relations, the Ministry of Foreign Affairs, and the Vietnam News Agency. (Photo: NDO/Tran Hai)   
NDO – Nhan Dan reporters won eight prizes, including one second, four third and three consolation prizes at the award ceremony of the seventh National External Information Service Awards, which held in Hanoi on November 28.
At the ceremony, the organising board presented a total of 102 prizes, including one grand, ten first, 19 second, 29 third and 43 consolidation prizes to the most outstanding entries.
The grand prize went to a group of authors from the Party Central Committee's Commission for External Relations, the Ministry of Foreign Affairs, the Vietnam News Agency and those participating in the external information service, for their work on introducing and popularising Party General Secretary Nguyen Phu Trong's article entitled "Several theoretical and practical issues on socialism and the path towards socialism in Vietnam" to political parties and international friends.
The annual awards are organised by the Steering Committee for External Information, the Party Central Committee's Commission for Information and Education, and Vietnam Television (VTV).
This year's event attracted more than 1,000 submissions in 14 languages in various categories including printed and online newspapers, radio, television, photos, video clips and books from news agencies across the country as well as Overseas Vietnamese and foreign contestants and Vietnamese embassies abroad.
The entries spotlighted various issues of public concern, the national spirit in the fight against the COVID-19 pandemic, and Vietnamese cultural values. Particularly, many entries in foreign languages and those submitted by foreign contestants provided a deep, positive and multi-faceted vision of Vietnam's position in the international community as well as the country's external affairs.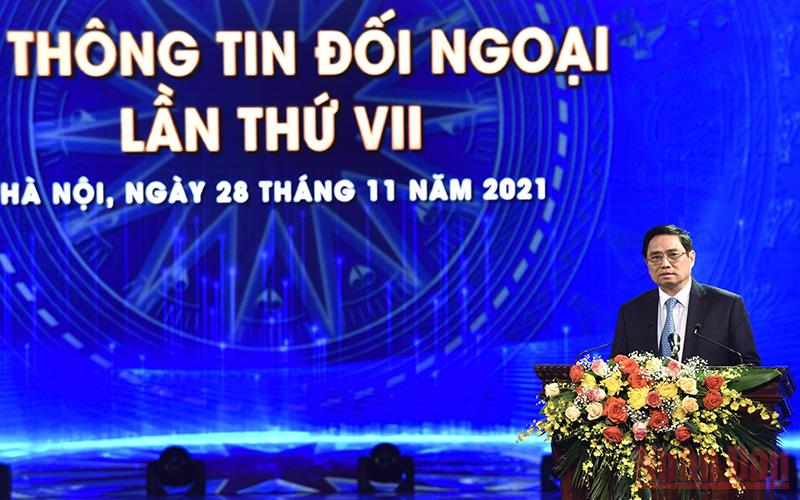 Prime Minister Pham Minh Chinh addressing the event (Photo: NDO/Tran Hai)
Speaking at the ceremony, Prime Minister Pham Minh Chinh congratulated the award winners, stressing that communication and external information service in particular have made significant contributions to bringing Vietnam closer to the world and vice versa, while inspiring patriotism, the spirit of national pride, and the aspiration to develop a more prosperous and happier Vietnam.
He applauded that external information service has helped the world community get a better understanding of Vietnamese Party's guidelines and State's laws as well as the country's stances and views on regional and international issues.
It also helps to promote the country's image, people, history, cultural values and achievements to international friends and timely popularise international situations and issues of public concern to people from all walks of life, he added.
He also called on more initiatives to renovate the external information work by adopting advanced technologies to increase quality, thus ensuring truthfulness, accuracy, promptness, attractiveness, relevance and efficiency in multiple languages.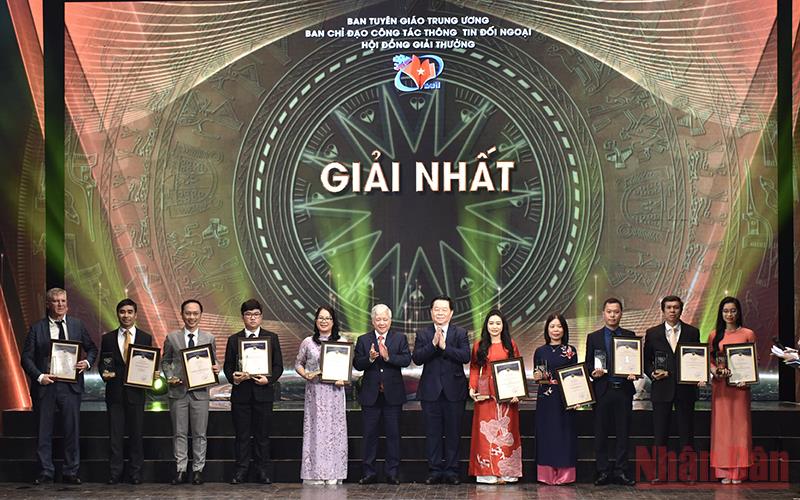 First prize winners honoured at the ceremony (Photo: NDO/Tran Hai)
TAG: