Online Now: Pulling Together and Prospering In Arts and Culture
The British Council is proud to announce the event Partner South East Asia: Arts and Culture Matters in concert with Vietcetera, taking place on a dedicated online platform this week, November 22-25. The event features The Viet Nam Connections – a country briefing session for Vietnam live today from 16.00 – 17.30 (Vietnam time).
Developing new connections between Southeast Asian and UK arts and culture stakeholders is a key focus of the British Council in East Asia. With an exciting program curated by the British Council Arts Managers across six ASEAN countries of Indonesia, Malaysia, Myanmar, the Philippines, Thailand, and Vietnam, the event aims to reach arts and cultural professionals, academics, funders and government officials from the UK and Southeast Asian countries who are interested in connecting and collaborating with their respective counterparts. 
As part of this event, The Viet Nam Connections will shine a spotlight on three UK–Vietnam collaborations spanning music, festival, theatre, arts and disability, as well as sustainable thinking, design and production. 
Initiatives of sustainability are the be all and the end all
The four-day event will feature three thematic sessions, five-country briefing sessions, and a dedicated space for networking for future collaborations, all aligned to a sustainable future. It tells the story of how these ambitious people met and discovered they have the same dreams and motivation to change life.
Attending the event is a great chance to see how these connections were built and nurtured throughout the Covid-19 pandemic how they are flourishing and bringing arts to life in many places including Hanoi, Brighton, London and Cardiff. Speakers at The Viet Nam Connections include connoisseurs in fields ranging from artists to festival and theatrical directors, to start-up founders for sustainable projects.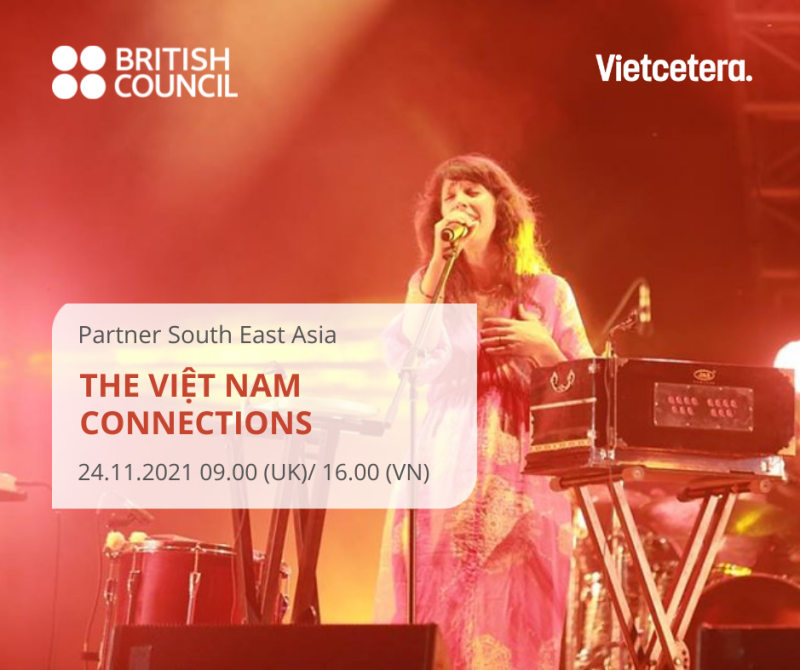 The event features
The Viet Nam Connections
– a country briefing session for Vietnam live today from 16.00 – 17.30 (Vietnam time). | Source: British Council Vietnam
Offering opportunity for people to explore and showcase their creativity
"We all think of those who are intuitively artistic or are growing -- we think about how we can create opportunities through which they can express themselves and showcase their artworks, and can even make new friends," said Mong Thu, Social Department Manager of Tòhe, who spoke at the conference on Wednesday.
It's all about accessibility and the right to be visible
For disadvantaged communities, being recognized and appreciated for their work is the most precious thing. Partner South East Asia delves into the difficulties they face, and helps them surmount them with physical and mental support, and by encouraging consumers to adopt new cultural and artistic products.
The Viet Nam Connections will walk the attendees through the cultural landscape of Vietnam from North to South, sharing the magical attractions of Vietnamese cities and embracing the young audience incredibly receptive to new arts and cultural products.
Join Partner South East Asia: Arts and Culture Matters event and The Viet Nam Connections session for the latest insights, trends and opportunities in South East Asia. Please visit the event webpage and go to register. Selected presentations from The Viet Nam Connections will be shared by Vietcetera.
TAG: