Winners of national press awards on Vietnamese education honoured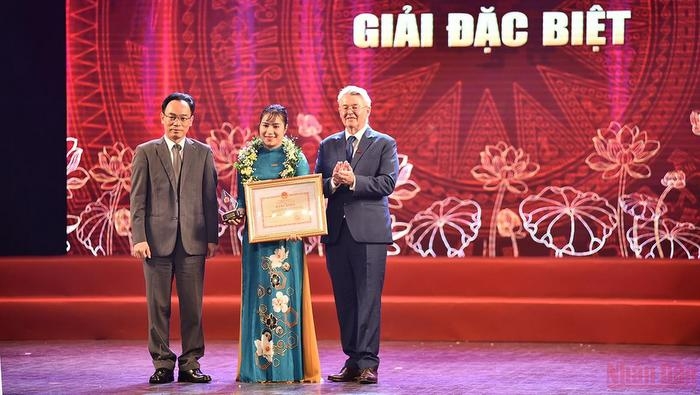 The special prize of the national press contest on the cause of Vietnamese education in 2021. (Photo: NDO)   
NDO - A ceremony was held at the Hanoi Opera House on November 13 to honour the winners of the national press contest on the cause of Vietnamese education in 2021.
The contest's jury selected 89 outstanding works from 700 entries to present four first, eight second, 12 third and 38 consolation prizes.
The four first prizes went to Giao duc Va Thoi Dai (Education and Times) Newspaper for the article "Luan chuyen giao vien'" (Rotating teachers); Lao Dong (Labour) Newspaper for the article "Di ve phia tam dich" (Going to the epidemic's centre); the Lam Dong Radio and Television for the reportage "Lich su va cau chuyen của ngay hom nay'" (History and today story); and the Department of Science and Education under Vietnam Television) for the programme "Nhung bua com hanh phuc" (Happy Meals).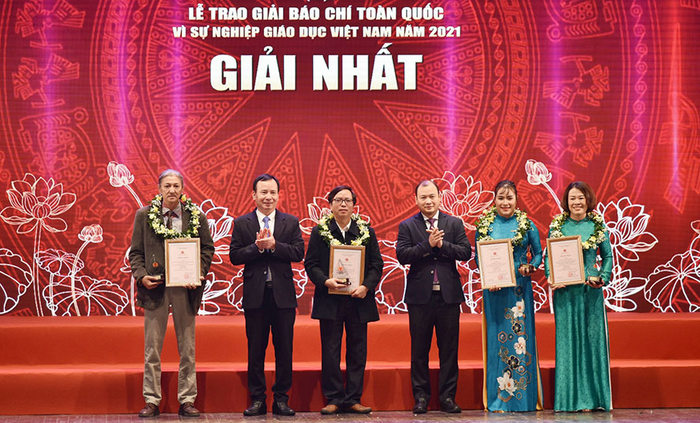 The first prizes presented to oustanding authors. (Photo: hanoimoi.com.vn)
Notably, the article "Going to the epidemic's centre" won the special prize.
In addition, the organising board also presented the "impressive characters" awards to A Kam and his wife for the article "Free class of A Kam and his wife" by Thanh Nien (Youth) Newspaper; teacher Truong Thi Nhuong from the series "Nguoi co niu giu con chu cho nhung dua tre tren cao nguyen da" (The one who tries to hold on words for children on the rocky plateau) by the VietnamNet Newspaper; Ha Thanh Quoc, Director of the Quang Nam provincial Department of Education and Training, for the article "Trai tham do san nguoi gioi ve day hoc" (Rolling out the red carpet to invite good teachers) by the Ho Chi Minh City Youth Newspaper.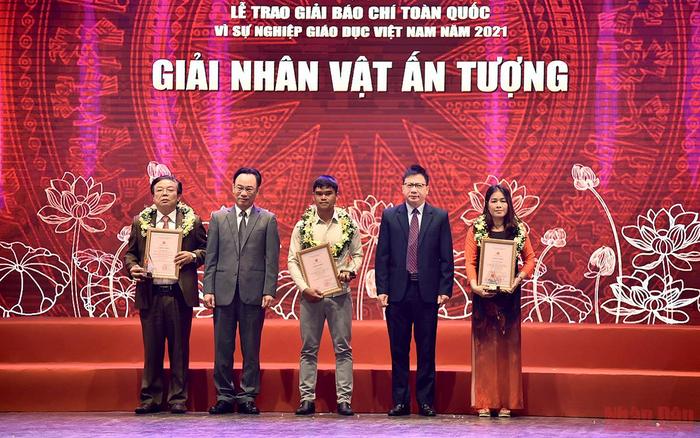 The "impressive characters" (Photo: NDO)
This is the fourth year the contest has been held, aiming to honour authors and press staff for their works about the development of education and the training of the people.
This year's event attracted many high-quality works with elaborate investment in both content and form. The works are expected to contribute to the effective implementation of Resolution No.29-NQ/TW on the "Fundamental and comprehensive renovation of education and training, meeting the requirements of industrialisation and modernisation in the socialist-oriented market economy as well as in international integration".
Nhan Dan (People) Newspaper's reporters won a consolation prize for their series "Nam hoc gian cach va ngay khai truong dac biet" (The academic year under social distancing and the special opening day), release in eMagazine form.
TAG: