Conference discusses management of infodemic amid COVID-19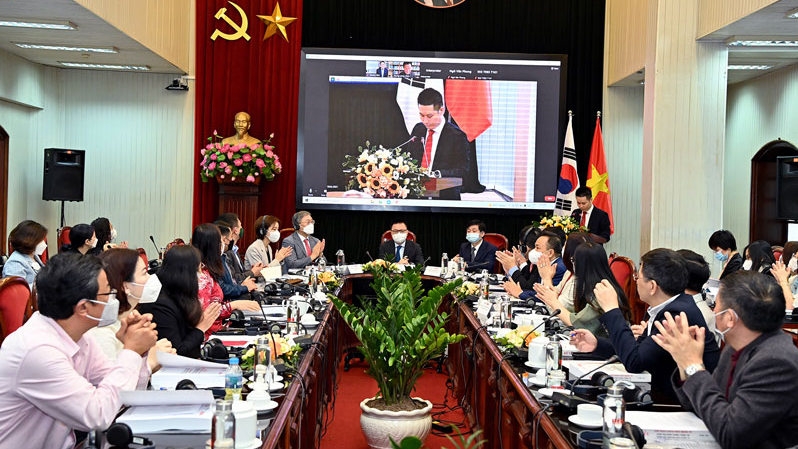 The conference "Managing the Infodemic in the Context of the COVID-19 Pandemic" at Nhan Dan Newspaper (Photo: Dang Khoa)   
NDO - An international conference on managing the infodemic in the context of the COVID-19 pandemic took place on November 9 in Hanoi.
The event, jointly held by Nhan Dan Newspaper, Academy of Journalism and Communication (AJC) and the Korea International Cooperation Agency (KOICA), consists of an opening session and two thematic panels with 6 presentations presented by Vietnamese and Korean scholars.
Panel 1 focuses on the reality of the infodemic while Panel 2 looks into experiences, initiatives and solutions to improve pandemic communication, enhance the role of mainstream media in fighting against misinformation and disinformation, and accelerate the application of technology into pandemic communication.
The conference is a forum for Vietnamese and Korean experts to exchange experiences, methods and remedy for the current infodemic.
The COVID-19 has given rise to the infodemic, which caused a huge hinderance to the implementation of anti-pandemic solutions.
WHO Director Tedros Adhanom Ghebreyesus commented in February 2020 that "we're not just fighting an epidemic; we're fighting an infodemic. Fake news spreads faster and more easily than this virus, and is just as dangerous".
Therefore, it is extremely important to manage the infodemic in the context of the COVID-19 pandemic.
Associate Professor Pham Minh Son, Rector of the AJC said together with the COVID-19 pandemic, the infodemic has caused severe economic and social consequences.
He added that the spread of misinformation and disinformation on social media makes it even more difficult to implement anti-pandemic solutions while highlighting the role of media organisation in the battle against the infodemic.
According to Nhan Dan's Editor-in-chief Le Quoc Minh, the infodemic emphasises the importance of fact-checking activities, and it is social and professional responsibility of press organisations to verify the information.
He noted that journalists need to have methods, skills and tools to check and verify information before presenting it to the audiences while calling on press agencies to invest more into technology, which facilitates fact-checking activities.

TAG: