PM meets Vietnamese community in UK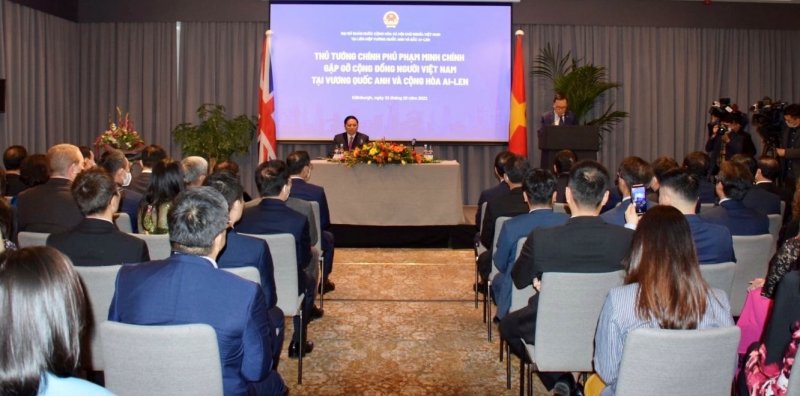 Prime Minister Pham Minh Chinh meets Vietnamese community in the UK. (Photo: VGP)   
NDO/VNA – Prime Minister Pham Minh Chinh met Vietnamese community in the UK on October 31 (local time), as part of his ongoing European trip.
Representatives from the community expressed hope that the Vietnamese Government will continue to creating favourable conditions for them to make contributions in brainpower and resources to the homeland's development.
PM Chinh affirmed that the about 100,000-strong Vietnamese community in the UK has helped foster the friendship and cooperation between Vietnam and the UK.
The Government leader hailed the Vietnamese community in the UK for promoting solidarity and well integrating into the host country's society despite impacts of COVID-19. The Party and State share the difficulties that the community has faced amid the pandemic, he stated.
He said he hopes overseas Vietnamese in the UK will strengthen their solidarity to overcome difficulties, while abiding by the law of the host country and promoting the image of the nation and people of Vietnam to foreign friends, thus contributing to the development of the homeland.
Briefing the community on the situation in Vietnam and the country's external policies, the PM underscored that the Party and State always pay great attention to and consider overseas Vietnamese an indispensable part of the nation and a resource of the country, as well as an important factor contributing to the partnership and friendship between Vietnam and other countries.
Any Vietnamese, living inside or outside the country, is treated equally in the same way, he stressed.
TAG: