Transport Ministry proposes easing conditions for air, railway passengers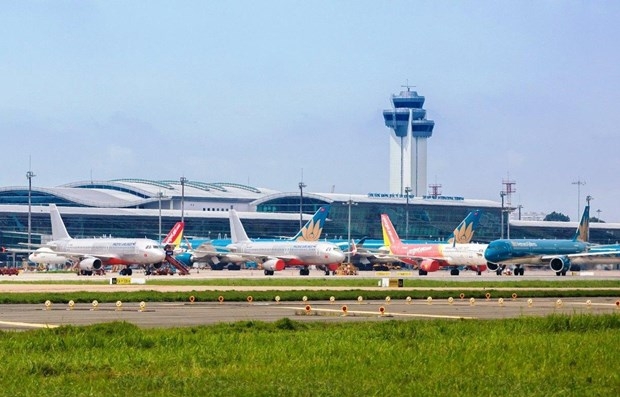 The Ministry of Transport has built plans on restoring domestic flights in the period from October 21 – November 30 (Photo: VNA)   
NDO/VNA – The Ministry of Transport has proposed easing conditions for air and railway passengers in its recent report sent to Deputy Prime Minister Le Van Thanh assessing the pilot resumption of passenger transport activities in the aviation and railway sectors to ensure safe and flexible adaptation as well as effective pandemic control.
The ministry suggested that from October 21, air and railway passengers are required to meet only one of the three conditions, either having certificates for full vaccination for at least 14 days and no later than 12 months before departure, or recovery from COVID-19 no later than six months before departure, or testing negative to SARS-CoV-2 using RT-PCR or rapid antigen testing methods no later than 72 hours before departure.
Earlier, air and rail passengers have been required to meeting either one of the first two conditions along with a negative test result no later than 72 hours before departure.
The ministry said it has built plans on restoring domestic flights in the period from October 21 – November 30 based on the outcomes of the pilot resumption of domestic flights from October 10-17.
Per the plan, a maximum of six flights each way daily will be allowed on the routes connecting Hanoi – Ho Chi Minh City, Hanoi – Da Nang, and Da Nang – Ho Chi Minh City from October 21 – November 14, and the number will be raised to seven during November 15-30.
On other routes, the maximum will be four flights each way per day.
The frequency of flights by each airline on each route will be increase by one per day on November 1 and 15 if the average seat occupancy of all airlines on the route during the previous 7 days reached at least 75 percent.
For railways, from October 21, a maximum of four pairs of trains per day and night will be operated on the Hanoi-Ho Chi Minh City route; one pair of trains/day and night each on the Hanoi-Vinh and Saigon-Da Nang routes; and a maximum of three pairs of trains/day and night on the Hanoi-Hai Phong route.
TAG: