Vietnam, Singapore discuss enhancing cyber security ties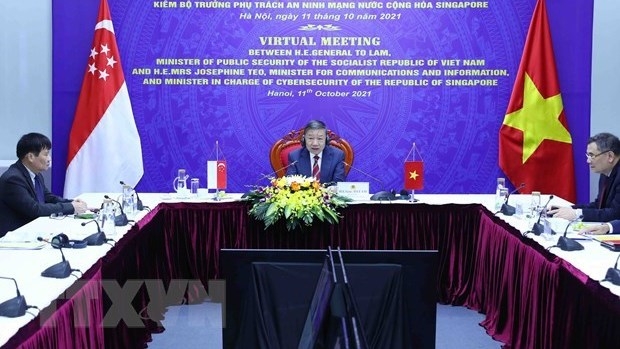 Minister of Public Security Gen. To Lam at the talks (Photo: VNA)   
NDO/VNA – Minister of Public Security Gen. To Lam held online talks with Singaporean Minister for Communications and Information and Minister-in-charge of Smart Nation and Cybersecurity Josephine Teo on October 11.
At the talks, Lam hailed the growing strategic partnership between Vietnam and Singapore over the past years, as well as ties between the Vietnamese Ministry of Public Security and Singaporean law enforcement agencies.
He suggested both sides continue expanding international cooperation in cyber security in flexible forms that match COVID-19 situation, as well as raise public awareness of cyber security and Internet use skills.
Lam proposed both sides reach consensus on ASEAN member states' awareness and actions regarding cyber security, towards building common legal foundations conducive to international cooperation in the field.
According to him, they need to work closely together to build the ASEAN Cyber Security Centre, establish a joint cooperation mechanism for relevant long-term and intensive training in the bloc with the support of dialogue countries such as China, Japan and the Republic of Korea.
Teo, for her part, believed that both sides will overcome difficulties and lay a foundation for further development in the future, towards building ASEAN with a heightened role and position in the region and the world.
TAG: