Vietnam and Switzerland: Half a century of fruitful cooperation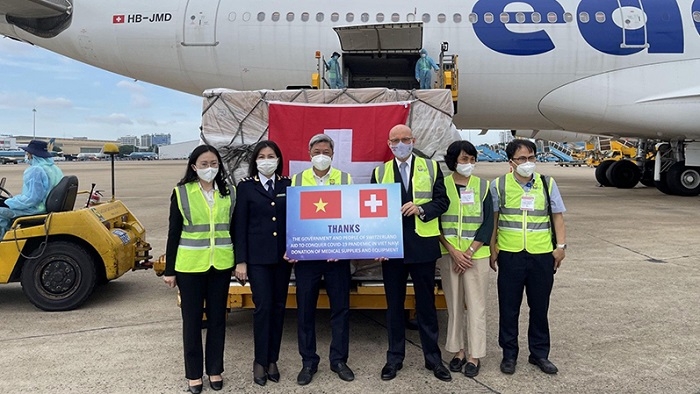 At the handover ceremony of an aid package including 13 tonnes of medical supplies from the Swiss Government to Vietnam at Tan Son Nhat Airport, Ho Chi Minh City, on October 13, 2021.   
NDO - October 11, 2021, marks an important milestone in Vietnam-Switzerland relations when the two countries celebrate their 50th anniversary of bilateral diplomatic relations. In over half a century with the ups and downs of history, the friendship and cooperation between the two countries has been constantly developed with many encouraging results.
Vietnam and Switzerland officially established diplomatic relations in 1971, laying the foundation for the bilateral cooperation. Switzerland was one of the very first Western countries to establish bilateral ties with Vietnam.
However, looking back at the history, Vietnam-Switzerland relations already started in the 19th century when Vietnam already became a destination for Swiss trading companies. In 1954, Switzerland hosted the Geneva Conference on Indochina, in which Vietnam was directly involved. Those initial contacts and ties created a solid foundation for the establishment of the bilateral relations, despite the geological distance.
Thanks to the political trust, bilateral economic cooperation has recorded many positive results. With 177 direct investment projects in Vietnam and a total registered capital of about US$1.9 billion USD as of May 2021, Switzerland currently ranks 20th among the 140 countries and territories directly investing in Vietnam. Despite the adverse impacts from the COVID-19 epidemic, two-way trade between Vietnam and Switzerland still reached US$ 863.5 million in 2020.
These positive outcomes have opened bright prospects for bilateral trade relations, particularly when the pandemic is placed under control and the world economy recovers. Swiss Ambassador to Vietnam Ivo Sieber affirmed that, with the country's impressive results in economic development, Vietnam has been very successful in spurring its economic development and is an attractive partner for Swiss business.
Vietnam's dynamic economy and Switzerland's strength in science, technology and innovation are believed to be the main driving forces towards further steady progress in the bilateral cooperation into the future.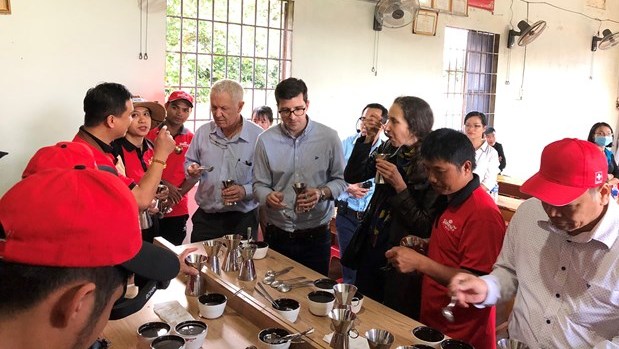 Swiss Ambassador to Vietnam Ivo Sieber (fourth from left) and members of the Swiss Embassy in Vietnam join in a coffee tasting with local farmers in Vietnam's Krong Nang District, Dak Lak Province. (Photo courtesy of Swiss Embassy in Vietnam)
Besides, the bilateral relations in development cooperation, education - training, science – technology have also witnessed encouraging progresses.
Currently, Vietnam is one of eight priority countries to receive aid from Switzerland. Switzerland has offered US$470 million in official development assistance (ODA) to Vietnam since 1992, which is mainly non-refundable aid. Swiss aid is mainly disbursed to strengthen the effectiveness of economic institutions and policies, improve competitiveness and resources for the private sector, sustainable urban development, and respond to climate change.
Switzerland has also actively supported Vietnam through its education and training projects on environment, master and doctorate training projects in finance, banking, and business administration.
In his article in celebration of this year's National Day of Switzerland (August 1), Swiss Ambassador to Vietnam Ivo Sieber asserted that the 50-year anniversary is not only an opportunity for Vietnam and Switzerland to recall what has been jointly achieved so far, but also primarily a welcome occasion to look into the future and seek the best possible ways to further boost the rich and manifold relations between the two countries. What Vietnam and Switzerland have accomplished together is the solid basis for a stronger and tighter partnership on the path ahead, he stressed.
TAG: