Vietnam among most watched countries on TikTok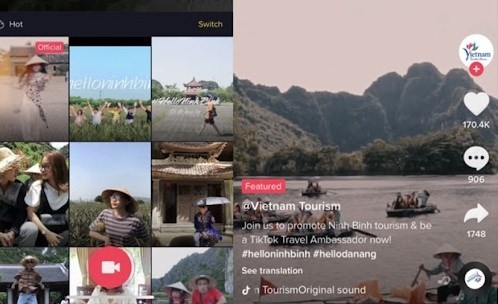 A tourism promotion programme about Vietnam via TikTok.    
NDO/VNA – Vietnam ranks sixth on the list of 25 most watched countries on social media platform TikTok with 107 million views, according to a new study carried out by UK-branded clothing company Superdry by analyzing #travel and related hashtags on TikTok videos.
Japan topped the list with 461.2 million views. There have been many videos that include tips for Western travellers, as well as advice on time for travelling to admire Japan's famous cherry blossom season.
Russia came second on the list with 246.6 million views. Travellers posted about the country's most beautiful places to visit and the country's extremely cold winters.
Mexico is the third most viewed country on TikTok for tourism with 215.3 million views. There have been many videos about beautiful beaches in Mexico along with useful advice which gives inspiration to hikers.
Nine Asian countries made it into the top 25. China came fifth with 110.1 million views, followed by Vietnam, Thailand (95.1 million), Indonesia (945.4 million), the Philippines (36.5 million) and Malaysia (27.6 million).
Meanwhile, Ho Chi Minh City of Vietnam ranks fifth among ten most viewed cities on TikTok with 32.6 million hits.
The United States have five cities on the list include New York as the most-watched city with 114 million viewed.
Seoul is close behind with 106.5 million views and it is followed by Dubai and Jakarta with 62.7 and 37.1 views, respectively.
TAG: