Vietnam always pay attention to gender equality issues: senior official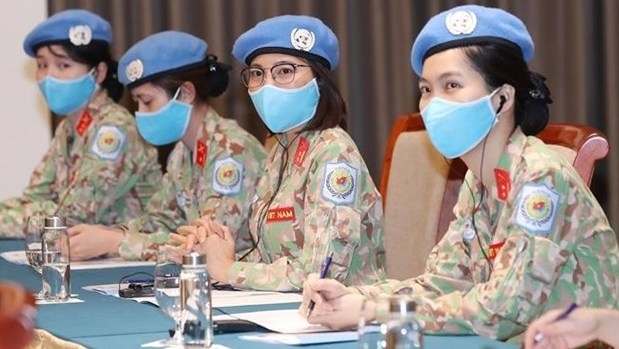 Vietnamese female officers and soldiers prepare to join the UN peacekeeping force. (Photo: VNA)   
NDO/VNA – Vietnam always focuses on gender equality issues, increasing the percentage of female soldiers involving in missions in different branches and other important issues to gradually promote the participation of women in this field, Major General Vu Cuong Quyet, Director of the Institute for Defence Strategy under the Ministry of National Defence said on September 22.
He made the statement at an exchange on gender, peace and security which was jointly organised by the Vietnam Department of Peacekeeping Operations under the Ministry of National Defence and the Australian Embassy in Vietnam in both virtual and in-person forms.
Senior Lieut. Colonel Pham Tan Phong, Deputy Director of the Vietnam Peacekeeping Department, emphasised that the country's sending of female soldiers to UN peacekeeping operations is a pragmatic activity in line with the gender equality strategy and capacity building for them in the process of participating in peacekeeping operations.
There have been many practical activities between Vietnam and Australia in the peacekeeping field in general and in the field of gender, peace and security in particular, he said.
Lieutenant General Cheryl Pearce, former Commander of the UN Peacekeeping Force in Cyrus and Senior Advisor on Gender, Peace and Security of the Australian Defence Force, said his country acknowledged Vietnam's progress in ensuring gender equality, as well as in integrating gender equality into peacekeeping training activities.
He said Vietnam and Australia have effectively realised cooperation contents in the implementation agreement under a Memorandum of Understanding signed on March 18, 2015 between the two defence ministries on defence cooperation in the field of peacekeeping.
Participants at the event gave an overview of the importance and role of women in UN peacekeeping operations as well as in global peace and security, developing a roadmap to facilitate women's greater engagement in the issues in the future while building capacity and improving conditions for women to join peace and security activities.
They also exchanged experience and useful knowledge for Vietnamese soldiers in general and female ones in particular when participating in UN peacekeeping operations, thereby contributing to enhancing the role and position of Vietnam in the region and the world in this field.
Vietnam officially participated in UN peacekeeping operations in 2014. In January 2018, it sent its first female officer to the UN peacekeeping mission in South Sudan, as a tactical staff officer. In October 2018, it successfully deployed the first level-2 field hospital to the UN Mission in South Sudan (UNMISS) in Bentiu, with 10 female officers out of the 63 officers, medical staff and doctors.
In November 2019 and April 2021, Vietnam deployed the level-2 field hospitals No. 2 and No.3, continuing to maintain security and increase the percentage of participating female soldiers with the ratios of 10/63 and 13/63, respectively.
TAG: