Vietnam-Cuba ties provide model for international relations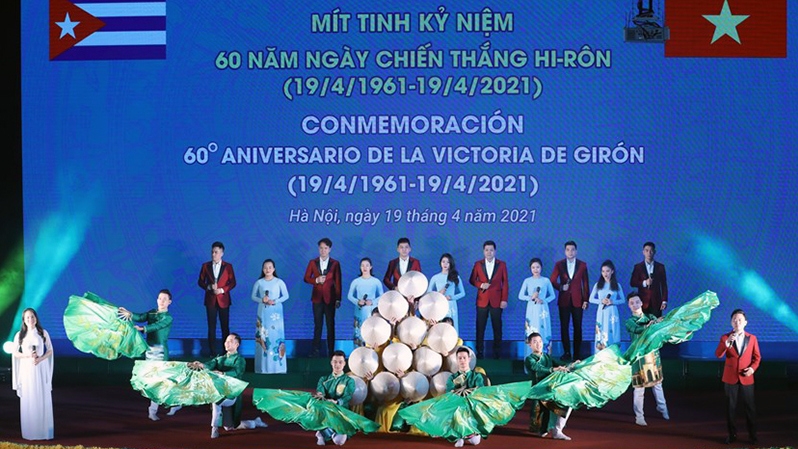 A performance at a ceremony in Hanoi to mark Cuba's Giron Victory (Photo: VNA)   
NDO - The Vietnam-Cuba trade agreement and the Vietnam-Cuba cooperation project on rice production in the 2019-2023 period are just two of the many efforts by the two governments to further strengthen the time-honoured bilateral ties.
Assiduously cultivated by President Ho Chi Minh, the Cuban leader Fidel Castro, and generations of the two countries' leaders, the faithful and selfless relationship between Vietnam and Cuba in the past more than 60 years has become a model in international relations.
In recent years, the two countries have sustained cooperation in many fields. Despite the impact of COVID-19, the two sides are still proactively maintaining the exchange of delegations at all levels.
With regards to economic and trade cooperation, two-way trade in 2020 reached US$102 million. Cuba imports about 300,000-400,000 tonnes of Vietnamese rice each year while Cuba's main exports to Vietnam include vaccines and other pharmaceuticals.
The Vietnam-Cuba trade agreement was signed on November 9, 2018, and came into effect on April 1, 2020, replacing the agreement on trade and other forms of economic cooperation signed in 1996.
Under the new agreement, the two sides pledged to eliminate or reduce tariffs on nearly 100% of goods over the next five years, facilitating bilateral exports and imports with many trade preferences for the two countries' enterprises.
The two sides have continuously researched and implemented agricultural and fishery projects. Vietnam's Defence Ministry supports Cuba in the development of high-yield maize by providing seeds and technical assistance. There are also prospects of cooperation in oil and gas, and telecommunications.
In recent years, several Vietnamese enterprises have invested in projects on tourism infrastructure, industrial park infrastructure, building materials and detergents at the Mariel special development zone. Vietnamese enterprises are showing greater interest in investing in Cuba thanks to changes in its economic policy and investment climate.
At international organisations and multilateral forums, especially the United Nations, the two countries coordinate and support each other. Vietnam recently backed Cuba's nomination to the UN Human Rights Council for the 2021-2023 term; actively promoted and supported Cuba's signing of the Treaty of Amity and Cooperation in Southeast Asia. Cuba also supported Vietnam's candidacy for the UN Security Council for the 2020-2021 term.
During the COVID-19 pandemic, prompt support in terms of food, medicine and medical supplies between the two countries has further highlighted the special solidarity, faithful and selfish relationship, a rare model in international relations.
Cuban Ambassador to Vietnam Orlando Nicolas Hernandez Guillen emphasised that the special, reliable, brotherly relationship and mutual support have been among the most valuable assets in the past more than 60 years. The two countries will continue walking shoulder to shoulder on the path of building socialism.
The two countries' young generations vow to continue safeguarding and cultivating the time-honoured relationship between the two Parties and peoples.
TAG: